'Hating your country is a venerable British political tradition'
Your digest of analysis and commentary from the British and international press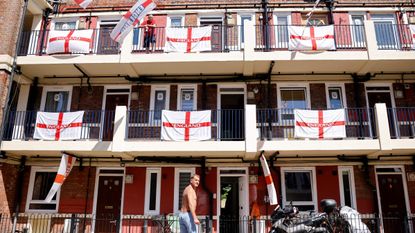 (Image credit: TOLGA AKMEN/AFP via Getty Images)
Sign up to our 10 Things You Need to Know Today newsletter
A free daily digest of the biggest news stories of the day - and the best features from our website
Thank you for signing up to TheWeek. You will receive a verification email shortly.
There was a problem. Please refresh the page and try again.
1. It's deeply British to question our patriotism
James Marriott in The Times
on safe scepticism
"For Americans, accustomed until recently to thinking of their country as the shining city on the hill, hating your country is an alarming novelty," writes James Marriott in The Times. "For the British it is an all too venerable political tradition." Indeed, "unpatriotic scepticism is perhaps more quintessentially British than straightforward patriotism because it is the product of our peculiar national history," Marriott writes. "Britain is a very safe, powerful and old country" and patriotism often finds itself "most fiercely rooted in nations that define themselves against a neighbouring oppressor or which have an existential struggle in their recent past: Ireland, for example, or Poland." And some might argue that America's "ferocious internal culture war" only crystallised "after the collapse of the Soviet Union meant it no longer had a rival power to define itself against". Marriott concludes: "Our long tradition of national self-hatred has in some ways stress-tested the national consciousness. Self-hatred doesn't portend a 'chasm'. It is something we are long-sufferingly accustomed to. Things are more dangerous in brittler, prouder America."
Subscribe to The Week
Escape your echo chamber. Get the facts behind the news, plus analysis from multiple perspectives.
SUBSCRIBE & SAVE
Sign up for The Week's Free Newsletters
From our morning news briefing to a weekly Good News Newsletter, get the best of The Week delivered directly to your inbox.
From our morning news briefing to a weekly Good News Newsletter, get the best of The Week delivered directly to your inbox.
2. The Church is abandoning its flock
Giles Fraser in UnHerd
on a new approach
"The latest Great Leap Forward for the C of E looks like this. Get rid of all those crumbling churches. Get rid of the clergy. Do away with all that expensive theological education," writes Giles Fraser in UnHerd. These, he says, are all "'limiting factors'". Instead, the theory goes, the Church should "focus relentlessly on young people. Growth, Young People, Forwards. Purge the church of all those clapped-out clergy pottering about in their parishes. Forget the Eucharist, or at least, put those who administer it on some sort of zero hours contract. Sell their vicarages. This is what our new shepherds want in their prize sheep: to be young, dumb, and full of evangelistic… zeal." But, writes Fraser, "the church is not called to be successful. It is called to be faithful. I would prefer for us to die with dignity, being faithful to our calling, rather than to turn ourselves inside out trying to be superficially attractive." In any case, "we won't outlast this period of history by being more business-like or by adopting slicker models of evangelistic marketing." He concludes: "Institutional death should hold out no terror for the faithful. And it will only be this lack of fear that can make us attractive once again."
3. How the England football team has detoxified 'Englishness'
Ben Walker in the New Statesman
on Southgate's success
This year we are seeing the "rise of an increasingly inclusive sense of Englishness, spearheaded by Gareth Southgate's well-disciplined squad," writes Ben Walker in the New Statesman. "In 2021, Englishness is an identity that has less to do with being white than what voters thought in 2012. It is becoming more inclusive than the narrow definition pushed by movements such as Ukip," writes Walker. "The success of Southgate, and perhaps the reduced national presence of figures like Nigel Farage in the past few years, has changed the way people think about English identity." But this has its downside too, Walker adds. "It shows an identity that is subject to the fluid forces of politics and sport. Englishness needs grounding, lest these detoxifying trends of the past few years be reversed. It needs, perhaps, answers from organised politics, both on the right and left." The England football coach is doing his bit. "Southgate shows an Englishness capable of being more modern and tolerant than ever before. Now is the time for politicians to make that shift permanent."
4. Summer travel is back. Earth can't handle it
Farhad Manjoo in The New York Times
on an ancient endeavour
"To cruise or not to cruise? To safari or stay put? To fly – perchance to hang glide or kite surf into some un-Instagrammed country," writes Farhad Manjoo in The New York Times. "So goes the great moral dilemma now lurking in the travel and tourism industry, perhaps the beating heart of global consumerist extravagance. Now that our year-plus fast is close to over, shall we commence gorging once more?" Manjoo talks of exploration as being "an ancient and sometimes even noble human endeavour". Now, as we emerge from pandemic restrictions, "those of us fortunate enough to be able to entertain such possibilities are yearning to make up for lost vacationing. The global economy may depend on the rapid rebirth of tourism. Travel was, of course, one of the industries hit hardest by the pandemic," he writes. "But that would be a mistake. Tourism should not return to anything like its old, profligate normal. The pandemic has presented the world with an opportunity to reset how we tour this planet, and we should reach for it."
5. No Tory should want to privatise Channel Four
Ruth Davidson in The Telegraph
on a cultural jewel
"Roll up, roll up, Britain's post-Covid firesale has begun," writes Ruth Davidson in The Telegraph. "That furlough was a bit expensive and world-leading vaccination programmes don't pay for themselves, so it's time to flog the family silver," says the former MSP and leader of the Scottish Conservatives. "It's preposterous. Really. The idea that a government would want to divest itself of cultural assets, wholly owned by the people of this country, which don't cost the taxpayer a penny but that drive investment, jobs and can help the recovery," Davidson continues. "And yet, that is exactly what the proposed sell-off of Channel 4 entails. It might not be bricks and mortar, but the broadcaster is part of Britain's cultural landscape." She concludes: "As a Tory, I am lost as to why ministers would want to raffle off an entity that is the living embodiment of so much of the Government's agenda."
Continue reading for free
We hope you're enjoying The Week's refreshingly open-minded journalism.
Subscribed to The Week? Register your account with the same email as your subscription.
Sign up to our 10 Things You Need to Know Today newsletter
A free daily digest of the biggest news stories of the day - and the best features from our website