'If you couldn't post a picture of your dinner on Instagram, did you even have dinner at all?'
Your digest of analysis from the British and international press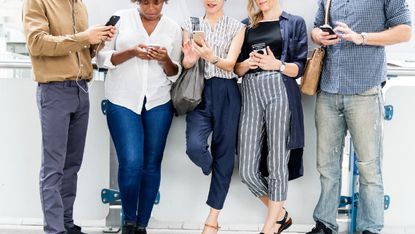 (Image credit: rawpixel.com)
1. Social media went down and it was chaos – it's time to admit we've got a problem
Victoria Richards for The Independent
on forced offline time
"If you're anything like me," writes Victoria Richards in The Independent, "then you struggled a little last night" due to the Facebook, WhatsApp and Instagram outages. "It was hard not being able to idly scroll and see what people were up to, or to share jokes, thoughts and musings from the sofa", she says, adding: "If you couldn't take a picture of your dinner and post it on Instagram, did you even have dinner at all?" But, "like any good social media addict", Richards believes that there are lessons to be learnt from last night's forced offline time, "such as the fact that the only way through this national obsession is (probably) through moderation". In fact, Richards "didn't hate the black-out" in the end. She "rather enjoyed being out and not feeling any pressure to post photos for others to soak in vicariously", she concludes, "but I would also miss it if it was gone forever".
Subscribe to The Week
Escape your echo chamber. Get the facts behind the news, plus analysis from multiple perspectives.
SUBSCRIBE & SAVE
Sign up for The Week's Free Newsletters
From our morning news briefing to a weekly Good News Newsletter, get the best of The Week delivered directly to your inbox.
From our morning news briefing to a weekly Good News Newsletter, get the best of The Week delivered directly to your inbox.
2. It's agonising for me to admit, but Tory conference shows the party is outperforming Labour on diversity
Yasmin Alibhai-Brown for the i newspaper
on a history-making cabinet
"I would rather have five molars extracted without anaesthesia than write this column," says columnist Yasmin Alibhai-Brown in the i newspaper. "But the truth matters, and this truth is now incontestable: the Tory government has more Bame senior ministers than any other in recent history." This week, the home secretary, health secretary and chancellor – "all British Asians" – will address the party and the nation. "It is a historical moment," says Alibhai-Brown. The administration – "notwithstanding its anti-woke antics" – "reflects the vibrant colours of this nation". In 2015 and 2017, Labour was "the most popular party among ethnic minority voters," she writes. "By 2019, voter analysts found discernible shifts towards the Tories." This was "in spite of their repulsive anti-immigrant rhetoric and policies". Alibhai-Brown concludes: "If the drift and disillusionment with Labour goes on, the future will belong to the Tories for the longest time. I imagine that and weep."
3. 'Cress' is too friendly to force change on the Met
Iain Dale for The Daily Telegraph
on a 'beleaguered' commissioner
"Beleaguered" is one of the many words that can be used to "describe accurately the position the Commissioner of the Metropolitan Police finds herself in", says Iain Dale in The Daily Telegraph. Cressida Dick has worked in the Met "for so long that she cannot see the wood for the trees", he writes. "She leads an organisation that is more or less immune to radical change and reform, and she doesn't have the emotional intelligence to lead from the front and implement what's necessary." Dale adds that he has been told that the main reason Priti Patel and Sadiq Khan reappointed Dick to her role was "because there was no one else". "What an indictment," he says. There's no doubt that Dick is well-liked; her staff and advisers widely refer to her as "Cress", says Dale. Theresa May became known to her staff as "Prime Minister" rather than "Theresa" after her appointment, he concludes. "And quite right too. Leaders can't be friends."
4. The BBC needs to get much better at defending itself
David Hare for The Guardian
on the broadcaster's future
If you care about the BBC's survival, then its "failure to articulately challenge the obvious hypocrisy of its critics" is far more ominous "than the one-sided ravings of the critics themselves", says playwright and screenwriter David Hare in The Guardian. The broadcaster has had a "horrible pandemic", Hare continues, "with its News at Ten too often reduced to the cheerless reiteration of government press releases". The result is that it "has become more like a state broadcaster than a public service, with serious investigations abandoned and all mention of the prime minister's history of lying censored". Threats from the government and "alleged interference" from a BBC board member have "succeeded in muting the BBC in its own defence", Hare adds. An organisation "too cowed to attack its critics", it is rounding on its supporters instead. Hare concludes: "We are right to fear that unless the BBC's leaders start to argue with conviction for far wider purposes than being a British CNN, they will play into their enemies' hands."
5. Unless Harry resigns from Netflix immediately then he is nothing more than the Prince of Hypocrisy
Dan Wootton for Mail Online
on Netflix's 'offensive' musical
If Prince Harry doesn't rip up his Netflix deal following the international release of Diana: The Musical then "he is a man devoid of morals", writes Dan Wootton for Mail Online. The "offensive and degrading" new musical "demeans the memory of his late mother" and exploits and misinterprets her life for commercial gain, he says. "At least she isn't around to see such nonsense broadcast to millions around the world." If the Duke of Sussex "fails to speak out against such a horrendous depiction of his mother" then he is "tacitly endorsing" Netflix, says Wootton. "So will Harry swallow his morals because the taste of tens of millions of dollars is far sweeter? Of course he will!" Harry has "become the prince of hypocrisy and greed", Wootton concludes. But, he adds, "I'll take that comment back if he announces his resignation from Netflix in the next week."

Continue reading for free
We hope you're enjoying The Week's refreshingly open-minded journalism.
Subscribed to The Week? Register your account with the same email as your subscription.