'Azeem Rafiq's intervention is a golden opportunity to make cricket more inclusive'
Your digest of analysis from the British and international press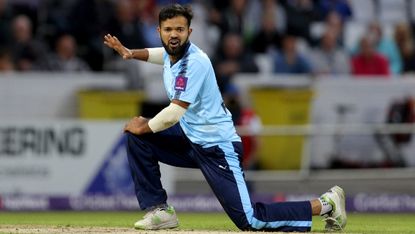 (Image credit: Richard Sellers/Getty Images)
1. Azeem Rafiq might have lost a career to racism, but his crucial legacy is playing out in real time
George Dobell for The Cricketer
on a turning point for the game
Anyone who saw Azeem Rafiq representing Yorkshire a decade or so ago "might well have presumed he had a great future in the game", writes George Dobell in The Cricketer. But sadly, "it wasn't to be". Now, at 30, "when he should probably be somewhere near his peak as a cricketer", Rafiq "runs a fish and chip shop". Perhaps, continues Dobell, he "lost his way as a player" precisely because he suffered racist abuse. Either way, "it seems his real legacy is being played out before us at present". Early evidence suggests that Rafiq's story "is the tip of a very large, very ugly iceberg", says Dobell. "It is becoming increasingly clear, from dozens of calls from other former players, that non-white players have largely suffered in silence for years." We can't forget, concludes Dobell, the toll this process has taken on Rafiq. "He is exhausted. He has felt excluded. He is grieving both a lost child and a lost career." But his intervention "really could prove to be a turning point for our game". If we don't make cricket more inclusive as a result, "we will have missed a golden opportunity", says Dobell. "All of us who love cricket – even those who just value inclusivity – may well look back on this episode and conclude we have much to thank him for."
Subscribe to The Week
Escape your echo chamber. Get the facts behind the news, plus analysis from multiple perspectives.
SUBSCRIBE & SAVE
Sign up for The Week's Free Newsletters
From our morning news briefing to a weekly Good News Newsletter, get the best of The Week delivered directly to your inbox.
From our morning news briefing to a weekly Good News Newsletter, get the best of The Week delivered directly to your inbox.
2. In politics apologies just make things worse
Daniel Finkelstein for The Times
on insincere sorries
When, a couple of weeks ago, the Royal Court Theatre issued an apology for giving the Jewish-sounding name Hershel Fink to "a money-grabbing, power-hungry billionaire" in one of its plays, Daniel Finkelstein watched "with interest". "At the very same time, people were calling for Boris Johnson to apologise to MPs for his misjudgment in the Owen Paterson affair," he writes in The Times. Comparing the two "reinforced" Finkelstein's reaction: "that of course Johnson should be sorry but it is not at all clear he should say so". Why? "Because the majority of political apologies don't work," he continues. "If Johnson publicly apologised for his mistake over Paterson would anyone believe he was truly sorry? That he really meant it? No." He continues: "Would they feel irritated that he expected them to forgive him now he had apologised? Absolutely. Would it reduce his support, even among those currently inclined to give him the benefit of the doubt? It would. And would it make the issue go away? Certainly not."
3. Britain is plagued by organisations that hate their most loyal supporters
Madeline Grant for The Daily Telegraph
on 'making a mountain out of a dog stool'
The National Trust has a "novel solution" in the face of a "proverbial problem", writes Madeline Grant in The Daily Telegraph. After the bins at a popular beauty spot in East Hampshire started regularly overflowing "due to a recent influx of dog-walkers", the Trust took what Grant describes "a somewhat counter-intuitive step": removing dog-waste bins altogether. "Ingenious" solutions to the problem – which the Trust "apparently failed to consider" – include "adding more bins, or emptying them more regularly", she continues "Perhaps I'm making a mountain out of a dog stool here, but the Trust's petty, anti-people (and anti-dog) response to this problem is the latest in a series of baffling decisions which could have been designed to provoke its core supporters," says Grant. In fact, the "entire country seems in the grip of organisations that give every impression of disliking those whose interests they claim to represent", she continues. This includes the British Medical Association, Church of England, the Labour and Conservative parties, the BBC, Stonewall and "even the Girl Guides". "The question is, are there any organisations left that don't hate their own members?"
4. Trans inclusivity in sexual violence services is perfectly achievable – these organisations are leading by example
Jeevan Ravindran for gal-dem
on safe spaces for trans people
Over the last few years, we've seen "a tidal wave of transphobia sweep the UK", writes Jeevan Ravindran for gal-dem, a magazine that shares perspectives from people of colour of marginalised genders. Among the "most high-profile debates" has been "the question of whether trans people – particularly trans women and transfeminine people – should be allowed to access single-sex spaces for survivors of sexual violence". The "hypervisibility" of the gender-critical movement "would make it all too easy to believe that there are no longer any safe spaces for trans people in the [violence against women and girls – VAWG] sector", continues Ravindran, but "thankfully that's not the case". "Many sexual violence services have been quietly trans-inclusive for years, or even since their inception." Trans-inclusive VAWG organisations include Brighton-based Survivors' Network and Edinburgh Rape Crisis Centre, says Ravindran. "Organisations are recognising the lack of safety for trans people in many spaces across the VAWG sector," she continues, "and are actively trying to highlight the visibility of the places where trans people can go to heal."
5. Adele's divorce from Simon Konecki reminded me that the secret to a happy marriage is a very unromantic one
Esther Walker for the i news site
on putting up with irritating habits
This week, there's been "a lot of talk" about marriage and divorce, writes Esther Walker for the i news site. First, 24-year-old Malala Yousafzai revealed she has married the Pakistani cricket board executive Asser Malik. Then, when speaking to Oprah, Adele shared "some truths about the breakup of her marriage to Simon Konecki". "Adele's comments about her marriage are interesting," continues Walker. She called Konecki "stable", adding that he "probably saved my life". So why did their relationship end? It "seems likely" that there's a "straightforward and common" explanation, writes Walker: "that they found each other annoying or boring or both, in ways that didn't quite fit". "If my diagnosis is correct," she continues, "then it's a miracle that my husband and I haven't divorced each other six times over already". But in Walker's "limited experience", the key to staying married is "less about finding someone with the right good qualities, and more about identifying someone whose irritating habits – because we all have them – you can just about put up with".

Continue reading for free
We hope you're enjoying The Week's refreshingly open-minded journalism.
Subscribed to The Week? Register your account with the same email as your subscription.