'Whoopi Goldberg's Holocaust comments should be considered with nuance'
Your digest of analysis from the British and international press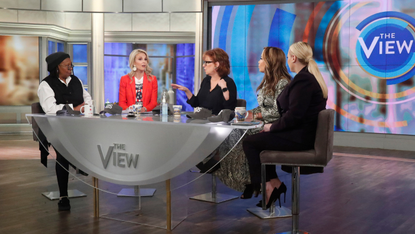 (Image credit: Lou Rocco/ABC via Getty Images)
Sign up to our 10 Things You Need to Know Today newsletter
A free daily digest of the biggest news stories of the day - and the best features from our website
Thank you for signing up to TheWeek. You will receive a verification email shortly.
There was a problem. Please refresh the page and try again.
1. As a Black Jewish woman, Whoopi Goldberg's suspension from The View saddened me
Victoria Gagliardo-Silver for The Independent
on lessons to be learnt
Whoopi Goldberg has been suspended from her role as host of ABC News's The View for two weeks, after saying that the Holocaust was "not about race". Her comments provoked "disbelief and outrage", says Victoria Gagliardo-Silver at The Independent. But "as a Black Jew with a background in sociology, I can say that the topics of race, Blackness and Jewishness in America require a certain level of nuance and historical understanding", she continues. "To a black woman, what looks like white violence against white people for their religion may not immediately seem like racism when their lived experience is based on Blackness in America," the writer points out. Goldberg's lived experience is not "wrong", says Gagliardo-Silver, but she was "missing the historical context that the whiteness of Jews is a modern perception". Gagliardo-Silver doesn't "blame Goldberg for her misinformed thoughts on the Holocaust" and she says it's "encouraging" that the actor remains willing to be educated. With white supremacy still "rampant" across the world, disenfranchised people "need to band together, rather than push further divides".
Subscribe to The Week
Escape your echo chamber. Get the facts behind the news, plus analysis from multiple perspectives.
SUBSCRIBE & SAVE
Sign up for The Week's Free Newsletters
From our morning news briefing to a weekly Good News Newsletter, get the best of The Week delivered directly to your inbox.
From our morning news briefing to a weekly Good News Newsletter, get the best of The Week delivered directly to your inbox.
2. Why I've decided to take my podcast off Spotify
Roxane Gay for The New York Times
on 'curation', not 'censorship'
"Engaging with the world with intellectual honesty and integrity is rarely simple," says Roxane Gay in The New York Times. "Living in the world, participating in capitalism, requires moral compromise." And though this writer is "not looking for purity", she is "trying to do the best I can, and take a stand when I think I can have an impact". Joe Rogan, she says, "is a curious fellow". He "muses on whatever is on his mind" during his "long and meandering" podcast episodes. "Sometimes racism is sprinkled into his conversations", and "false claims" about Covid vaccines have sprung up recently too. Rogan has been "handsomely rewarded for these efforts", and "clearly something about his feigned curiosity and ignorance and his embrace of conspiracy theorists and quacks resonates with a lot of people". He and Spotify have made "conciliatory gestures" to Neil Young and Joni Mitchell who began "the outcry and boycotts" of the streaming service due to Rogan broadcasting vaccine misinformation. It would not be "censorship, as some have suggested" to remove Rogan's "unfettered access to Spotify's more than 400m users", but rather "curation". Platforms that allow false claims to "flourish and intensify consistently abdicate their responsibility to curate effectively". While they "can continue to look the other way", Gay "won't".
3. Global Britain is Europe's most confident power
Richard Kemp for The Telegraph
on setting an example
Richard Kemp says he was "struck by the consistent admiration for Britain's stance on Ukraine from government officials and think tank leaders" on a recent visit to Washington. Writing for The Telegraph, the chair of the Cobra Intelligence Group says "previous concerns about the implications Brexit [would have] on European security" have "now been supplanted by the fear that Britain is taking too strong a role in collective European security". There is "a sense that we are undermining the German cartel by strengthening the more hardline security approach of Holland, Poland and the Baltic states". But the "reality is that the Franco-German axis does not work when it comes to security", and particularly the threats currently posed by Russia. Observers in Washington "have had to re-evaluate their post-Brexit assumptions of British foreign policy", and they now see "a refreshingly like-minded assessment of what is happening, and what is needed to deal with Putin" coming from London. This situation requires "boldness", and to show Putin that "the West will not just roll over at the first sight of aggression". This "simple fact" is something "too many of our allies do not understand".
4. How India and Southeast Asia can save global growth as US and China stagnate
Brian P. Klein for the South China Morning Post
on an emerging economic power
US and China, "two engines of global economic activity", both face "serious slowdowns", says Brian P. Klein at the South China Morning Post. Where then will "growth come from", he asks. "Signs point to a third potential source of economic activity," from India and the "Asean-5": Indonesia, Malaysia, the Philippines, Singapore and Thailand. "What these countries have going for them are relatively young and increasingly tech-savvy populations and comparatively low wages," though "they lack policies to draw the capital to their human and economic potential". "Major infrastructure investment" would be needed to make this region "globally competitive", and much of that "could come from international sources". This would require "more multilateral investment treaties, more efficient commercial litigation and expanded investor protections", says Klein. "A new base of global growth could balance out the shifting whims of market forces," he says, and "other major economies could also see improved export markets". It will take "concerted political effort" but India and the Asean-5 "could eventually rival the industrial giants of the 21st century".
5. The hidden virtue of reality TV
Julie Burchill for Unherd
on new screen stars
Julie Burchill has loved reality TV "in all its forms", she writes for UnHerd. But "things have changed" since the days when Britain's talent shows and Big Brother dominated our screens. Now "Love Island is a springboard for smart, sexy young women (and men to a lesser degree) to monetise their youth and beauty in the way a sportsman utilises his skill for that mayfly moment before wear and tear takes over". In today's world, reality TV stars "have us on the edge of our seats wondering who the heck they're going to turn on next", and the "same is true of Boris Johnson". Both the left and right of the political spectrum "join the condemnation of reality TV's hold over the youth of the nation", but "as in so many issues, politics has been left behind". Young people increasingly appear to "dream of being posh", and the reality stars can be "a breath of fresh air" compared to the "real stars of screen and music" increasingly reading from "the same hymn sheet behind the high walls of their privately-policed enclosures". Burchill will "take a talent show over a Quality Drama" any day.
Continue reading for free
We hope you're enjoying The Week's refreshingly open-minded journalism.
Subscribed to The Week? Register your account with the same email as your subscription.
Sign up to our 10 Things You Need to Know Today newsletter
A free daily digest of the biggest news stories of the day - and the best features from our website