'If removing Johnson is not a Remainer plot, it damn well should be'
Your digest of analysis from the British and international press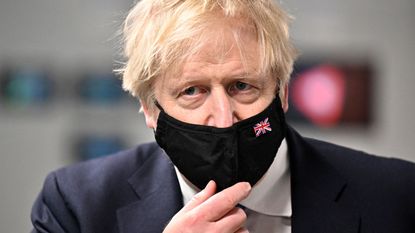 (Image credit: Jeff J Mitchell/Getty Images )
Sign up to our 10 Things You Need to Know Today newsletter
A free daily digest of the biggest news stories of the day - and the best features from our website
Thank you for signing up to TheWeek. You will receive a verification email shortly.
There was a problem. Please refresh the page and try again.
1. Of course Remainers are out to get Johnson
Hugo Rifkind in The Times
on a positive plot
What do Sir John Major, Lord Heseltine, Lady May and the "bulk" of Tory MPs who have sent or plan to send letters of no confidence in Boris Johnson have in common? asks Hugo Rifkind. They are all Remainers, he writes in The Times, adding that if the effort to remove Johnson as Tory leader is not a "Remainer plot" then "it damn well should be". Although the pro-Brexit Dominic Cummings, Steve Baker and Andrew Bridgen are part of the anti-Boris effort, "in the main" those involved "are Remainers," Rifkind writes, because "they are people who know that Boris is Brexit and Brexit is Boris, and that neither could have happened without the other". They are also the Tories who "not only know, but will also admit, that it is no coincidence that a government with one terrible idea as its raison d'être has ended up being led by another one". So is there a Remainer plot, Rifkind asks? "Well, you have to bloody hope. All power to them."
Subscribe to The Week
Escape your echo chamber. Get the facts behind the news, plus analysis from multiple perspectives.
SUBSCRIBE & SAVE
Sign up for The Week's Free Newsletters
From our morning news briefing to a weekly Good News Newsletter, get the best of The Week delivered directly to your inbox.
From our morning news briefing to a weekly Good News Newsletter, get the best of The Week delivered directly to your inbox.
2. There's no such thing as 'woke' – just basic human decency
Victoria Richards in The Independent
on a curious insult
Victoria Richards was once introduced to a guest at a dinner party as being "very PC". She thinks the host "was warning the other guests that I was, basically: not racist, sexist, transphobic or homophobic". Now, she adds, we have the word "woke" used instead of PC, often as an insult. "The only definition I can come up with is this: 'woke' means being tolerant, kind, compassionate, empathetic, inclusive," she writes. "Having basic human decency, in other words. So why on earth we're using it as an insult is beyond me." She notes that Oliver Dowden: the Conservative Party chairman has warned that neither Britain nor the US can afford to indulge in a "painful woke psychodrama". Richards continues that "we've all met Oliver Dowdens; we've all born witness to the dismissive retort of, 'well it's PC gone bloody mad, isn't it'; while the (usually) white, (often) privileged speaker scoffs at earnest attempts to course-correct centuries of wrongs". Often, the sort of remarks that anti-woke warriors want more of actually cause discrimination and bloodshed, she writes. "We should all be more 'woke'," she believes. "People's lives, quite literally, depend on it."
3. Why Liz Truss is unfit to be prime minister
Martin Fletcher in The New Statesman
on a tribute act
It is "grotesque" that Boris Johnson should seek to portray himself as a latter-day Churchill, writes Martin Fletcher, but he finds it "scarcely less preposterous that Liz Truss, our preening, flyweight Foreign Secretary, should seek to present herself as another Margaret Thatcher by riding tanks, posing fur-hatted for photos in Moscow's Red Square and presenting herself as a champion of 'freedom'." Compared to Thatcher, he argues in The New Statesman, "Truss is just a third-rate tribute act". Recalling the foreign secretary's "hapless" trip to Moscow last week, he said Thatcher "would never have walked into the sort of trap that Sergei Lavrov, Russia's foreign minister, set for Truss". Raging against Truss, he says that she is also "no Thatcher" because the foreign secretary "lacks her character, integrity, vision, conviction and intelligence". Therefore, he concludes, attempts to "inherit the Iron Lady's mantle" are "doomed to fail". They serve "merely to make the Foreign Secretary look absurd", and to "underscore how far we, as a country, have fallen".
4. Washington Post, New York Times should give back their Pulitzers for Russia-Trump 'reporting'
New York Post Editorial Board
on a 'cynical smear'
"With the entire Russiagate affair exposed as a Clinton campaign fabrication, it's the clear duty of The Washington Post and New York
Times to give back the Pulitzers they won for 'reporting' the fake news," thunders the New York Post. The editorial board says "Clinton
campaign cash" provided rumours of collusion between Donald Trump and Moscow and relied on "a cynical Russian exile asking buddies to supply rank speculation for the rest". The tabloid says this was a true "war on democracy", which was "abetted by the two papers in endless, breathless 'reporting'". It notes that the Pulitzer prizes handed to the two broadsheets stated that their reporting "dramatically furthered the nation's understanding of Russian interference in the 2016 presidential election and its connections to the Trump campaign". The Post says "now everyone knows they only 'dramatically furthered' a smear". Therefore, it calls on both publications to "show a shred of decency, and give your Pulitzers back".
5. Witchcraft isn't subversive
Esme Partridge on UnHerd
on occultist TikTokers
The City of London used to be a "hotspot for secret societies and occultists, such as Aleister Crowley and Francis Bacon", writes Esme Partridge. But "this sense of rebellion is not confined to the past", she says, because "swathes of millennials and Gen-Zers are turning to online occultism and ritual magic in what seems like a rebellion against modern disenchantment". She explains that "digital forms of New Age spirituality go especially viral on TikTok (or WitchTok) –from virtual trans-Atlantic covens gathering to cast spells on politicians" to magic "channelled into anti-capitalist 'spiritual activism'". She argues that although occultism may seem "subversive" to the young, it is not because "the heirs of Western occult philosophy were also the heirs of the secular liberalism and capitalism that dominates the West today". Francis Bacon "along with Hobbes, Locke, and Hume… laid down the norms of our time". Therefore, Partridge argues, "to be truly subversive in this day and age would be to free oneself from the shackles of individualism" and "entail drawing wisdom from the traditions that modernity has so violently delegitimised, and submitting to nature rather than seeking to manipulate (or mutilate) it".
Continue reading for free
We hope you're enjoying The Week's refreshingly open-minded journalism.
Subscribed to The Week? Register your account with the same email as your subscription.
Sign up to our 10 Things You Need to Know Today newsletter
A free daily digest of the biggest news stories of the day - and the best features from our website