'The four-day week experiment could establish a new norm'
Your digest of analysis from the British and international press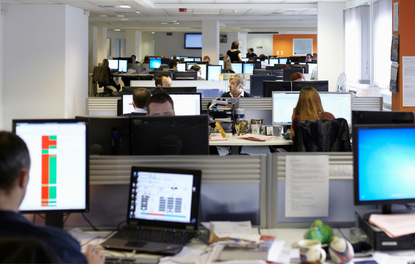 (Image credit: Richard Drury / Getty Images)
Sign up to our 10 Things You Need to Know Today newsletter
A free daily digest of the biggest news stories of the day - and the best features from our website
Thank you for signing up to TheWeek. You will receive a verification email shortly.
There was a problem. Please refresh the page and try again.
1. The Times view on modern working: four-day week
The Times
on an experiment in efficiency
"Lockdown has led to the biggest change in the way people work since the Industrial Revolution," says The Times. Technology "can bring the office to your own kitchen or bedroom, day or night". But, the paper's editorial says, "it won't last". Despite "myriad claims" of benefits to workers, "in most offices people are back at their desks". "But are they more efficient?" the paper asks. An experiment has begun to see if workers can be more productive by working a four-day week, without taking a pay cut. "Will it help working mothers, cut energy use or lead to a happier workforce?" If so, it could establish "a new norm". If not, "it will mean back to the office for everyone". France has tested the theory before, and "it was disastrous. Jobs were not finished, overtime was not allowed and everyone complained." Now, "robots" are "taking over". "One day they'll do it all for us and we'll stay at home, controlling things in our pyjamas."
Subscribe to The Week
Escape your echo chamber. Get the facts behind the news, plus analysis from multiple perspectives.
SUBSCRIBE & SAVE
Sign up for The Week's Free Newsletters
From our morning news briefing to a weekly Good News Newsletter, get the best of The Week delivered directly to your inbox.
From our morning news briefing to a weekly Good News Newsletter, get the best of The Week delivered directly to your inbox.
2. I may be wrong but I think Boris Johnson is done for. I can't see his Tory cult surviving
Polly Toynbee in The Guardian
on 'calamitous leadership'
"The jubilee coup is under way," says Polly Toynbee in The Guardian. "The rumbling turmoil in the Tory party is a wonder to behold – but it runs deep, stretching far further back in time than Boris Johnson's brief calamitous leadership." The Conservative Party "used to pick itself up and start all over again with some new face and logo", but "not this time". The party is "riddled with eccentric ideologues too remote from moderate election-winning ground to select any leader but one of their ilk". It's said that Johnson "will have to be dragged out, clinging to No. 10's handle". For now, says Toynbee, "watch the dangerous spectacle of Johnson hurling everything at shoring up Tory MPs' votes". "I may be wrong," this writer says. "But talk to people, read the runes, feel the shifting ground." This time around "the ruling party's breathtaking incompetence and hubris is weighed down with public service failures and a brutal cost of living crisis".
3. Justin Trudeau's heartless hypocrisy
James Jeffrey in The Critic
on gold mining
Deposits of gold and other precious metals in the northern Ethiopian region of Tigray "appear to be a significant reason why Canadian Prime Minister Justin Trudeau has not spoken out more forcibly against Ethiopia's now 18-month-long conflict and all its crimes", writes James Jeffrey in The Critic. His "quiet is very much at odds with his pledge" that Canada stands for democracy, peace and security. References to the conflict have been made in "round-about platitudinous terms supportive of the Ethiopian government that never actually mention Tigray itself". The region is "seen as a potential treasure chest for Canadian gold-mining companies", with mineral deposits worth a possible $4bn. "The general consensus" is that "the Canadian government has made the call that speaking out won't make any difference to ending the war". Jeffrey says: "Therefore, better to keep public pronouncements diplomatically restrained." This situation has "held a mirror up to the darker side of Canada". In Trudeau's case, "the emperor doesn't only have no clothes" – "he doesn't have much of a heart either".
4. Who wants to be a stripper?
Kat Rosenfield at UnHerd
on 'the female form'
"One of the few things that has remained constant in 200,000 years of human history is our fascination with the female form," writes Kat Rosenfield at UnHerd. "And the only thing more exciting than a woman's naked body is a body that is not yet naked, or never entirely so, glimpsed bit by bit in a slow unveiling that stops short of sex itself." There's an "intrigue surrounding strippers", and society has a "conflicted relationship with them". "We pity them. We envy them. We want to help them and also just want them," she writes. "The eternal fascination with sex-adjacent professions" from time to time "coalesces into a pop cultural moment". It's happening now, with "multiple memoirs" being published – "without the implied subtext that these are the stories of fallen women". The "most compelling story" of them all is "just the truth" – that "stripping is hard, and fun, and sad, and exciting, and messy, and human, and it's no surprise that 200,000 years later, we're still writing songs about it".
5. Does Alcoholics Anonymous actually work?
Ian Hamilton in The Independent
on addiction
"There is an organisation that has been around longer than the Queen and is almost as popular, with millions of members worldwide," writes Ian Hamilton in The Independent. "It is Alcoholics Anonymous (AA)." The organisation has a "place in our collective consciousness", but "what do we actually know about how effective it is in supporting people from addiction to sobriety?" this writer asks. AA "has been slow to evolve over its lifetime", and there is "still a belief that the only goal people should aim for is complete abstinence from alcohol". That "won't be achievable or necessary for many". Hamilton says: "There is also a darker side to AA that is rarely mentioned, namely how members can be exploited" through the "buddy system" it operates. There is "an obvious benefit to members' anonymity" but that "doesn't absolve AA from its responsibility to objectively scrutinise not only its effectiveness, but serious reports of exploitation".
Continue reading for free
We hope you're enjoying The Week's refreshingly open-minded journalism.
Subscribed to The Week? Register your account with the same email as your subscription.
Sign up to our 10 Things You Need to Know Today newsletter
A free daily digest of the biggest news stories of the day - and the best features from our website