London Mayor Khan slams foreign investors for leaving homes empty
Wealthy foreigners condemned for using flats in the capital as 'gold bricks for investment'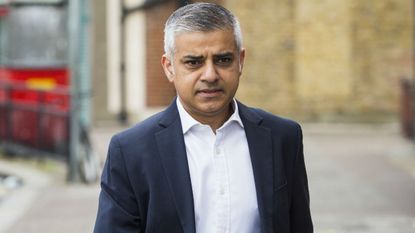 (Image credit: Jack Taylor/Getty Images)
Sadiq Khan has rebuked foreign investors for using homes in London as "gold bricks for investment".
In his first address to London Assembly members, the new Mayor warned that building thousands of new homes a year in the city to solve the housing crisis would mean nothing if they were all bought by investors in the Middle East and Asia for use as second homes or to sit empty.
His comments follow an investigation by The Guardian which revealed the UK's tallest residential building, The Tower, is more than 60 per cent foreign-owned and unoccupied for the majority of the year.
Subscribe to The Week
Escape your echo chamber. Get the facts behind the news, plus analysis from multiple perspectives.
SUBSCRIBE & SAVE
Sign up for The Week's Free Newsletters
From our morning news briefing to a weekly Good News Newsletter, get the best of The Week delivered directly to your inbox.
From our morning news briefing to a weekly Good News Newsletter, get the best of The Week delivered directly to your inbox.
Khan said the findings were the consequence of an eight-year obsession with numbers rather than the right sorts of homes and that he hoped to encourage foreign investors to help build houses rather than just buy places to be left empty.
"Nobody is against people investing in London trying to get a good rate of return," he said. "The issue is using our homes as gold bricks for investment. People may want to invest in the wholesale side of building homes. That is in stark contrast in buying homes off-plan as an investment which are left empty. "
Responding to the Guardian's investigation, James Murray, the deputy mayor for housing, said: "This is another example of where the previous mayor failed to get to grips with London's housing crisis.
"Sadiq Khan was elected on a mandate that Londoners should have 'first dibs' on more of the homes built in the capital. We will work closely with our partners to build more new homes for Londoners."
The average house price in the capital is now far in excess of £500,000, more than 16 times the average London salary, says Business Insider.
London Mayor Sadiq Khan challenged to an IQ test by Trump
16 May
The war of words between Donald Trump and Sadiq Khan has intensified, with the US presidential hopeful refusing to forgive the London Mayor for calling him "ignorant".
Trump challenged the newly elected Muslim mayor to "take an IQ test" after he slammed the presumptive Republican nominee's views on Islam.
"He doesn't know me, hasn't met me, doesn't know what I'm all about," Trump said in an interview with Piers Morgan on ITV's Good Morning Britain.
"I think they were very rude statements and frankly tell him I will remember those statements. When he won I wished him well. Now, I don't care about him."
Asked to respond to the comments, Khan told the BBC: "Well look, it was Trump that began this. My views are quite simple. Donald Trump: your views on Islam are ignorant."
A Khan spokesperson later mocked Trump's IQ challenge, saying: "Ignorance is not the same thing as lack of intelligence."
The billionaire businessman also had strong words for David Cameron, warning that they would not have a "very good relationship" if he wins the US presidency in November.
It comes after the Prime Minister last year condemned Trump's plans to ban Muslims from entering the US as "stupid, divisive and wrong".
Number 10 Downing Street said that Cameron stood by his views, but was also committed to "maintaining the special relationship" between the two countries, regardless of who won the presidential race.
"The PM has made his views on Trump's comments very clear," a spokesperson said. "He disagrees with them and I haven't got anything further to add. He continues to believe that preventing Muslims from entering the US is divisive, stupid and wrong."
New London Mayor slams Trump's 'ignorant' view of Islam
10 May
Sadiq Khan has spurned Donald Trump's suggestion that he could be an "exception" to a proposed policy to ban Muslims from entering the United States.
London's new mayor had said he planned to visit the country before November's presidential elections "in case Donald Trump wins". The businessman, who is now unopposed in the Republican contest, has vowed a "total and complete" temporary shutdown of the US's borders to Muslims if he enters the White House.
"If Donald Trump becomes the president, I'll be stopped from going there by virtue of my faith, which means I can't engage with American mayors and swap ideas," Khan told Time magazine.
Trump later told the New York Times that he would be willing to make an "exception" in Khan's case and said that he was "very happy to see" the Londoner elected.
"I think it's a very good thing and I hope he does a very good job because frankly, that would be very, very good," he said.
Khan refused the offer, saying: "This isn't just about me – it's about my friends, my family and everyone who comes from a background similar to mine, anywhere in the world.
"Donald Trump's ignorant view of Islam could make both our countries less safe. It risks alienating mainstream Muslims around the world and plays into the hands of the extremists."
The Mayor added that Trump and those around him think Western liberal values are "incompatible" with mainstream Islam. "London has proved him wrong," he said.
London Mayor: Will Sadiq Khan create a 'Labour Party in exile'?
09 May
London's new mayor has used his first big post-election interview to launch a stinging attack on the Labour leadership.
Speaking on the BBC's Andrew Marr Show yesterday, Sadiq Kahn said the party under Jeremy Corbyn was not doing enough to address the concerns of ordinary voters.
Unless Labour reached out to the whole of the electorate and not just its natural supporters, the "mission to improve the lives of ordinary working people" would be put in jeopardy, he added.
"My point is very simple, we've got to stop talking about ourselves and start talking to citizens about the issues that matter to them," he said.
Divisions between the Khan and Corbyn camps were on show throughout the mayoral campaign and the Tooting MP's victory has been read as a shifting of the balance of power within the party.
It is clear Khan "will use his position to set out an alternative direction for Labour", says The Observer and his intervention will "reignite the battle" over whether Corbyn's decision to move his party to the left is the correct strategy ahead of the 2020 general election.
Some of the Labour leader's inner circle are "concerned that the Mayor intends to use his new office, and the national platform it gives him, to set up a rival power base to Corbyn", says The Independent, which describes the London mayor as "the country's most powerful directly elected leader".
Khan has a mandate from 1.3 million voters in the capital, more than five times the number of people who backed Corbyn in the leadership election, and moderates expect him to use it to create a "Labour Party in exile", says The Sunday Times. Key figures within the party are expected to join him in City Hall.
Some believe Khan's huge vote "can act as a counterweight to Corbyn's argument that his leadership victory has given him carte blanche", the paper adds.
Friday's local election results, according to the BBC, show that Labour lost 18 of its council seats, down to 1326, and retained its 58 councils. The Conservatives lost 48 seats, down to 842, and lost one council to the Liberal Democrats, taken them down to 38. The majority of the lost seats went to the Lib Dems and Ukip.

Continue reading for free
We hope you're enjoying The Week's refreshingly open-minded journalism.
Subscribed to The Week? Register your account with the same email as your subscription.