Mayweather vs Pacquiao 2: Could the rematch be back on?
Promoter claims fight is 75 per cent certain after Pacquiao returns to the ring after 18 months and Mayweather turns up to watch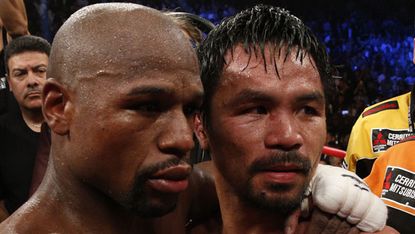 The prospect of a rematch between Manny Pacquiao and Floyd Mayweather in on the cards after Pacquiao enjoyed an impressive return to the ring against Jesse Vargas on Saturday and Mayweather turned up to watch.
Promoter Bob Arum claims that a second fight is 75 per cent certain to happen.
"Having invited Mayweather to watch his defeat of Vargas, in which he claimed the World Boxing Organisation welterweight crown, Pacquiao believes there is unfinished business between him and his undefeated rival," says Gareth A Davies of the Daily Telegraph.
Subscribe to The Week
Escape your echo chamber. Get the facts behind the news, plus analysis from multiple perspectives.
SUBSCRIBE & SAVE
Sign up for The Week's Free Newsletters
From our morning news briefing to a weekly Good News Newsletter, get the best of The Week delivered directly to your inbox.
From our morning news briefing to a weekly Good News Newsletter, get the best of The Week delivered directly to your inbox.
"A second contest – in spite of the displeasing aesthetics of the first match which resulted in a boxing lesson from Mayweather – could prove to be a much better fight," he adds.
The main stumbling blocks will be luring Mayweather out of retirement and shoehorning the fight into Pacquiao's busy schedule as he carves out a career as a politician in the Philippines.
Mayweather has not fought since retiring in 2015 and he will turn 40 next year. However, he is still said to be in training in Las Vegas and there are several reasons he could be persuaded to take the fight, says Josh Katzowitz of Forbes.
One of them is money. "Mayweather earned $700m during his career. But that doesn't mean he doesn't want more of it, and Pacquiao would be his best – and probably only – hope for another $100m payday," he says. A second fight would not create the same buzz as the first, but with one or two exceptions "Mayweather-Pacquiao 2 would generate more excitement than any other fight in the sport", he says. "And it would still make plenty of money."
Mayweather also has cause to believe he could win, adds Katzowitz. The American will not risk his unbeaten record, "but from the way Pacquiao performed against Vargas, Mayweather should be reassured that beating Pacquiao a second time would be even easier than the first".
Pacquiao is clearly past his prime, he says. "He probably won't be busy and/or energetic enough to put pressure on Mayweather for 12 rounds."
Top Rank promoter Bob Arum, who looks after Pacquiao, "has added fuel to the fire by saying a rematch is likely despite admitting he has yet to speak to anyone from Mayweather's team", says the Daily Mail.
"The pair's first meeting took five years to arrange and was beset by numerous problems including a disagreement about anti-doping tests... However, Arum doesn't envisage similar problems this time round, insisting that things are more amicable between the two fighters now."
He claims that the fight is 75 per cent certain to go ahead.
Getting the fans interested could be the hardest part, suggests Allan Fox of the Boxing News 24 website. Last time, he says, "the fight sold itself. This time, it'll take some effort to try and coax the fans into purchasing the fight on pay-per-view, because the expectations will be low."
Mayweather vs Pacquiao 2: last chance of a rematch
8 October 2015
Any hopes of a rematch between Floyd Mayweather and Manny Pacquiao are hanging by a thread after the Filipino boxer announced he would in all likelihood retire after his next fight to concentrate on his political career.
Pacquiao has not fought since he lost to Mayweather in May while carrying a shoulder injury. He had surgery following the much-hyped, but disappointing, showdown and it now looks as though his comeback will also be his swansong.
Pacquiao is a national hero in the Philippines and is expected to win a seat as a senator in elections next May, even though he has yet to decide which party to represent.
If he is elected he has vowed to focus on his new role. "I will have to give up the other things that require my attention," he said recently. "If you are a senator, your focus should only be your job and your family."
With one fight left in his illustrious career, many are hoping to see another big clash with Mayweather. But while Pacquiao has demanded a rematch his opponent has shown little enthusiasm for the idea.
Mayweather claims he has retired after beating his most recent opponent Andre Berto to match Rocky Marciano's record 49 wins and no defeats but, according to The Guardian, he could be tempted to take one last fight in an attempt to surpass Marciano.
"But while it would be easy for Mayweather to get back into the ring after retiring... that is not the case for Pacquiao, especially if he wins an election as a senator in his native Philippines," says Yahoo, which notes that Mayweather is currently travelling the world with pop star Justin Bieber.
"If there is a shred of hope for a rematch, it is that Pacquiao hasn't announced the opponent for his final fight and that he is not ruling out a match with Mayweather. But with Mayweather seemingly in no hurry to come out of retirement, time is running out fast," Yahoo adds.
If the Mayweather clash fails to materialise, Pacquiao's last fight could still be of interest to British fans, says the Daily Mail, which reports that Amir Khan is also in the frame.
"Khan has switched his attention to Pacquiao after being left at the altar for three times by Floyd Mayweather," says the paper, claiming that the Bolton fighter would be one of only a few credible opponents for Pacquiao.
Mayweather v Pacquiao: no rematch for 'coward' Manny
8 May 2015
Hopes that Floyd Mayweather would agree to a rematch with Manny Pacquiao have been dashed after the undefeated American branded the Filipino a "coward" and a "sore loser".
He made the comments in an interview with US broadcaster Showtime to be broadcast this weekend, reports the BBC, in which he said he had changed his mind after apparently agreeing to fight Pacquiao again.
In the interview Mayweather scoffs at the notion that his victory over Pacquiao in last weekend's 'Fight of the Century' was down to a shoulder injury sustained by his opponent two weeks before the fight.
"Excuses, excuses, excuses," said Mayweather. "He lost. He knows he lost. I lost a lot of respect for him after all of this."
Pacquiao underwent surgery on a torn rotator cuff in his right shoulder on Wednesday and will be out for up to a year. But Mayweather was adamant that it had no influence on his unanimous points win at the MGM Grand Arena. "He was fast," he said. "His left hand was fast, his right hand was fast and he was throwing them both fast and strong."
Immediately after the fight Mayweather confirmed that he planned to retire after one more fight in the autumn, an announcement that appeared to end any hopes of a rematch between the two rivals.
However, fans hoping for Mayweather vs Pacquiao 2 were thrown an unexpected lifeline when Mayweather subsequently told ESPN journalist Stephen A Smith in a text that he would be prepared to fight the Filipino again.
But now it seems he has changed his mind. In the interview Mayweather admitted sending the message but said simply: "I change my mind."
He also appears stung by Pacquiao's refusal to acknowledge that he is a better fighter. When asked about the possibility of another fight he said: "At this particular time, no, because he's a sore loser and he's a coward... If you lost, accept the loss and say, 'Mayweather, you were the better fighter.'"
Mayweather v Pacquiao: both fighters 'prepared for rematch'
6 May 2015
The first fight between Floyd Mayweather and Manny Pacquiao was seven years in the making, but after Mayweather's victory in Las Vegas on Saturday there is talk of a rematch in 2016 after the American boxer reportedly told a journalist he was prepared to fight his Filipino rival a second time.
Mayweather's claim contradicts his public declaration that he will retire from the sport after one more fight later this year.
His startling admission was apparently made in a text message to Stephen A Smith of ESPN, which read: "I will fight him in a year after his surgery."
If Mayweather, who now has a record of 48 wins and no losses, triumphs in his next fight his record will be the same as that of the great Rocky Marciano, who retired undefeated after 49 fights. "The MGM has plans to open a new MGM Grand Arena in April 2016, which just happens to coincide with the 60th anniversary of Marciano's retirement," notes ESPN.
Talk of a rematch comes in the wake of a $5m lawsuit filed against Pacquiao by two plaintiffs in Nevada who are demanding damages for anyone who paid to see the match because he failed to disclose details of a shoulder injury before the bout.
The suit alleges that the pair were "defrauded after paying to watch the fight, and seeks class action status on behalf of anyone who bought tickets, pay-per-view or bet on the fight," says The Times.
Meanwhile Pacquiao's manager, Bob Arum, has suggested that his fighter would be prepared to try his luck against Mayweather a second time. The Daily Telegraph says that although the negotiations around the first fight were "attritional" it might be easier to make a rematch.
It quotes Arum, who told ESPN: "I think there will probably be less aggravation in a rematch. We understand each other better now. There's a real possibility it could work even better."
Mayweather v Pacquiao: what next – lawsuits or a rematch?
5 May 2015
In the aftermath of Floyd Mayweather's victory over Manny Pacquiao on Saturday two very different scenarios have emerged. One involves a rematch in Vegas and another huge payday for both fighters, while the other sees Pacquiao out of action for a year and facing the prospect of jail for not disclosing his shoulder injury before Saturday's mega-fight.
Pacquiao was at the centre of attention after the match, won on points by Mayweather, when it was revealed that he had gone into the ring with a shoulder injury. The problem emerged two-and-a-half weeks before the fight, but Pacquiao's team had not revealed details of the problem in paperwork submitted to the Nevada State Athletic Commission before the showdown.
It was clear that the Filipino was below par against Mayweather, throwing far fewer punches than expected, and it has now been confirmed that he will undergo surgery on a torn rotator cuff. The procedure is expected to sideline him for almost a year, and that would appear to scupper the chances of a second showdown with Mayweather, who has announced his intention to retire after one more fight in September.
It could have even more dramatic repercussions, because, according to the Daily Mail "the Filipino star could also be guilty of perjury after signing a pre-fight questionnaire without revealing he was hurt".
It adds that "the punishment for a crime of this nature is between one and four years in prison and a fine of up to $5,000". Pacquiao could also face sanction from the boxing authorities, it adds.
Disgruntled fans could also get involved. "It was amateurish and a colossal mistake to not notify the commission of the injury on the pre-fight questionnaire," says Kevin Iole of Yahoo.
"Have no doubt that there will be lawsuits filed by fans who paid extraordinarily inflated prices, which will not only make Mayweather and Pacquiao rich but which lined the pockets of the promoters and the casino, as well. They'll argue they didn't get what they paid for, and they have a point."
But don't rule out the possibility of Mayweather v Pacquiao part two, says Gareth A Davies of the Daily Telegraph. "Everything points to a rematch. But it will be Mayweather's decision," he says.
Pacquiao's problems could even be the catalyst for a second showdown. "'Shoulder-gate' could be a way that the movers and shakers behind the megafight on Saturday night... could piece together another chapter," he says.
"There is a sense... that the struggle between the two great fighters of this era is not yet complete. We already knew that Mayweather was the superior boxer and it would come down to what Pacquiao could produce. Why not see them fight again, with Pacquiao fully fit?"

Continue reading for free
We hope you're enjoying The Week's refreshingly open-minded journalism.
Subscribed to The Week? Register your account with the same email as your subscription.