Bacha posh: why some Afghan girls are raised as boys
Generations of girls are dressed up as boys so that they can be afforded basic freedoms – but at what cost?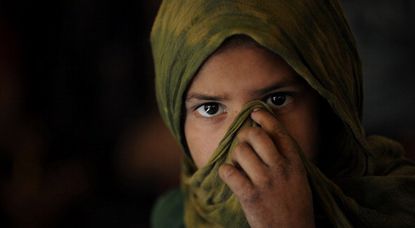 Bacha posh, directly translated as "dressed up like a boy" from the Persian dialect Dari, is an ancient practice that still occurs in parts of Afghanistan and Pakistan today.
Brought to the world's attention by New York Times journalist Jenny Nordberg, the hidden practice of bringing up a young girl as a boy involves altering her physical appearance and giving her a male name.
There are no official statistics, but most Afghans will know at least one bacha posh in their family or community, according to Nordberg. The child will normally only be allowed to return to life as girl once she goes through puberty.
Subscribe to The Week
Escape your echo chamber. Get the facts behind the news, plus analysis from multiple perspectives.
SUBSCRIBE & SAVE
Sign up for The Week's Free Newsletters
From our morning news briefing to a weekly Good News Newsletter, get the best of The Week delivered directly to your inbox.
From our morning news briefing to a weekly Good News Newsletter, get the best of The Week delivered directly to your inbox.
The practice can occur in any household, writes Nordberg, regardless of wealth, status or ethnicity. "The only thing that binds the bacha posh girls together is their families' need for a son in a society that undervalues daughters and demands sons at almost any cost."
Neither is it a phenomenon unique to the region. Females have masqueraded as men in both the East and the West throughout history, for similar reasons to the bacha posh.
Why does it happen?
In Afghanistan, described by the UN as the world's most dangerous country to be a woman, where the average life expectancy is 44 years, there are obvious benefits to even just appearing to be a man.
"For Afghan girls, posing as a boy opens up a whole new world", writes Nordberg in her book The Underground Girls of Kabul. "It allows her to see and experience things most girls and young women in Afghanistan never do."
Dressing as a boy gives young girls a wide range of freedoms, from simply leaving the house alone, to receiving an education and having a job. In a tribal patriarchy where men are more valued, appearing to have a son will also afford a family more respect within the community.
"I know it's very hard for you to believe why one mother is doing these things to their youngest daughter," one woman told Nordberg. "But I want to say for you, that some things are happening in Afghanistan that are really not imaginable for you as a Western people."
Nordberg disagrees, writing in The Guardian: "A great many people in this world would be willing to throw out their gender in a second if it could be traded for freedom."
What are some of the consequences?
"Anecdotal reports tell us that many girls relish their time as boy," writes Afghani paediatrician Nadia Hashimi in Psychology Today. This creates a problem when they are expected to make a seamless transition back to being female in their teens, an experience they often find traumatic, she says.
Having lived their entire childhood in relative freedom, they are suddenly expected to "transform into subordinate wives and mothers", writes Nordberg. Readapting to life as a woman in Afghan society is often impossible, with some continuing to live their lives as men well into adult life.
"Being a man gives you so many privileges", one bacha posh woman told Time magazine. "You own the world and everything is yours."
Hashimi also suggests the practice could also be a recipe for gender dysphoria."I had to change my thoughts and everything inside my mind," one former bacha posh told Nordberg. Another told her "nothing in me feels like a girl".
Looking back on her experience, one bacha posh woman revealed: "It would have been better to grow up as a girl, since I had to become a woman in the end."
Qazi Sayed Mohammad Sami, head of the Balkh Human Rights Commission, describes it as a breach of human rights."We cannot change someone's gender for a while. You cannot change a girl to a boy for a short period of time. It's against humanity," he told the BBC.
But Nordberg argues that despite the long-term negative consequences, it is a practice she believes will continue until the treatment of women in Afghanistan changes. "When one gender is so suppressed and so unwanted, there will always be those who try to pass over to the other side, to reach for the small freedoms every human should have."

Continue reading for free
We hope you're enjoying The Week's refreshingly open-minded journalism.
Subscribed to The Week? Register your account with the same email as your subscription.