Is recycling a waste of time?
Process has both advantages and disadvantages in push to save our planet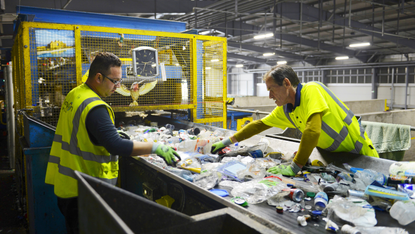 (Image credit: Peter Dazeley / Getty Images)
Sign up to our 10 Things You Need to Know Today newsletter
A free daily digest of the biggest news stories of the day - and the best features from our website
Thank you for signing up to TheWeek. You will receive a verification email shortly.
There was a problem. Please refresh the page and try again.
Boris Johnson triggered controversy in the run-up to Cop26 by telling a group of schoolchildren that recycling plastic "doesn't work".
Answering questions from children at Downing Street in October, the prime minister said that recycling was "not the answer" to threats to ocean ecosystems and that instead "we've all got to cut down our use of plastic".
His words "might have been careless, but they have an element of truth", said the BBC's environment analyst Roger Harrabin. Only 10% of plastic packaging gets recycled in the UK, but according to Greenpeace, "the problem isn't that people aren't recycling enough". The organisation points to wider issues including overproduction of disposable plastics, inadequate recycling infrastructure and the overseas exportation of waste.
Subscribe to The Week
Escape your echo chamber. Get the facts behind the news, plus analysis from multiple perspectives.
SUBSCRIBE & SAVE
Sign up for The Week's Free Newsletters
From our morning news briefing to a weekly Good News Newsletter, get the best of The Week delivered directly to your inbox.
From our morning news briefing to a weekly Good News Newsletter, get the best of The Week delivered directly to your inbox.
Some experts argue that governments should shift their focus from recycling to curbing greenhouse gas emissions. A Leeds University study outlined in a paper in the Environmental Research Letters journal last year found that switching to an electric car and ditching long-haul flights could each cut around 2 tonnes of CO2 per year per person, compared with 0.1 tonnes saved by recycling.
But the BBC's Harrabin argued that while "recycling is a bit of a soft option", it's still "far better to recycle a plastic bottle than to throw it away". Here are some of the key arguments for and against the process.
Pros
Conserving resources
Recycling reduces the amount of raw natural resources needed to produce new synthetic materials. Experts have estimated that every tonne of recycled paper can save 17 trees, 380 gallons of oil, three cubic yards of landfill space, 4,000 kilowatts of energy, and 7,000 gallons of water.
Recycling metals means "less need for risky, expensive and damaging mining and extraction of new metal ores", while recycling plastics cuts reliance on fossil fuel hydrocarbons, said Friends of the Earth. And recycling glass reduces consumption of sand, of which supplies of some types "are starting to get low around the world".
Reducing pollution
When a recycled, rather than raw, material is used to make a new product, natural resources and energy are conserved, because recycled materials "have already been refined and processed once", explained Stanford University. So the second manufacturing process is "much cleaner and less-energy intensive than the first".
Producing aluminium from recycled waste such as food cans uses 95% less energy than making it from scratch, according to Friends of the Earth. Producing paper from recycled pulp rather than virgin wood fibres uses 40% less energy, while "the amount of energy saved from recycling one glass bottle could power an old 100-watt light bulb for four hours and a new low-energy LED equivalent for a lot longer", said the environmental organisation.
And recycling plastic can reduce the amount of CO2 produced per tonne by up to three tonnes, "compared with producing the same tonne of plastic from 'virgin' fossil fuels", BBC Reality Check's Esme Stallard reported.
Diverting waste
Waste that is not recycled or incinerated is likely to end up in a landfill. These sites are sources of toxins including leachate, a liquid that is created as waste breaks down, and can cause significant environmental harm.
Modern landfills are lined and capped to restrict emissions, but studies have linked such dumping grounds to potential health risks including cancer and congenital anomalies.
Meeting demand
The global market for recycled plastics has grown rapidly in recent years and is expected to continue increasing in the coming decade. Projected worth valuations vary, but US-based industry analysis company BCC research has predicted that the market that will grow from $26.5bn in 2020 to $34.4bn by 2025.
Demand is being driven by tougher regulations by authorities worldwide aimed at reducing the use of virgin plastics, and by greater public awareness about environmental problems linked to waste.
Cons
Problems with plastic
"While tins and glass can be hurled indiscriminately into the recycling bin, plastics pose myriad issues," said Wired. There are 40,000 types of plastics, which are generally grouped into seven categories, each of which require different processes to be recycled.
However, "there are limited facilities to recycle mixed plastics in the UK", wrote University of Essex sociologist Katy Wheeler in an article on The Conversation, and "it costs a lot of money to separate and recycle different types of plastic, using specialist machinery".
Another problem is that each time plastic is recycled, its quality diminishes. "A plastic product can only be recycled two to three times before it is no longer used," said BBC Reality Check's Stallard, which is a further reason why "reusing products and reducing consumption is important".
Right product, wrong preparation...
Contamination of recycling waste can occur "when the right materials are prepared in the wrong way", such as food left in containers, a North London Waste Authority spokesperson explained to Metro.
High levels of contamination in batches of recycling waste can mean the whole lot cannot be processed. And "if this is the case then the whole load is sent to be burnt for energy or to landfill", the spokesperson said.
The Local Government Association (LGA), which represents councils in England and Wales, reported in March that 525,000 tonnes of collected household recycling had been rejected at the point of sorting over the past year. As well as the environmental impact, such contamination has a hefty financial cost. Each tonne of contaminated waste "that can't be recycled adds an extra £93 to the waste's disposal cost when it is sent to a waste facility that will turn this into energy", said the LGA, with the combined additional bill totalling around £48m each year.
On a reassuring note for households anxious to get their recycling right, waste items don't have to be thoroughly scrubbed before being put in the green bin. "A quick rinse is fine – there's no need to make it clean enough to eat off of," advised educational app Recycle Coach.
... or just the wrong product
"The rhyme 'if it doubt, leave it out' has got things right," said Wired. Mixed recycling has "gripped us with a free-wheeling, hope-for-the-best attitude towards tossing empties into the recycling" – a phenomenon commonly known as wishcycling.
Also known as "aspirational recycling", wishcycling is "the well-intentioned, but often unfounded belief, that something is recyclable, even though it is not", said the BBC's environment correspondent Helen Briggs.
It doesn't help that food packets are covered with "a mind-boggling array of recycling symbols", she added, and while packaging may say an item is recyclable, "that doesn't mean your council with accept it".
Whatever the causes, wishcycling also risks "ruining a whole batch" of recycling waste, said Wired. Non-recyclable items can damage processing machinery too, so "always err on the side of caution", the magazine added.
Financial costs
Local councils pick up the costs of recycling household waste, and these bills have ballooned during the Covid-19 pandemic. Almost a third of authorities surveyed in August last year by the Local Government Association reported increases of between 20% and 50% in the amount of household waste being sent to recycling centres.
Processing materials for recycling can tot up a hefty bill for cash-strapped councils, with both humans and machines needed to sort mixed materials into separate batches. The upfront costs for creating new waste recycling units are high too, and councils also have to shell out for suitable utility vehicles, containers and more, and for campaigns to educate residents about what can and cannot be recycled.
Shifting responsibility
"Many wealthy countries send recyclable waste overseas as it is financially cheap, reduces domestic landfill and can help areas achieve recycling targets," said the BBC. But doing so may only shift the environmental challenges faced by one country onto another.
Although UK law stipulates that exporting plastic waste is illegal unless it's going to be recycled, a 2018 investigation by Greenpeace found packaging from "everyday British products" discarded at a string of illegal dump sites in Malaysia.
China used to be the go-to destination for recycling waste sent from overseas, but in 2018, Beijing introduced stringent requirements for purchasing plastic scrap, including that the materials must be 99.5% pure. Since then, huge amounts of binned plastic have been sent to other countries including Malaysia, Turkey and Indonesia.
While some poorer countries welcome the money to be made from importing waste, local populations are worried about the potential health risks. Residents in the Malaysian town of Jenjarom had reported "breathing difficulties, having difficult to sleep, feeling nausea", according to Greenpeace.
Along with sending waste to other countries, governments and businesses have been accused of shifting responsibility for environmental issues onto individuals by focusing on recycling rather than other measures aimed at protecting the environment. "Instead of seeing the big picture, people are diverted to the fine print on the refrigerator shelf in the supermarket," professor Anders Levermann of the Potsdam Institute for Climate Impact Research wrote in an article for The Guardian.
But the climate crisis is a "challenge for politics, not for the individual", he added.
Continue reading for free
We hope you're enjoying The Week's refreshingly open-minded journalism.
Subscribed to The Week? Register your account with the same email as your subscription.
Sign up to our 10 Things You Need to Know Today newsletter
A free daily digest of the biggest news stories of the day - and the best features from our website