What is climate migration?
Environmental threats projected to displace populations worldwide in coming years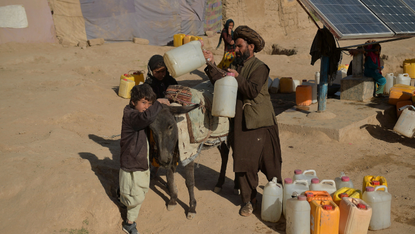 (Image credit: Hoshang Hashimi/AFP via Getty Images)
Tens of millions of people will be forced to flee their homes over the next few decades as a result of worsening environmental effects of climate change, experts have warned.
The chief of the International Organization for Migration (IOM) told the Cop26 climate summit earlier this month that "as the impacts of disasters, land degradation and water scarcity become more intense and devastating, it has become critical to address the impacts of climate change on migration, displacement and health".
"These issues are interconnected but have been addressed in a siloed manner for too long," Antonio Vitorino continued. "We must address them together."
Subscribe to The Week
Escape your echo chamber. Get the facts behind the news, plus analysis from multiple perspectives.
SUBSCRIBE & SAVE
Sign up for The Week's Free Newsletters
From our morning news briefing to a weekly Good News Newsletter, get the best of The Week delivered directly to your inbox.
From our morning news briefing to a weekly Good News Newsletter, get the best of The Week delivered directly to your inbox.
Defining issue
To date, "no legal definition for persons on the move due to environmental drivers exists", and neither is there "an internationally accepted one", according to the IOM.
"Labels are important," the UN agency said in a 2008 report, and "one immediately contentious issue" is whether to use the term "climate refugees" or "climate migrants" to refer to people displaced due to climate change.
"This is not just semantics," the report said. The definition "will have very real implications for the obligations of the international community under international law".
More than a decade later, which term to use is still being debated. But "until the world agrees how to define a 'climate migrant', legislation to protect them will lag behind the reality of climate change", said The New Statesman.
The term "refugee", as defined by the UN's 1951 Refugee Convention and 1967 Protocol, refers to a person with a "well-founded fear of being persecuted for reasons of race, religion, nationality, membership of a particular social group, or political opinion, is outside the country of his nationality and is unable to or, owing to such fear, is unwilling to avail himself of the protection of that country".
If the definition were applied to people displaced due to environmental causes, they would be protected under the principle of non-refoulement, affording them certain rights not afforded to people defined as a "migrant", for which there is no agreed international definition.
Scale
Most migration caused by climate change currently takes place within national borders. The World Bank has estimated that a total of 216m people across six regions – Sub-Saharan Africa, East Asia and Pacific, South Asia, North Africa, Latin America, Eastern Europe and Central Asia – may "move within their own countries due to slow-onset climate change impacts by 2050".
And these projections "are likely to be conservative", refer only to internal displacement and do not cover modelling for western Europe and America, the organisation said in a report published earlier this year. Even so, forecasts "should impart a sense of urgency for early action".
"If well managed, internal climate migration and associated shifts in population distribution can become part of an effective adaptation strategy," the report continued. But if the issue is ignored, "climate change could shift social, economic and livelihood circumstances in ways that may force people to migrate in distress", placing "significant pressures on both sending and receiving areas".
Although most climate-related migration is currently within nations, recent years have seen a "rising trend of cross-border movements", said The New Statesman.
In a recent report on such migration, the White House National Security Council said that cross-border movement was being driven by regions where climate change "interacts with conflict and violence". Rising global temperatures are already known to be indirectly linked to an increase in violent conflict.
Despite acknowledging the growing problem, the US is turning away migrants at the Mexico border, even as the neighbouring nation is hit by an influx of people fleeing other nations as a result of climate factors. And while the number of migrants arriving in Mexico is expected to rise, "models can't say much about the cultural strain that might result from a climate influx", said The New York Times. "There is no data on anger and prejudice."
Solutions
The plea by International Organization for Migration boss Vitorino for action to tackle the global crisis was echoed by the World Health Organization and other major institutions. In a statement at Cop26, the UN Network on Migration warned that "no region is spared from environmental hazards".
Leaders across the globe are being urged to integrate human mobility scenarios into their climate change action plans. The World Bank's 2021 report concluded that hotspots for internal migration could emerge as early as 2030. "Development planning needs to be proactive," said the report, which called for strategies to be put in place for the integration of displaced peoples.
Plans should also be made to "build resilience for populations who remain", the report continued.
On a positive note, the World Bank said that decisive global action on greenhouse gas emissions could "dramatically slow the rise in internal climate migration". Combined with "inclusive and resilient development trajectories" , such action was projected to potentially reduce the level of internal climate displacement by as much as 80%.
But "the window for action is closing", said The New York Times.
"For a long time, the climate alarm has been sounded in terms of its economic toll, but now it can increasingly be counted in people harmed," the paper concluded.

Continue reading for free
We hope you're enjoying The Week's refreshingly open-minded journalism.
Subscribed to The Week? Register your account with the same email as your subscription.