Climate change: the cities most at risk
Urban populations face increasing threat of natural disasters from warming temperatures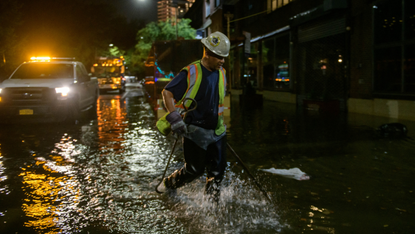 (Image credit: Ed Jones / AFP / Getty Images)
Urban areas are feeling the effects of climate change while simultaneously contributing to the increasing severity of the world's worsening environmental situation, the UN has warned.
"Urban activities" are a "key contributor to climate change" due to the high level of greenhouse gas emissions they generate, the UN Environment Programme has said. And as natural disasters increase in frequency and severity as a result of rising global temperatures, cities that had previously not been thought of as the frontline of the climate crisis have begun to experience extreme, and in some cases deadly, weather events.
A research team, led by Professor Lei Zhao, an environmental engineering expert at the University of Illinois, found that average summer temperatures could rise between 1.9C and 4.4C by the end of the century. "No matter how much the world warms, cities will have it worse," said Bloomberg.
Subscribe to The Week
Escape your echo chamber. Get the facts behind the news, plus analysis from multiple perspectives.
SUBSCRIBE & SAVE
Sign up for The Week's Free Newsletters
From our morning news briefing to a weekly Good News Newsletter, get the best of The Week delivered directly to your inbox.
From our morning news briefing to a weekly Good News Newsletter, get the best of The Week delivered directly to your inbox.
Here are some of the cities at risk from climate change.
1. Jakarta, Indonesia
Of the 100 cities with the highest risk of environmental harm, 99 are in Asia, according to a 2021 report by risk analysts Verisk Maplecroft which ranked 576 global cities. The riskiest of all, the report found, is Jakarta.
Indonesia's low-lying coastal capital is "plagued with dire air pollution" which is compounded by "perennial threats from seismic activity and flooding", the report said.
Another unique problem is that Jakarta is also "the world's fastest-sinking city", Vox added. With limited access to water, many of the more than 10 million residents have to extract groundwater which is contributing to the subsidence.
President Joko Widodo is planning to move Indonesia's capital to a "yet-to-be-built city in Kalimantan" on the island of Borneo in an effort to combat future issues, The Guardian said.
2. Delhi, India
The same risk report ranked Delhi the second most vulnerable city to climate change.
In fact, 13 of the 20 highest risk cities were found to be in India, with Chennai, Agra and Kanpur ranking in the top ten. The Organisation for Economic Co-operation and Development has also ranked Kolkata and Mumbai as the top two cities most at risk of coastal flooding by 2070.
Verisk Maplecroft found that pollution was the primary threat to the health of India's urban populations, and particularly Delhi's, noting that "noxious air caused almost one in five deaths in India in 2019", while water pollution was found to cause around 400,000 deaths every year.
3. Lima, Peru
Lima has been found to be the most at-risk city in the Americas.
Air pollution caused by vehicle emissions is a significant contributor to this calculation. Researchers at the University of Chicago have found that if the World Health Organization's guidelines on atmospheric pollutant levels were met, the population's life expectancy could increase by an average of 4.7 years.
The city's population is particularly vulnerable as a result of poor-quality housing and infrastructural problems, the United States Agency for International Development (US AID) has reported.
4. Lagos, Nigeria
Africa's most populous city could "soon be unliveable", CNN reported.
While Nigerians are "used to the yearly floods that engulf the coastal city" during the country's rainy season, this year Lagos Island experienced extreme levels of flooding. "The floods paralyze economic activity, at an estimated cost of around $4bn (£2.9bn) per year", the broadcaster said.
Verisk Maplecroft's Climate Change Vulnerability Index reveals that cities in Africa will "come off worse" to environmental threats, not only because the continent is most exposed to severe climate threats, but because "it is also least able to mitigate their impacts". In comparison, South Africa's "relative wealth and lower exposure cushions its major urban centres".
5. Karachi, Pakistan
With a population of more than 16 million people, Karachi has experienced the deadly effects of extreme heat in recent years and now ranks as the world's 12th riskiest city.
In 2015, more than 1,200 of the city's residents died as the result of a heatwave with temperatures reaching 49℃. To the country's east, Lahore is ranked as the 15th most at-risk city.
UN forecasts indicate Karachi's population could increase to more than 20 million by 2030.
Pakistan is susceptible to increased temperatures, monsoon variability and extreme weather events as a result of climate change, and it is feared that this "coupled with a growing population and economic strain" will have severe implications for the health of Karachi residents, a 2021 medical research paper published in Science Direct found.
6. Port-au-Prince, Haiti
With rising temperatures set to increase the frequency and severity of weather events such as hurricanes and flooding, Haiti's capital is at extreme risk of climate change.
It is projected that Haiti will experience both an increase in storm strength and temperatures, as well as a decrease in dry-season precipitation, according to US AID. A 2011 forecast found that people living in Haitian cities including Port-au-Prince are likely to be at a two to four times higher risk of tropical cyclones than non-urban populations.
The city has also been heavily damaged by high-magnitude earthquakes in the past decade.
7. Miami, Florida
"There is an inescapable truth about life in South Florida," author and journalist Mario Alejandro Ariza wrote on the online university magazine Yale Environment 360 last year: "This low-lying region is set to be swallowed by the sea."
Boris Johnson echoed this warning at Cop26, telling world leaders that Miami could be "lost beneath the waves" if global temperatures were to rise by four degrees. Some studies estimate the surrounding sea could rise by six inches by 2030, "and infrastructure planners are bracing for two feet by 2060", said Ariza. A six-feet rise by the end of the century is both "likely", and "likely catastrophic", he said.
Nearby Florida Keys could also see main roads flood by 2025. Estimates of the cost of raising roads to avoid infrastructural damage have come out with a "staggering price tag" of $750m (£550.5m), and "where exactly all that cash will come from remains unclear", said the Miami Herald.
8. Muscat, Oman
The capital of Oman "got a preview of what's coming for cities in the Arabian peninsula" in March this year when temperatures reached 41.3C, a mercury reading expected nearer to June, said Bloomberg.
In October 2021, a "rare and intense cyclone" also caused severe damage in the city, NPR reported. The last time a cyclone of this severity hit the country was in 2007, but climate change is "making disasters like this more common".
9. Manila, Philippines
The sea water level in Manila Bay is rising "more than four times faster than the global average", said Bloomberg. The "flood-prone" geographic region has been hit by cyclones in recent years, while "rapid urbanisation and out-of-control population growth" make adaptation and mitigation tricky, it added.
The Philippines is hit by around 20 typhoons a year, and is one of the most at-risk countries in the world from climate change. A Global Climate Risk Index ranks it as the 17th most at risk country, with 145,000 people internally displaced by disasters at the end of last year, according to the Internal Displacement Monitoring Centre.

Continue reading for free
We hope you're enjoying The Week's refreshingly open-minded journalism.
Subscribed to The Week? Register your account with the same email as your subscription.