The ethics of having children in the age of climate change
International survey finds one in four young people 'hesitant' about starting families amid global warming fears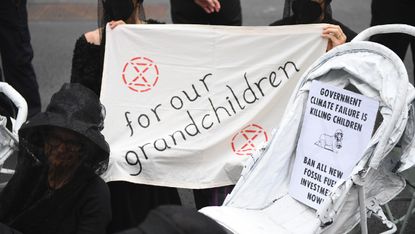 (Image credit: Chris J Ratcliffe/Getty Images)
In an age of increasingly frequent "freak" weather events and warnings about global warming, the future of our planet is looking increasingly uncertain.
As experts predict that some of the effects of climate change will be "irreversible", a growing number of young people are becoming reluctant to bring children into the world, a newly published study in The Lancet revealed.
In a global poll of 10,000 people aged 16 to 25, three-quarters agreed that "the future is frightening", while just 31% felt that their governments were "doing enough to avoid catastrophe".
Subscribe to The Week
Escape your echo chamber. Get the facts behind the news, plus analysis from multiple perspectives.
SUBSCRIBE & SAVE
Sign up for The Week's Free Newsletters
From our morning news briefing to a weekly Good News Newsletter, get the best of The Week delivered directly to your inbox.
From our morning news briefing to a weekly Good News Newsletter, get the best of The Week delivered directly to your inbox.
And 39% are "hesitant to have children", according to the findings of the survey, which covered Australia, Brazil, Finland, France, India, Nigeria, the Philippines, Portugal, the UK and the US.
"I meet a lot of young girls, who ask whether it's still OK to have children," German climate activist Luisa Neubauer told The Guardian. "It's a simple question, yet it tells so much about the climate reality we are living in."
The moral conundrum has become a hot topic in recent years. In 2019, New York congresswoman Alexandria Ocasio-Cortez made headlines after questioning the environmental ethics of childbearing.
"Our planet is going to hit disaster if we don't turn this ship around... there's scientific consensus that the lives of children are going to be very difficult," she said in an Instagram livestream.
Ocasio-Cortez's comments were met with what Business Insider described as "blowback from conservative pundits", who argued that she was effectively "advocating for a ban on children".
As the debate rages on, activists point to the carbon footprint that each new human life creates. A 2017 study published in Environmental Research journal by Canadian climate scientists found that a child born into the global north left a 58.6 metric tonne carbon footprint annually, on average.
This carbon footprint is lower in undeveloped countries, however, with that of a child in Malawi estimated to be no more than 0.1 metric tonnes annually, according to the BBC.
Along with ditching cars, avoiding air travel and eating a plant-based diet, the Canadian study recommended that people could reduce their greenhouse gas emissions by reducing the number of children they have by one.
High-profile figures who appear to back this strategy of having smaller families include Prince Harry and Meghan Markle. The Duke of Sussex told Vogue in 2019 that he would have a "maximum" of two children, citing environmental concerns.
Such concerns typically range from "what harm will my child do to the world?" to "what sort of harm will a hotter and more violent, less stable world do to my child?" said Meghan Kallman, the co-founder of Conceivable Future, a grassroots network of Americans who feel conflicted about starting a family against the backdrop of climate chaos.
"The future is so incredibly uncertain... it's really terrifying to contemplate the prospect of kids you have or kids you might have," she told the BBC.
Not everyone is convinced that having fewer children is the best way to protect our planet's future. "If we consider the child solely as an individual unit of consumption, an aspect of their parent's carbon footprint just as eating a steak or taking a flight might be, then yes, their existence could well be a bad thing," wrote Tom Whyman in digital tech and trends magazine The Outline.
"But this is a really strange way to consider a human life," he continued. "Every new human being exists, in part, to carry on the human species - but they also act transformatively within the world."
Critics of the fewer children approach often point to both the social and economic implications. Europe's low birth rate and fast-ageing population has been described as a "demographic time-bomb" by the FT.
"There is serious concern about the impact of an ageing population on public finances and economic growth," said the paper.
Ultimately, of course, whether to have children in the age of climate change remains a personal choice.
Even climate scientist Kimberley Nicholas, who co-authored the 2017 Canadian study that recommended having fewer children, has argued that people who really want to become parents should do so.
Speaking to Vox's Sigal Samuel in April about why "it's still OK to have kids", Nicholas argued that to "leave fossil fuels in the ground and switch to regenerative and sustainable agriculture" would make more of an impact in tackling climate change than controlling the population.
"It is true that more people will consume more resources and cause more greenhouse gas emissions," she said. "But that's not really the relevant timeframe for actually stabilising the climate, given that we have this decade to cut emissions in half."
Samuel has put forward another powerful argument in the childbearing debate. "Children aren't just emitters of carbon," she wrote in an article last year. "They're also extraordinarily efficient emitters of joy and meaning and hope.
"Those sentiments are what will hopefully motivate us to keep pushing for the changes our world desperately needs."

Continue reading for free
We hope you're enjoying The Week's refreshingly open-minded journalism.
Subscribed to The Week? Register your account with the same email as your subscription.