The most extreme weather events in 2021
Link between climate change and worsening weather established in pivotal year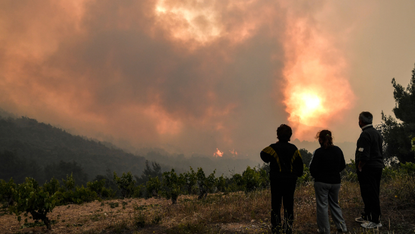 (Image credit: Louisa Gouliamaki/AFP via Getty Images)
This year was regarded by scientists, politicians and environmentalists as pivotal in the global effort to take action on climate change.
Stark warnings and alarming forecasts were issued, as regions that were previously not considered to be on the frontline of climate change saw unprecedented weather events destroy homes and claim lives. As mercury levels in Moscow hit record-breaking highs in June, the United Nations Secretary General Antonio Guterres warned that the world was reaching a "point of no return"
In August, Boris Johnson described the latest global assessment from the Intergovernmental Panel on Climate Change (IPCC) as a "wake-up call to the world". The "most comprehensive" climate report from the panel issued a "code red for humanity", said The Independent, and stated the link between global warming and the increased rate and severity of extreme weather events.
Subscribe to The Week
Escape your echo chamber. Get the facts behind the news, plus analysis from multiple perspectives.
SUBSCRIBE & SAVE
Sign up for The Week's Free Newsletters
From our morning news briefing to a weekly Good News Newsletter, get the best of The Week delivered directly to your inbox.
From our morning news briefing to a weekly Good News Newsletter, get the best of The Week delivered directly to your inbox.
Climate scientist Professor Hannah Cloke said that this year's extreme weather events "ought to serve as a canary in the coal mine to spur faster action to adapt society to the reality of a changing climate".
Here are some of the most costly weather incidents recorded so far this year.
1. Record-breaking snowfall, Madrid
In the first weeks of 2021, Storm Filomena brought record-breaking levels of snow for Madrid and elderly Spanish citizens were warned to stay at home as temperatures plummeted. The heaviest snow for 50 years brought transport in and out of the city to a "standstill", Euronews reported. The snowstorm caused around €1.4bn (£1.2bn) of damage, The New York Times said.
2. Storm Christoph, UK
The period from 18 to 20 January 2021 was "one of the wettest three-day periods on record" for North Wales and North-West England, according to the Met Office. Homes in Cheshire were flooded, and residents were evacuated from homes in Manchester and Merseyside. Once Storm Christoph cleared, significant snowfall also led to travel disruption with icy conditions and road closures. Liberal Democrat councillor Richard Kilpatrick told the Manchester Evening News the atmosphere was one of "anxiety and disbelief".
3. Cyclone Ana, Fiji
Cyclone Ana "pummelled" Fiji towards the end of January, "just a month after category 5 Cyclone Yasa tore through the country's northern islands", The Guardian said. Satyendra Prasad, Fiji's ambassador to the United Nations, said the cyclone – which caused more than 10,000 people to take refuge in 318 evacuation centres across the country – had left behind "a difficult recovery".
4. Winter storms, Texas
The Week US reported that 3.5 million businesses and homes were left without power in February as temperatures dropped to -13℃ in some areas of Texas. Power went out across the state, leaving many vulnerable people in extremely cold conditions. The total death toll rose from 151 to 210 in July, after a decision was made to include deaths caused by the collapse of the state electric power grid in the final count, The Guardian reported.
5. Dust storm, China
Flights were grounded and schools shut in what the South China Morning post reported as the worst sandstorm in a decade. But what was widely reported as a sandstorm in China was, in fact, a dust storm - "and that's much worse", said The Conversation. The miniscule particles can travel "much, much further" than sand, and can cause health risks if they are "drawn deep into the lungs". In Beijing, the sky became orange as dust and pollution caused hazardous air quality.
6. Flooding, New South Wales
In March, Sydney and New South Wales (NSW) residents felt the effects of extreme flooding. The NSW State Emergency Service (SES) urged residents to take care of both their physical and mental health as heavy downpours lead to rivers and dams overflowing, with thousands evacuated from their homes.
7. Cyclone Seroja
In April 160 people died in Indonesia after a tropical cyclone "hit a remote cluster of islands", Climate Home News reported. Landslides and flash floods displaced at least 22,000 people, the news site adds. Reaching Western Australia days after it made landfall in Indonesia, residents in the town of Kalbarri, north of Perth, said the storm was "absolutely terrifying", the BBC reported. Western Australia Premier Mark McGowan said Cyclone Seroja was "like nothing we have seen before in decades".
8. Record temperatures, Moscow
As temperatures reached 34.8℃ in Moscow, "the absolute record for any day in June was hit", The Moscow Times reported. The "abnormal temperatures" of the "record-breaking heatwave" weren't just recorded in the capital; Penza, Vologda and Petrozavodsk also broke heat records during the month.
9. Heat dome, Pacific Northwest
Soaring temperatures across the Northwest United States "rewrote the record books" this year, National Geographic reported. The "heat dome" was the "most dramatic example" of an extreme weather event, said The Guardian's global environment editor Jonathan Watts, and the meteorological phenomenon led to evacuations across states that weren't "remotely prepared for the heat". Lytton, a village in Canada's British Columbia, was "engulfed and largely destroyed by a wildfire" as a result of the temperatures, National Geographic continued.
Blistering Pacific Northwest temperatures should act as a wake-up call
10. Bootleg fire, Oregon
A "heavier-than-normal start to the US wildfire season" saw "one of the largest blazes in Oregon's history" consume more than 364,000 acres of land, the BBC reported in July. More than 2,000 firefighters tackled the wildfire, which took more than a month to contain. The fire "generated its own weather system", noted Oregon Live, and thousands of homes were threatened by the blaze, which saw residents temporarily housed in evacuation centres in the state.
11. Flooding, west Germany
Floods destroyed homes and bridges along the River Ahr in July, while in the German village of Schuld, water "engulfed streets and swallowed homes" CNN reported. Victims will be supported by a government-approved €400 million recovery package, as ministers have promised to move quickly on rebuilding affected areas, Euronews reported. A study by World Weather Attribution found that this event was between 1.2 and nine times more likely to happen in 2021 compared to pre-industrial periods.
12. Flooding, China
More than 300 people died when China's Henan province experienced severe rainfall and flooding in July. Twelve people lost their lives in a Zhengzhou metro train, with survivors describing how water leaked through the carriage's doors until it became difficult to breathe. While the country typically experiences flooding in the summer months, this year's occurrence was "exacerbated by rapid urbanisation, conversion of farmland and the worsening climate crisis, as well as overwhelmed flood mitigation systems," The Guardian reported.
13. Wildfires, Greece
Huge wildfires "ravaged" large regions of southern Europe in August, claiming lives in Greece, Turkey and Italy, The Guardian reported. The blaze came as a heatwave swept the region, and Greece's second largest island - Evia - was evacuated. Greek prime minister Kyriakos Mitsotakis apologised for the blazes, and said that more than 580 fires have broken out in the past seven days. More than 20 countries offered to send firefighting resources, and the "camaraderie" that's developed between Greek and British firefighters "is testament to the scale of the job before them", Sky News reports.
14. Hurricane Ida, US
More than one million homes and businesses were left without power in the southern US states of Louisiana and Mississippi after Hurricane Ida made landfall on 29 August, the 16th anniversary of Hurricane Katrina. Ida hit with maximum sustained winds of 150mph. It was later downgraded to a tropical depression, and moved from a category four storm to category one. "Katrina followed a similar trajectory", Sky News said. In the following days, Storm Ida moved up the northern-eastern coast of America. Subway stations and roads were flooded in New York, where the lives of at least nine people - including that of a two-year-old boy - were claimed by the storm. For communities in New Orleans, Ida has brought "painful reminders of the death and devastation" caused by the 2006 hurricane which killed more than 1,800 people, The New York Times reported.
15. Monsoon floods, India and Nepal
Several Nepalese regions and two Indian states were hit by "heavy late monsoon rains" in October, Reuters reported. "Deadly flash floods" took the lives of more than 180 people as "homes were submerged or crushed by rocks", said the BBC. The Nepalese government committed to giving each of the victims' families $1,700 (£1,220) in response.
The unseasonal rainfall was attributed to the climate crisis, but some experts indicated that hydro-power projects in the Himalayas, and "excessive and often unchecked construction on steep slopes", had contributed to the damage caused to the region's "fragile ecology", said the broadcaster.
16. Tornadoes, Kentucky
Joe Biden said that Kentucky had experienced "one of the largest tornado outbreaks in US history". More than 30 tornadoes "tore through" Kentucky and seven other states, claiming the lives of at least 90 people, and leaving thousands of residents homeless, said Sky News.
The state's governor, Andy Beshear, said that this was "the most devastating, most deadly tornado event in Kentucky's history".
Two brothers, aged 15 months and three months old, were placed in a bathtub before being carried away by the severe winds. Their grandmother, Clara Lutz, later learned that both boys had been found alive in her garden under the upturned bath.
Biden's infrastructure bill has allocated billions of dollars to climate resilience projects, in the hope of strengthening infrastructure and defence against future extreme weather events.
17. Typhoons, Philippines
The Philippine Red Cross described "complete carnage" in coastal areas of the country after Super Typhoon Rai "sent some 400,000 people running for safety" on 16 December, said the BBC. Thousands of military and service personnel were working to assist with search and rescue efforts in the worst-hit areas.
Winds of around 120mph ripped through the nation's south-eastern islands, injuring at least 500 people. A further 375 people are known to have died. "There are some areas that look like it has been bombed worse than World War Two," Red Cross chair Richard Gordon told the BBC.

Continue reading for free
We hope you're enjoying The Week's refreshingly open-minded journalism.
Subscribed to The Week? Register your account with the same email as your subscription.