Climate change: the worst offenders
Biden criticises China and Russia for 'not showing up' at Cop26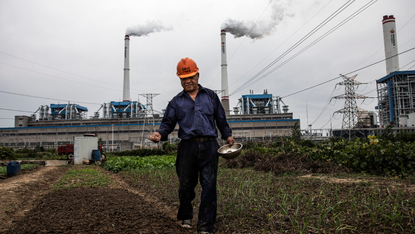 (Image credit: Getty Images)
Joe Biden launched a broadside at China and Russia for their failure to attend Cop26 as he signed off from the summit in Glasgow yesterday.
The US president claimed his counterparts Xi Jinping and Vladimir Putin had lost influence on the world stage by shunning the climate change conference. "China, Russia, and Saudi Arabia not showing up, was a problem," Biden said in his final press briefing at the opening two-day World Leaders Summit. "We showed up. And by showing up, I think we've had a bit impact on how the rest of the world looks at the US."
China has committed to achieving net zero emissions by 2060, while Putin has said that Russia "will strive" for the same target. But both countries are high on the list of the world's biggest carbon dioxide emitters, along with the US.
Subscribe to The Week
Escape your echo chamber. Get the facts behind the news, plus analysis from multiple perspectives.
SUBSCRIBE & SAVE
Sign up for The Week's Free Newsletters
From our morning news briefing to a weekly Good News Newsletter, get the best of The Week delivered directly to your inbox.
From our morning news briefing to a weekly Good News Newsletter, get the best of The Week delivered directly to your inbox.
1. China
China's "huge" population and "explosive economic growth" have "pushed it way ahead of any other country in its overall emissions", said the BBC.
Analysis by the Financial Times of data from Climate Watch and the International Energy Agency found that China's CO2 emissions (CO2e) have increased significantly since the 1990s. Latest figures show that country emitted 11.7bn tonnes of CO2 in 2018 – almost a quarter of the global total.
China remains heavy reliant on fossil fuels. According to the newspaper's analysis, 70% of the Asian nation's electricity was produced from non-renewable or nuclear fuels, with renewables at 26% and nuclear at 4%.
Beijing has pledged to begin cutting greenhouse gas emissions by 2030, and to increase its capacity of wind and solar power to more than 1.2bn kilowatts by the same deadline. But as the BBC noted, President Xi "has not said exactly how these goals will be achieved".
2. US
The total proportion of global carbon emissions coming from the US is less than half that of China, at 11.84%. But the Western superpower tops the list of the five biggest emitters in terms of tonnes of CO2 per capita, at 15 tonnes per person, compared with China's seven.
In April, Biden committed to reducing his country's net greenhouse gas emissions by at least 50% from 2005 levels by 2030.
And this week the president launched a "global initiative to crack down on methane pollution", said the FT. Methane currently accounts for about 10% of man-made greenhouse gas emissions in the US, the paper reported, "but has more than 80 times the warming potential of carbon dioxide over a 20-year period".
3. India
India is responsible for 6.84% of global CO2e, the FT analysis found, with 80% of the country's electricity generated by fossil fuels. And with under-25s accounting for almost half of India's total 1.3bn population, the nation's energy needs are set to "rise more than any other country over the next 20 years", said Time.
A pledge by Prime Minister Narendra Modi at Cop26 on Monday to reach net zero emissions by 2070 "caught climate advocates by surprise", the magazine continued, after Indian officials previously said the country would not set a target on carbon or greenhouse gas emissions.
The "20-year lag behind other powerful nations' targets may make India's goal seem unambitious", but experts have argued that Modi's deadline "has to be considered in the context of a developing country".
A "fair comparison", said Ulka Kelkar of the World Resources Institute, "is not with the US and Europe as of today, but with the US and Europe of 20 or 30 years ago".
4. Russia
Russia's total CO2e emissions have dropped since 1990, but still amount to 4.07% of the global total, while the country's emissions per capita were 11.1 tonnes in 2018.
According to The Wall Street Journal, "climate change has been little more than an afterthought for many big companies" in Russia. But an increasing number of Russian firms are now "making a push to be greener", amid "growing pressure from investors".
As "one of the world's largest oil and natural gas producers", hopes of Russia meeting its 2060 target rest on plans to scale down these industries "while doubling down on natural gas", said The Washington Post.
Technological advances are also needed to reduce the level of methane leaking from the nation's "sprawling network of pipelines", the paper added. On Tuesday, more than 100 countries signed an agreement, spearheaded by the US and EU, to slash methane emissions by 30% from 2020 levels over the coming decade. Russia was not one of them.
5. Indonesia
Deforestation and "peatland megafires" play a significant part in Indonesia's global CO2e contribution of 3.48%, said climate science news site Carbon Brief. And while steps have been taken to "crack down on the clearing of tropical forests for palm oil plantations", researchers "have questioned how well those efforts are working", said The New York Times.
Indonesia has signed a Cop26 agreement to end and reverse deforestation by 2030, however.
The burning of fossil fuels for energy is also contributing to Indonesia's greenhouse emissions, though "to a lesser extent" than deforestation and peatland destruction, said Carbon Brief.
The FT analysis found that around 83% of the country's energy came from fossil fuels in 2018, when Indonesia's total emissions increased by 16.22% from the previous year.
At Cop21, in 2015, Indonesia had committed to a minimum 29% reduction in greenhouse gas emissions by 2030, a pledge renewed in July this year.

Continue reading for free
We hope you're enjoying The Week's refreshingly open-minded journalism.
Subscribed to The Week? Register your account with the same email as your subscription.