Why is the world running out of sand?
An increased demand for the vital construction material is having a significant environmental impact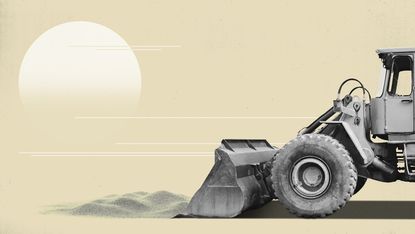 (Image credit: Illustrated/Getty Images)
While our beaches and deserts may suggest otherwise, sand is actually in short supply, with an unprecedented surge in demand seriously depleting global supplies.
A key component of concrete, glass and other essential building materials, sand plays a crucial role in shaping and building our urban landscapes.
But a 2022 study conducted by Leiden University in the Netherlands warned that sand demand is projected to rise by 45% over the next four decades, said New Scientist.
Subscribe to The Week
Escape your echo chamber. Get the facts behind the news, plus analysis from multiple perspectives.
SUBSCRIBE & SAVE
Sign up for The Week's Free Newsletters
From our morning news briefing to a weekly Good News Newsletter, get the best of The Week delivered directly to your inbox.
From our morning news briefing to a weekly Good News Newsletter, get the best of The Week delivered directly to your inbox.
By 2060, the construction sector's annual consumption is expected to reach a staggering 4.6 billion tonnes, primarily driven by rapid population growth and economic development in Africa and Asia.
Why are we running out of sand?
It might seem strange that the world is facing a shortage of sand when it is "found in virtually every country on earth" and seems "essentially limitless", said BBC Future.
But sand is "the most-consumed natural resource on the planet besides water", said the broadcaster. Some 50 billion tonnes of sand and gravel – called "aggregate" – is used every year, an amount large enough to "blanket the entire United Kingdom".
Much of the problem lies in the type of sand needed for construction, with desert sand "largely useless to us" as its grains are the wrong shape. "Eroded by wind rather than water, they are too smooth and rounded to lock together to form stable concrete," explained the BBC. "The sand we need is the more angular stuff found in the beds, banks, and floodplains of rivers, as well as in lakes and on the seashore."
But the staggering demand for the material means that riverbeds, beaches and forests around the world are being "stripped bare". "And in a growing number of countries, criminal gangs have moved into the trade," said the BBC, which has spawned "an often lethal black market in sand".
"The issue of sand comes as a surprise to many, but it shouldn't," says Pascal Peduzzi, a researcher with the United Nations Environment Programme (UNEP). "We cannot extract 50 billion tonnes per year of any material without leading to massive impacts on the planet and thus on people's lives."
How closely monitored is sand mining?
The problem has also been exacerbated by how poorly monitored sand consumption is, with policymakers having to rely on "rough estimates" of how much is used each year, "unlike most other commodities", noted Deutsche Welle.
A landmark report from UNEP in 2019 "had to rely on data for cement – which sand and gravel are mixed with to make concrete – to land on a ballpark figure of 50 billion tons", said the news site.
This figure exceeds the sustainable limits of sand extraction and in some regions the shortages "have already fuelled targeted killings and the destruction of habitats", said DW.
What is the impact of the sand crisis?
The impact of the world's demand for sand is already being felt across the planet. With sand extracted far more quickly than it can be naturally replenished, the environmental and human cost is high.
The UNEP report highlighted the impacts the overexploitation of sand is already having. In the Mekong River, the longest waterway in Southeast Asia, extensive sand extraction has triggered a concerning phenomenon – the sinking of the delta. This subsidence, in turn, has led to the salinisation of once-fertile lands, rendering them less suitable for agriculture and posing a grave threat to local livelihoods.
In a Sri Lankan river, the removal of sand has disrupted the natural flow of water and resulted in a reversal of the water's direction, with ocean water penetrating inland. Consequently, salt-water crocodiles, previously confined to coastal areas, have been making their way into the river.
And as demand for sand continues to escalate, attention is now shifting towards Africa, where villagers frequently extract sand from beaches to meet the needs of burgeoning urban centres. But this practice poses a significant risk, rendering coastlines more vulnerable to the adverse effects of climate change.
What can be done?
According to the UNEP report, the world must prioritise "reducing natural sand extraction and its associated impacts in the near term" to avoid a significant crisis.
The report suggests eliminating unnecessary building projects and speculative construction, advocating instead for the recycling of existing materials, particularly in developed nations with abundant infrastructure. The report points to Germany, which it says already recycles 87% of its waste aggregate materials. Recycled ash from incinerated solid waste can be used as a sand alternative, says the report.
A UNEP report in 2022 set out ten recommendations for "how sand resources should be governed and managed in a responsible, sustainable, and just manner".
Calling for integrated policies and legal frameworks, the authors "stress that governments, industries and consumers should price sand in a way that recognises its true social and environmental value", said UNEP.
"Our sand resources are not infinite, and we need to use them wisely. If we can get a grip on how to manage the most extracted solid material in the world, we can avert a crisis and move toward a circular economy," said Peduzzi, co-ordinator of the 2022 report.

Continue reading for free
We hope you're enjoying The Week's refreshingly open-minded journalism.
Subscribed to The Week? Register your account with the same email as your subscription.