How esports are taking over the globe
Esports – competitive video gaming – have created a new breed of professional athlete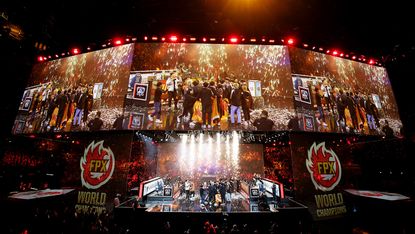 (Image credit: Jack Thomas/Riot Games Inc. via Getty Images)
The esports market is estimated to be worth £1.4bn by 2025. Dominic Sacco, founder of Esports News UK, told the BBC that before continued growth and bigger audiences, the industry needed to come to terms with some fundamental changes to how much of it will be organised in future.
"At the start of 2022 a group backed by the Saudi Arabian government bought two of the biggest esports tournament operators in the world, ESL and FaceIt," he explained. "I think we'll see more of this happening and it will be a big trend in 2023 and probably beyond."
But what's behind the boom in competitive video gaming?
Subscribe to The Week
Escape your echo chamber. Get the facts behind the news, plus analysis from multiple perspectives.
SUBSCRIBE & SAVE
Sign up for The Week's Free Newsletters
From our morning news briefing to a weekly Good News Newsletter, get the best of The Week delivered directly to your inbox.
From our morning news briefing to a weekly Good News Newsletter, get the best of The Week delivered directly to your inbox.
How are esports played?
Skilled players take each other on, either individually or in teams, playing popular video games for prize money. The biggest games include Overwatch, "a first-person shooter" game in which futuristic "heroes" fight each other; Defence of the Ancients 2, a multiplayer fantasy "battle arena" game in which teams engage in combat; and complex strategy games such as StarCraft II, in which sci-fi "species" fight for galactic dominance.
Some events are held online; others in arenas packed with spectators, with the games projected on vast screens. The first competitions date back to the 1970s, but they started getting big around 2010, when live streaming on the internet drew in spectators from around the world.
How popular are they?
Very popular. Video gaming is one of the world's biggest leisure industries. Globally, it generated some $180bn in revenue last year, more than the film and music industries combined. There are an estimated three billion gamers worldwide, more than a third of the world's population. As a result, vast numbers play esports: one of the most popular games, Rocket League, has more than 80 million players worldwide.
In 2019, Epic Games, publisher of the battle game Fortnite, launched a "World Cup" in which anyone could apply to play. Some 40 million did so: the finals filled 19,000 seats of New York's Arthur Ashe Stadium, and the winners shared a $30m pot. More than 500 million people watched esports online last year; the biggest events, such as the League of Legends world championship, attracted more than five million viewers.
Are there professional teams?
Many: according to the data company Statista, in 2021 there were 3,600 professional esports players in the US, and about 1,000 each in Russia and China. Their teams, like traditional sports teams, play in tournaments and leagues, and compete for the best players around the world by offering lucrative salaries and rigorous training. These teams attract remarkable levels of devotion from their fans, who follow the ups and downs and scandals – match-fixing, doping – just as football fans do.
There are leagues for all manner of esports. One of the biggest games, League of Legends, is played by perhaps 1,000 professional players, who represent 120 franchised teams across 12 global leagues. Professional players of the game in the US are guaranteed a minimum salary of $75,000; the average salary is closer to $300,000.
Last year, Tom Leese, a British professional who plays the football game FIFA, became the first esports player to break the £100,000 transfer fee threshold when he moved from Hashtag United to Excel. Lower-level players may not receive a set wage, instead taking a share of any tournament prize money. In 2021, more than $200m in prize money was awarded.
Where does the cash come from?
Originally, the big tournaments were set up by video game publishers, mostly to help market their games. Today, though, they make money in the way that other professional sports do. Major tournaments are sponsored by global brands such as BMW, McDonald's and Coca-Cola. There are ticket sales for events, and streaming games via online platforms such as Twitch and YouTube is another lucrative revenue source: the streams are often punctuated with adverts.
Pro-esports players and teams can also make money from endorsing products – energy drinks, for instance – and branded merchandise: they sell everything from clothing to toys, sculpture and digital game art.
Are esports real sports?
This has long been a controversial question, and different nations have reached different answers. In the UK, esports are classified as games; in Russia, "cybersports" are classified as an official sport­ing discipline. The International Olympic Committee is currently considering the question, which has a philosophical aspect. To be a sport, does a game require exertion? Do sports require the manipulation of real-world objects? Is darts a sport? Is snooker? What is clear is that high-level esports require phenomenal reactions and concentration. And some strategy games are deeply complex and cognitively challenging: StarCraft, for instance, is often likened to both chess and playing the piano: elite players will perform some 300 actions per minute on their keyboards.
But they're not exactly healthy, are they?
No. Some professional players have been known to practise for up to 16 hours a day, and to sleep for just four hours a night (see box). It's not unheard of for gamers to spend 100 hours a week at their computers. Studies have shown that sitting for six hours a day for two consecutive weeks can increase cholesterol levels, lead to degeneration of muscles, and increase the risk of weight gain and heart disease. In many respects, this may not be much different from a demanding office job, though studies have also shown that gamers' heart rates can reach up to 180 beats per minute during matches – almost the stress level of a racing driver.
Will esports overtake sports?
Not any time soon. The market data company Newzoo estimates that esports' global annual revenues are $1.4bn; the English Premier League alone turned over around $6.2bn last season. Established sports have built up dedicated followings over the decades, rooted in particular towns and cities; and they earn a vast amount from TV syndication, which is so far not true of esports.
On the other hand, demography is on esports' side. The average age of a match-going Premier League fan is over 40, whereas more than 60% of esports fans are under 35. And while participation in traditional sports is falling in much of the world – certainly in the US, though not, for now, in the UK – video games are ubiquitous: according to recent Ofcom figures, 91% of 3- to 15-year-olds in the UK reported playing them.
Life as a pro-gamer
Esports players might not experience the physical demands that traditional athletes do – but the pressures they face are extreme even so, says Julia Llewellyn Smith in The Times. They have intense training schedules, under supervision from an entourage of coaches. There are sports psychologists, nutritionists, scouts and cutting-edge training facilities. Players for Team Liquid, a major esports team with bases in the Netherlands, Brazil and the US, share flats and complete full 12-hour days in their "office" as they prepare to compete in packed auditoriums in front of thousands or millions of viewers online. Often they then practise more when they get home.
Professional players can start their careers exceptionally young. US-born Victor De Leon III, professionally known as Lil Poison, started playing Halo aged two, and signed his first contract at the age of six. But most also end them pretty early too: players report feeling burnt out by their gruelling schedules, which don't leave much time for life away from screens; their reflexes also begin to slow. By their late 20s, many professional esports players retire – meaning their career spans can often be far shorter than even those of traditional athletes.

Continue reading for free
We hope you're enjoying The Week's refreshingly open-minded journalism.
Subscribed to The Week? Register your account with the same email as your subscription.