The gene-editing revolution
The Government wants genetically edited foods to be grown in England. Why?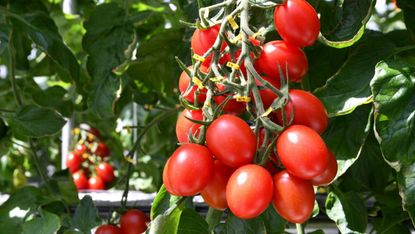 (Image credit: Sanatech Seed)
How is gene editing done?
Over the past decade, a new generation of genetic engineering techniques have been developed that are so quick, cheap and easy to use that they have transformed the field. The most significant is Crispr-Cas9, which was developed by Jennifer Doudna and Emmanuelle Charpentier in 2012 (and for which they won a Nobel Prize in Chemistry in 2020).
Crispr is a technique that adapts the defence systems that some bacteria use to identify and attack viruses, so as to snip out and splice a piece of a living organism's DNA – much as a film editor would cut and splice an old film reel. In the past, changing a single gene could take years. Now it can be done within days, at very low cost.
How is this different from genetic modification?
Genetic modification (GM) involves changing the DNA of an organism by inserting all or most of a gene from a foreign species, to produce crops or livestock with improved characteristics. So, for example, much of the corn grown in the US today has been modified by inserting bacterial DNA, so that the plant expresses proteins that kill the caterpillars that often feed on it. Gene editing (GE), by contrast, does not involve inter-species mixing of DNA. Instead, it involves only small, controlled tweaks to a plant or animal's existing DNA. Researchers argue that GE secures advantageous mutations that might in time have come from natural breeding methods. It is more precise than GM (it is also known as precision breeding) and is thought to carry fewer risks.
Subscribe to The Week
Escape your echo chamber. Get the facts behind the news, plus analysis from multiple perspectives.
SUBSCRIBE & SAVE
Sign up for The Week's Free Newsletters
From our morning news briefing to a weekly Good News Newsletter, get the best of The Week delivered directly to your inbox.
From our morning news briefing to a weekly Good News Newsletter, get the best of The Week delivered directly to your inbox.
What are the advantages of GE foods?
Their potential is vast. GE crops can be engineered to have enhanced resistance to disease, weeds, pests and drought, which would make them better able to adapt to climate change. Gene editing can also produce higher yields: tomatoes, for instance, could be bred to have double the number of branches and twice the amount of fruit, therefore reducing the amount of land needed for crops. And it could reduce food waste: potatoes, say, could be edited to better withstand bruising. Consumers, as a result, could benefit from higher nutritional values in foods and lower prices. Scientists at the John Innes Centre in Norwich have used GE to produce tomatoes with higher levels of vitamin D: a single upgraded tomato could provide about 20% of the recommended daily intake of the vitamin. Soybeans have been edited to be lower in unhealthy saturated fats. In livestock, pigs could be genetically edited to give resistance to swine flu and other major diseases.
But are they safe?
Like all new technologies, genetic engineering poses some risks, both known and unknown. However, GM food has been grown and eaten in large quantities for more than 20 years. In the US and Brazil, more than 90% of soybean, maize and rapeseed is GM. All the reliable evidence shows that it is safe to eat. And there is a scientific consensus that gene-edited food is safer than GM, since the changes it introduces are similar to those that might come about naturally by evolution or selective breeding. However, GE is certainly not free of risk. Tweaking DNA can lead to unintended "off-target" effects, such as producing new toxins or allergens; or to new susceptibility to diseases. Environmentalists have also suggested it could have undesirable knock-on effects. The existence of herbicide-resistant GM crops, critics say, has allowed farmers to use weedkiller indiscriminately. GE could have major impacts on animal welfare, too: if animals are made immune to diseases, they could be kept in smaller spaces.
Why are the rules changing now?
Because of Brexit. Previously, the use of GE was hampered by EU rules on genetic engineering, which are some of the world's toughest; and in 2018 the European Court of Justice ruled that GE must be regulated in the same way as GM. Now, the Government has an opportunity to move away from the de facto ban enforced in Brussels. Last year, it relaxed rules to make it easier for scientists to conduct trials of GE crops. In May, ministers announced new legislation – the Genetic Technology (Precision Breeding) Bill – which would exempt gene-edited foods from GM regulations in England (other UK nations will decide separately). The law would allow such crops to be cultivated comm­ercially, and will "introduce simpler regulatory measures to enable these products to be authorised and brought to market more easily". A regulatory system would also be established for the breeding of GE animals (except humans).
What other hurdles are there?
The main issue is public opinion. The British Retail Consortium, which represents supermarkets, said retailers were "supportive" of GE, but their willingness to sell gene-edited food would depend on "customer acceptance". In the 1990s, the advance of GM foods was stymied in Europe by the perception that they were "Frankenfoods". And today, polls suggest about a third of British adults think gene-edited food is unsafe to eat; 31% say they're not sure. Another problem is trade: the EU requires all gene-edited imports to be labelled and approved.
It is right to push on with GE?
GE crops have the potential to produce higher yields, and more nutritious foods, using less water, fertiliser and insecticide. GE breeding could also enhance the health and welfare of farm animals by giving them greater resistance to diseases. However, GE will need to be carefully regulated, to ensure safety and public confidence; globally, this will be hard, given how cheap and easily accessible GE techniques are, and how lucrative they could be. It will also be vital to ensure that the benefits are not monopolised by multinational corporations as, arguably, has happened with GM foods. Ultimately, though, it seems likely that gene editing will be an important tool in facing one of the most important challenges of our time: feeding the world without destroying the planet.
A taste of things to come
In April, Nature Genetics reported that scores of gene-edited crops were being trialled across 25 countries, but that fewer than ten had been approved for commercialisation. In Japan, the Sicilian Rouge High GABA tomato has gone on sale; it has a high level of GABA, an amino acid thought to lower blood pressure. In the USA, a high-oleic soybean oil (low in saturated fats) is on the market. Scores of others are in the pipeline: mushrooms with longer shelf lives, drought-resistant corn, bananas impervious to Panama disease, a fungus threatening the global supply. In Britain, The Sainsbury Laboratory in Norwich has created a tomato that's resistant to mildew, and which requires much less fungicide.
The Roslin Institute at Edinburgh University has developed pigs that are immune to porcine reproductive and respiratory syndrome, a disease that costs Europe's pig industry more than s1.5bn a year. Other breeding projects include chickens resistant to avian flu, sheep with enhanced muscle growth and hornless dairy cows (farmers typically remove horns). The latter, however, illustrated some of the potential pitfalls of GE: a mistake left the cows with bacterial DNA stitched into their genome.

Continue reading for free
We hope you're enjoying The Week's refreshingly open-minded journalism.
Subscribed to The Week? Register your account with the same email as your subscription.