Harvard University in firing line as Supreme Court weighs up affirmative action
Supreme Court seems set to overturn policy that has been part of US life since the 1970s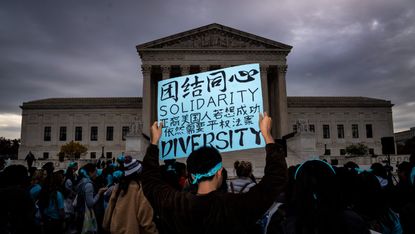 (Image credit: The Washington Post/Getty Images)
Get ready for another "national shockwave", said Noah Feldman on Bloomberg. Back in June, the supreme court overturned Roe v. Wade, the landmark 1973 ruling that affirmed the constitutional right to an abortion. Now it seems set to overturn another key policy that has been part of US life since the 1970s: affirmative action.
Last week, the court heard arguments in a pair of lawsuits, one against Harvard University, the other against the University of North Carolina, brought by a group of Asian-American students led by conservative activist Edward Blum. They argue that colleges and universities should not be allowed to use race as a factor in deciding admission because it infringes civil rights legislation and is unconstitutional.
It matters not to this court, the most conservative in 90 years, that affirmative action practices have repeatedly been upheld in previous supreme court rulings. Judging from the sharply sceptical tone of the questions posed by its six (out of nine) conservative justices this week, it seems certain that affirmative action will join Roe in the dustbin of American history.
Subscribe to The Week
Escape your echo chamber. Get the facts behind the news, plus analysis from multiple perspectives.
SUBSCRIBE & SAVE
Sign up for The Week's Free Newsletters
From our morning news briefing to a weekly Good News Newsletter, get the best of The Week delivered directly to your inbox.
From our morning news briefing to a weekly Good News Newsletter, get the best of The Week delivered directly to your inbox.
But does the court have any legal choice here, asked David French on The Dispatch; after all, the 1964 Civil Rights Act plainly bans discrimination "on the ground of race, colour, or national origin".
The answer depends on what you think affirmative action is for, said Ross Douthat in The New York Times. The clearest moral case for it was as reparation to African Americans for centuries of enslavement. However, this does indeed conflict with most readings of the Civil Rights Act (and is the reason states such as Michigan and California have banned it for public institutions). A different justification has since emerged, however, which is less legally troublesome. This says that the aim of affirmative action is to achieve racial diversity within the student body, which means it can benefit any under-represented minority, not just African Americans.
But this presents a new set of problems, said Emma Green in The New Yorker. The group suing Harvard claims that the university is discriminating against Asian Americans, rating them lower in admission rankings on personal traits such as leadership and likeability in order to ensure they are not over-represented on campus.
They also question the genuineness of Harvard's commitment to diversity, given that some 30% of the students it admits are "ALDCs" – athletes; legacies; relations of donors; children of faculty and staff. As the conservative justice Clarence Thomas intimated, affirmative action has become a way for institutions to achieve "a certain look", and does "nothing for those too poor or uneducated to participate in higher education".
But there is a good alternative, said Richard D. Kahlenberg in The Atlantic. If colleges started "zeroing in on economically disadvantaged students" they'd be on solid ground legally; and at the same time, given the shocking "wealth gap between black and white households", they'd admit just as many students of colour. Colleges resist this solution only because lower-income students would require more financial assistance, unlike the "upper-middle-class students of colour" they disproportionately admit today.

Continue reading for free
We hope you're enjoying The Week's refreshingly open-minded journalism.
Subscribed to The Week? Register your account with the same email as your subscription.