Quiz of The Week: 7 - 14 April
Have you been paying attention to The Week's news?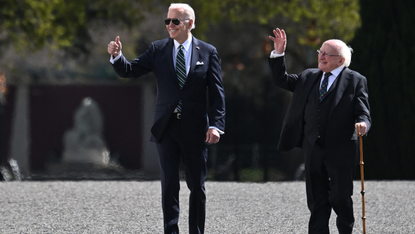 (Image credit: Jim Watson / AFP via Getty Images)
Joe Biden's visit to Ireland this week to mark the 25th anniversary of the Good Friday Agreement has been closely watched by politicians both in Stormont and Westminster.
The Democratic Unionist Party refused to end its power-sharing blockade ahead of the US president's arrival in Northern Ireland on Tuesday, resulting in a scaled-down visit. Biden had hoped to deliver a speech to members of the Northern Ireland Assembly, but instead made just one brief public appearance in Belfast before travelling south to the Irish Republic.
Biden yesterday met his Irish counterpart, President Michael D. Higgins, before delivering a speech to the parliament in Dublin. The US leader told lawmakers that Westminster "should be working closer with Ireland" to break the deadlock in Stormont.
Subscribe to The Week
Escape your echo chamber. Get the facts behind the news, plus analysis from multiple perspectives.
SUBSCRIBE & SAVE
Sign up for The Week's Free Newsletters
From our morning news briefing to a weekly Good News Newsletter, get the best of The Week delivered directly to your inbox.
From our morning news briefing to a weekly Good News Newsletter, get the best of The Week delivered directly to your inbox.
His call for cooperation has been interpreted as a rebuke to Rishi Sunak that may leave a sour taste in the prime minister's mouth as Biden's visit concludes today with a trip to the town of his ancestors, Ballina in County Mayo.
To find out how closely you've been paying attention to the latest developments in the news and other global events, put your knowledge to the test with our Quiz of The Week
1. What is the name of the new Covid variant triggering a surge of infections in India?
Arcturus
Sirius
Betelgeuse
Vega
2. How many mobile phone thefts were reported in London last year?
25,000
50,000
91,000
104,000
3. Which new Channel 4 series has provoked almost 1,000 complaints to Ofcom?
Naked Education
Naked, Alone and Racing to Get Home
Naked Attraction
Naked and Invisible
4. The US and which other country this week launched their largest joint military drills in decades in the South China Sea?
Taiwan
Japan
Philippines
South Korea
5. What percentage of the UK's public toilets do experts estimate have closed in the past ten years?
6. Researchers have discovered a "hidden chapter" of which religious text?
The Bible
The Koran
The Torah
The Gita
7. Which icon fashion designer died this week at the age of 93?
Paco Rabanne
Mary Quant
Vivienne Westwood
Issey Miyake
8. New York City's new "rat czar" Kathleen Corradi previously worked as what?
Zookeeper
School teacher
Plumber
Bin collector
9. The risk of lightening strikes delayed this week's launch of the European Space Agency's Jupiter Icy Moons Explorer (Juice) mission, which is due to reach the planet when?
10. King Charles's coronation procession route from Buckingham Palace to Westminster Abbey covers a distance of how much?
1.3 miles
2.4 miles
3.1 miles
4.5 miles
1. Arcturus
Omicron subvariant Arcturus was first detected in late January and is being monitored by the World Health Organization as a variant of concern. Cases have been reported in at least 27 countries, including the UK.
2. 91,000
Newly released Metropolitan Police data has revealed that an average of 248 phone thefts a day were reported in 2022 in the English capital. The boroughs with the most thefts were Westminster (25,899), Camden (7,892), Southwark (5,690) and Hackney (4,618).
3. Naked Education
The six-part show, hosted by Anna Richardson, features adults removing their clothes in front of teenagers, sparking criticism from viewers and Conservative MPs.
4. Philippines
More than 17,600 military personnel are taking part in drills including live-fire exercises and a boat-sinking rocket assault, amid fears that China may be preparing to launch an offensive against Taiwan.
5. 50%
Raymond Martin, managing director of the British Toilet Association, told The Guardian that the closure of half of the UK's public loos in the past decade was resulting in street urination, also known as wild toileting, "everywhere now".
6. The Bible
The missing section dates back almost 1,500 years and is one of the earliest translations of the Gospels, according to scientists who used ultraviolet photography to find the chapter hidden beneath three layers of text on a manuscript in the Vatican Library.
7. Mary Quant
Fans worldwide have been paying tribute to the British designer, who pioneered the miniskirt. "Only the Beatles are more closely tied to the legend that is London's swinging 60s than Mary Quant," said The Guardian.
8. School teacher
Announcing the appointment, Mayor Eric Adams said former elementary school teacher Corradi "has the knowledge, drive, experience and energy to send rats packing and create a cleaner, more welcoming city for all New Yorkers".
9. 2031
Juice is due to spend at least three years exploring Jupiter and three of its moons. "Perhaps the most exciting information" that the mission will provide relates to the "underground oceans of liquid water" on these moons – Europa, Ganymede and Callisto – which "could support life", said Mike Sori, assistant professor of planetary science at Purdue University.
10. 1.3 miles
The distance is far less than the nearly 4.5 miles covered in Queen Elizabeth II's procession in 1953, triggered concerns that well-wishers hoping to line London's streets to welcome the king may struggle to find space.

Continue reading for free
We hope you're enjoying The Week's refreshingly open-minded journalism.
Subscribed to The Week? Register your account with the same email as your subscription.