Quiz of The Week: 15 July - 21 July
Have you been paying attention to The Week's news?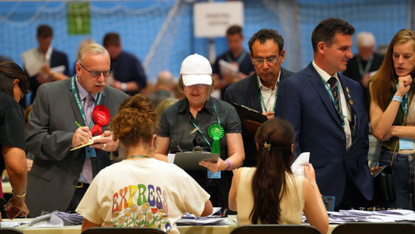 (Image credit: Carl Court/Getty Images)
Sign up to our 10 Things You Need to Know Today newsletter
A free daily digest of the biggest news stories of the day - and the best features from our website
Thank you for signing up to TheWeek. You will receive a verification email shortly.
There was a problem. Please refresh the page and try again.
It's been a topsy-turvy week for politics, with three big by-elections and a few controversial pledges. Although Labour stormed to victory in Selby and Ainsty, leader Keir Starmer found himself on the ropes when he promised to maintain a deeply unpopular two-child benefit cap policy.
Against all predictions, the Tories managed to cling on to Boris Johnson's former constituency, Uxbridge and South Ruislip, by just 495 votes after a recount. It seems like the biggest winner there – or loser – was Ulez (the ultra-low emissions zone), the controversial clean-air scheme that Labour mayor Sadiq Khan is about to expand in the capital, which Labour are blaming for their defeat. Tackling Ulez is a priority of Susan Hall, an "outspoken" figure the Conservatives picked as their London mayoral candidate this week.
Both parties have committed to maintaining the political hot potato that is the "triple lock" system on state pensions. With inflation still stubbornly high, that could mean a big pay-out for pensioners, which struggling workers might find hard to swallow.
Subscribe to The Week
Escape your echo chamber. Get the facts behind the news, plus analysis from multiple perspectives.
SUBSCRIBE & SAVE
Sign up for The Week's Free Newsletters
From our morning news briefing to a weekly Good News Newsletter, get the best of The Week delivered directly to your inbox.
From our morning news briefing to a weekly Good News Newsletter, get the best of The Week delivered directly to your inbox.
Meanwhile in Thailand, conservatives managed to block the "charismatic" young Pita Limjaroenrat from becoming prime minister. His Move Forward Party swept to victory in the general election, on the promise of reform after years of military rule, but he won't be the new leader thanks to the country's constitution – ironically, written by the military.
To find out how closely you've been paying attention to the latest developments in the news and other global events, put your knowledge to the test with our Quiz of The Week.
1. Which two teams won their matches on the first day of the Women's World Cup football tournament?
Canada and Switzerland
New Zealand and Australia
England and Spain
Norway and Republic of Ireland
2. Cocaine use appears to be on the rise in the UK, based on an analysis of what?
Wastewater
Toilet seats
Festival bags
Blood tests
3. Whose 2022 album has become Spotify's most streamed of all time?
Taylor Swift
Ed Sheeran
Bad Bunny
Drake​​​​​
4. A man in the US has attempted to break a world record by balancing what on his finger?
A ring
An umbrella
A Frisbee
A lemon
5. Vladimir Putin avoided possible arrest by deciding to skip a summit in which city?
Brasilia
Johannesburg
Delhi
Beijing
6. In what is believed to be Scotland's most lethal mass stranding, a pod of which species washed ashore on the Isle of Lewis?
False killer whales
Sperm whales
Harbour porpoises
Pilot whales
7. What is the political slogan of the new Tory candidate for London mayor, Susan Hall?
"Safer with Susan"
"Stronger with Susan"
"Susan says"
"Susan takes back control"
8. Locals in a Berlin suburb were told to stay indoors with their pets after reports that what was on the loose?
A bear
A lioness
A tiger
A wolf
9. Police have reopened their investigation into the murder of hip-hop legend Tupac Shakur by raiding what?
A nightclub
An office
A concert
A house
10. How much did taxpayers reportedly pay per day for compensation payments to sacked employees during Liz Truss's time in Downing Street?
£34,000
£340
£3,400
£340,000
1. New Zealand and Australia
Co-hosts New Zealand and Australia both kicked off their World Cup campaigns with 1-0 victories. New Zealand's Football Ferns secured their first ever win on a global stage by beating Norway, while Australia's Matildas broke a second-half deadlock with a decisive penalty against Republic of Ireland, who were playing at the tournament for the first time.
2. Wastewater
According to an analysis of wastewater in several major cities, use of the Class A drug has risen by as much as a quarter in just one year, said the National Crime Agency. The agency said testing of wastewater gave a better indication of drug use than public surveys or estimates from seized substances. Find out more with The Week Unwrapped podcast.
3. Bad Bunny
Puerto Rican superstar Bad Bunny has notched up another record with his fourth studio album, "Un Verano Sin Ti", becoming Spotify's most streamed album of all time. In 2022, the trap and reggaetón singer was the most streamed artist for the third consecutive year. He's reached "a new stratosphere of stardom", said Rolling Stone.
4. An umbrella
David Rush, who already boasts more than 250 Guinness World Records, balanced an umbrella on his finger for three hours and 46 minutes. His time beat the current record, said UPI, but must still be reviewed. For more stories from the stranger side of life, sign up to the Tall Tales newsletter.
5. Johannesburg
The Russian leader will not attend an economic summit in Johannesburg next month, ducking the possibility of arrest on an International Criminal Court (ICC) indictment accusing him of war crimes. As a member of the ICC, South Africa would have been obliged to arrest Putin if he visited the country, but Russia had "made it clear" that this would be "a declaration of war", said South Africa's president, Cyril Ramaphosa.
6. Pilot whales
Almost a whole pod of pilot whales died after 55 washed up on a remote beach on the Outer Hebridean island. Pilot whales are "notorious for their strong social bonds", said British Divers Marine Life Rescue. The charity believes the pod might have followed one of the whales ashore after it had difficulty giving birth.
7. "Safer with Susan"
Conservative members have chosen Susan Hall as the party's candidate to try to unseat Sadiq Khan in the 2024 London mayoral election. Hall, whose political slogan is "Safer with Susan", is often an "outspoken character", said The Guardian, "likely to be seen as an outsider", with her views on cultural issues "problematic" in a liberal-leaning city.
8. A lioness
German authorities warned locals in Berlin's southern suburbs to stay indoors after reports that a female lion was at large. Two witnesses reported seeing a big cat running after and killing a wild boar, according to public broadcaster RBB. "We don't know where it came from," said police spokesman Daniel Kiep. No nearby zoos, circuses or sanctuaries seem to be missing one.
9. A house
Las Vegas police have reopened their investigation into the murder of Tupac Shakur. The rapper was shot in September 1996, aged just 25, in what has become one of America's most notorious unsolved murder cases. Police raided a house in Henderson, 15 miles southeast of the city, seizing computers, hard drives and pictures, according to ABC News.
10. £34,000
Liz Truss's brief reign reportedly cost taxpayers nearly £34,000 a day in compensation payments to sacked ministers, advisers and officials. Official data shows that special advisers were paid a total of £2.9 million in severance awards when their bosses were given the boot. Truss herself received £18,660 in severance pay, after her mini-budget sparked chaos in the financial markets.
Continue reading for free
We hope you're enjoying The Week's refreshingly open-minded journalism.
Subscribed to The Week? Register your account with the same email as your subscription.
Sign up to our 10 Things You Need to Know Today newsletter
A free daily digest of the biggest news stories of the day - and the best features from our website
Harriet Marsden is a writer for The Week, mostly covering UK and global news and politics. Before joining the site, she was a freelance journalist for seven years, specialising in social affairs, gender equality and culture. She worked for The Guardian, The Times and The Independent, and regularly contributed articles to The Sunday Times, The Telegraph, The New Statesman, Tortoise Media and Metro, as well as appearing on BBC Radio London, Times Radio and "Woman's Hour". She has a master's in international journalism from City University, London, and was awarded the "journalist-at-large" fellowship by the Local Trust charity in 2021.