Will the Kabul bombing lock Joe Biden into a 'forever war' against Isis?
President vows revenge against extremists following airport suicide attack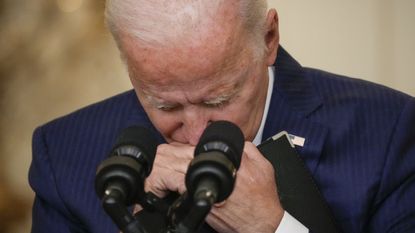 (Image credit: Drew Angerer/Getty Images)
Joe Biden has pledged to take revenge against the masterminds of an attack on Kabul airport that killed at least 80 people, including 13 US troops.
"To those who carried out this attack – as well as anyone who wishes America harm – know this: we will not forgive. We will not forget. We will hunt you down and make you pay," the president said in a television address to the nation following the suicide blasts.
Describing the troops as "heroes who were on a selfless mission to save the lives of others", he continued that he would not be "deterred by terrorists", adding: "The Isis-K terrorists will not win. We will rescue the Americans. We will get our Afghan allies out."
Subscribe to The Week
Escape your echo chamber. Get the facts behind the news, plus analysis from multiple perspectives.
SUBSCRIBE & SAVE
Sign up for The Week's Free Newsletters
From our morning news briefing to a weekly Good News Newsletter, get the best of The Week delivered directly to your inbox.
From our morning news briefing to a weekly Good News Newsletter, get the best of The Week delivered directly to your inbox.
Islamic State of Khorasan (Isis-K), the extremist group's local affiliate in Afghanistan, has said it carried out the attacks, with Biden last night saying that he has already "ordered the US military to attack Isis-K facilities", The Times said.
However, as US troops wrap up the final evacuation flights out of Kabul, his threat to "hunt down" the extremists has raised the spectre of another conflict in the Middle East – just as the two-decade occupation of Afghanistan comes to a close.
'We can't leave the war on terrorism'
During what Politico termed "the darkest day" of Biden's presidency so far, he appeared at times "emotional and almost overwhelmed by the day's events and at others defiant as he defended his handling of the Afghanistan withdrawal", the site's London Playbook editor Alex Wickham said.
After pledging that "the evacuation mission would continue despite yesterday's loss of life", Biden also admitted that "military operations would have to continue in Afghanistan" to track down the bombing's masterminds, Wickham said.
Foreign policy analysts were quick to point out the "grim irony" that an airlift plan aimed at ending the "forever war" resulted in the first US deaths in more than 18 months.
Ex-president Barack Obama's defence secretary, Leon Panetta, told CNN the attack on US troops means "we're going to have to go back in, to get Isis and we'll probably have to go back in to get Al Qaeda", adding: "We can leave the battlefield, but we can't leave the war on terrorism."
This was echoed by Marine Corps General Kenneth McKenzie, commander of US Central Command, who told a press conference: "If we can find who is associated with this, we will go after them.
"We've been clear all along that we're going to retain the right to operate against Isis in Afghanistan and we are working very hard to determine attribution and determine who is associated with this cowardly attack and we're prepared to take action against them," he added. "The security situation in Afghanistan remains extremely volatile."
Bruce Hoffman, a senior fellow for counterterrorism and homeland security at the Council on Foreign Relations, said that the attacks show "the Taliban is overwhelmed" by other extremist organisations operating in the country, telling Politico that the insurgent group "are very effective at bullying and victimizing civilians, but they are incompetent at battling groups that look like themselves".
Jason Blazakis, an ex-State Department official and terror expert at the Soufan Center, a nonprofit focused on global security, added during an appearance on NBC that we are witnessing "the beginnings of a massive relocation of radical Islamists to Afghanistan".
This is supported by a UN report that found 8,000 to 10,000 fighters from Central Asia, the North Caucasus region of Russia, Pakistan and the Xinjiang region of China have entered Afghanistan in recent months. Most of these fighters are now associated with the Taliban or al-Qa'eda, the report said, while others have allied themselves with Isis-K.
'Homegrown enemy'
The danger for the president is that he has now pledged to carry out "two conflicting missions", said Sky News US correspondent Mark Stone, namely "to continue the evacuation, to get troops out, but also to hunt down the terrorists too".
Chasing down Isis in Afghanistan "may require boots on the ground", he continued. And if not, it will "certainly require intelligence that has evaporated with the US withdrawal and the abandonment and subsequent collapse of Afghan forces".
In what Stone called "a remarkable twist", the commander-in-chief now finds himself sharing intel with the Taliban – who earlier this month he was attacking in bombing raids – in order to tackle the influence of Isis. The Taliban is also involved in what The Wall Street Journal termed a "hidden war" with Isis, who have sought to paint it as stooges of the US.
"There is an overarching predicament which President Biden will not confront," Stone added. "His central justification for pulling out – that Afghanistan was no longer a home for terrorists – has been proved so tragically wrong.
"For now the terror threat does not present risks beyond Afghanistan in the way al Qaeda did 20 years ago." But Afghanistan has been handed to the Taliban, "a group who remain close to al Qaeda and who can't control their homegrown enemy, Isis-K".

Continue reading for free
We hope you're enjoying The Week's refreshingly open-minded journalism.
Subscribed to The Week? Register your account with the same email as your subscription.