Joe Biden 'risks isolation' as Democrats call for stronger rebuke of Israel
Progressives demand that US president takes stronger stance against Israeli human rights abuses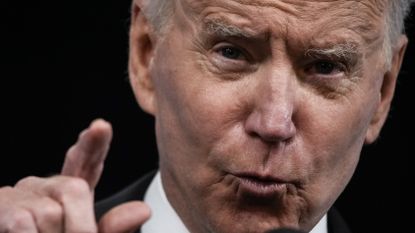 (Image credit: Drew Angerer/Getty Images)
Joe Biden is being challenged over his commitment to human rights as fellow Democrats pressure the president to push Israel to scale back attacks against Hamas militants in Gaza.
The US leader has supported Israel's right to retaliate against the Islamists, but yesterday threw his weight behind a ceasefire. Biden told Israeli Prime Minister Benjamin Netanyahu that he was working with Egypt and other countries to end the conflict.
Biden stopped short of calling for an immediate end to the violence, however, and his continuing defence of his old allies in Israel "risks his isolation internationally and domestically", as members of his party go "public with their frustration", says ITV News' US correspondent Emma Murphy.
Subscribe to The Week
Escape your echo chamber. Get the facts behind the news, plus analysis from multiple perspectives.
SUBSCRIBE & SAVE
Sign up for The Week's Free Newsletters
From our morning news briefing to a weekly Good News Newsletter, get the best of The Week delivered directly to your inbox.
From our morning news briefing to a weekly Good News Newsletter, get the best of The Week delivered directly to your inbox.
Old allies
Some "30 years ago", while serving as a senator, Biden described himself as "Israel's best Catholic friend", writes Murphy. And he is "maintaining that position" as president.
As The Guardian's diplomatic editor Julian Borger notes, in "sticking to a course set decades ago", Biden "has not given ground on the issue to the progressive wing of his party or many Jewish Democrats urging a tougher line towards Benjamin Netanyahu".
The president "has even been prepared to face isolation at the UN Security Council, at the potential cost of his own credibility on multilateralism and human rights", Borger continues. But that might change "as the death toll rises with no sign of a ceasefire" following more than a week of air strikes by both Israel and Hamas.
"Vocal liberals have criticised the White House for placating Israel and ignoring human rights", reports CNN, and for "not openly opposing Israel's planned evictions of Palestinian families from a neighbourhood in East Jerusalem" - a row that triggered the latest outbreak of violence.
On Saturday, after an Israeli airstrike destroyed the offices of Al Jazeera and the Associated Press in Gaza, Democrats' anger spilled over at Biden's failure to support previous UN calls for a ceasefire.
Democratic Congresswoman Alexandria Ocasio-Cortez tweeted: that "this is happening with the support of the United States".
She added: "If the Biden admin[istration] can't stand up to an ally, who can it stand up to? How can they credibly claim to stand for human rights?"
Echoing that condemnation, Congresswoman Rashida Tlaib tweeted that Israel is "targeting media sources is so the world can't see Israel's war crimes led by the apartheid-in-chief Netanyahu".
Senator Bernie Sanders has also taken a pop at his former rival in last year's Democratic presidential candidate race candidacy. In an article published in The New York Times on Friday, Sanders wrote that "the US must stop being an apologist for the Netanyahu government".
Others Democrats who have questioned Biden's commitment to ending the hostilities include Maryland's Senator Chris Van Hollen, who serves on the Foreign Relations Committee. In a tweet earlier this month, Van Hollen argued that "if the Biden administration puts the rule of law and human rights at the heart of its foreign policy, this is not a moment for tepid statements".
Amid the rising tide of criticism, The Guardian's Borger writes that despite Biden having "worked hard to cultivate the progressives", the explosion of tension in the Middle East has "brought that honeymoon to an end".
And the president - who ran on a platform of uniting the diverse US population - suffered a further blow on Sunday, when "the nation's largest Muslim civil rights group, the Council on American-Islamic Relations, joined a boycott of a virtual White House Eid celebration", CNN reports.
"We cannot in good conscience celebrate Eid with the Biden administration while it literally aids, abets and justifies the Israeli apartheid government's indiscriminate bombing of innocent men, women and children in Gaza," the council said in a statement cautioning Biden that he risks damaging his relationship with US Muslims.
New approach?
The US has blocked a total of more than 40 UN resolutions that condemned Israeli actions over the years, and "last week twice blocked a statement after private hearings" of the UN Security Council, ITV's Murphy writes.
A special meeting that took place on Sunday only got the go-ahead after "extensive pressure on the US", Murphy adds, after the Biden administration first "blocked a meeting pencilled for last Friday, playing for time".
Having made headlines with the announcement that US troops will withdraw from Afghanistan on 11 September, Biden "did not want the Middle East to be on his immediate to-do list, seeking to focus on domestic issues" instead, she continues.
But while "Biden may not want to dirty his hands with this crisis", his inaction is "manna from heaven for America's critics", with "every day it goes on, and every civilian death" making his position "more untenable".
Whether Biden's stance towards Israel will harden significantly remains to be seen, but "most analysts" believe that having "set his course on Israel long ago", he "will be hard to shift", says Borger in The Guardian.
"Biden has his own compass when it comes to the region, and is less susceptible to pressure from the left flank of his party," Carmiel Arbit, a nonresident senior fellow at the Atlantic Council, told the paper. "Although there is some pressure within the Democratic Party to take a less sympathetic stance towards Israel, and it is certainly starting to drive a different conversation, it is not driving policy on this issue."
Biden's policy is a "far cry" from his White House predecessor's "all-in for Israel approach", CNN says. But a criticism often levelled at Biden is that not being Donald Trump does not a good president make.
And when it comes to deciding US policy during the ongoing violence, "not being Trump is not enough", the broadcaster adds.

Continue reading for free
We hope you're enjoying The Week's refreshingly open-minded journalism.
Subscribed to The Week? Register your account with the same email as your subscription.