The Great Resignation: America's job revolution
Workers finally have leverage over employers – and they're using it to resign in their droves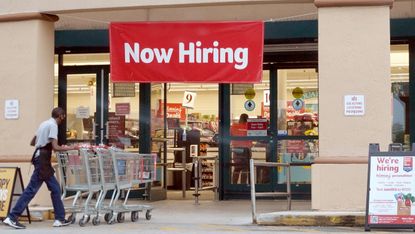 (Image credit: Joe Raedle/Getty Images)
Crises often leave an unexpected mark on history, said Derek Thompson in The Atlantic (Washington DC). The Great Chicago Fire of 1871 brought about the invention of the skyscraper; WWII accelerated the development of penicillin and flu vaccines. And Covid-19? To judge by the American workplace today, it would seem to have effected a crucial change in Americans' attitude to work. During the pandemic, many frontline workers were forced to risk exposure to Covid, to work long hours of overtime and to deal with "cabin-fevered", rage-filled customers. And now these servers, cooks and clerks, worn out from "suffering non-stop rudeness", are saying "to hell with this" and jacking in their jobs. Nearly 7% of employees in the "accommodations and food services" sector said sayonara in the month of August alone.
"The Great Resignation", economists are calling it, said Michael Blackmon on BuzzFeed News (New York). With good reason. A record 4.3 million people left their jobs in August, and four million did so in each of the previous two months. They include everyone from the 30-year-old North Carolina woman, exhausted by rude customers and demeaning bosses ("I'm constantly having the fact that I'm replaceable just shoved in my face"), who has quit three restaurant jobs in the past year, to the 28-year-old San Francisco program manager, disillusioned by the way his career was dominating his life, who chucked in his $100,000 job at a tech start-up. But most "Quits", as the Bureau of Labour Statistics calls them, are probably rebelling against poverty wages, said Laura Entis on Vox (New York). And their stand is paying off: "Costco, McDonald's, Amazon, Bank of America, and CVS have all announced plans to raise the starting or average pay for hourly workers", and the average restaurant and supermarket workers' wage recently surpassed $15 an hour. For the first time in a long while, workers have some leverage over employers.
"There's a catch, though," said Brent Orrell on TheDispatch.com (Washington DC). Most of the Quits are women, many of them pushed out of the workforce after daycare centres closed and schools went remote, leaving them with no care options for their kids. More than ten million job openings aren't being filled. "Can't get sheets changed on your hotel bed, or a burger delivered in less than 20 minutes?" It's all down to lack of staff. And "Big Labor" is making things worse, said The Wall Street Journal. Unions look on the shortages as a chance to flex their muscles. Earlier this month, 10,000 John Deere employees downed tools, having rejected a deal that would have lifted the annual wages of a typical production worker from $60,000 to $72,000. This will only raise prices, make the company less competitive, and put jobs at risk. But the Great Resignation tells us it's a risk they are willing to take, said Paul Krugman in The New York Times. After upending their lives, the pandemic has caused them to reconsider whether it was worth staying in "lousy jobs". Wages have stagnated; hours are long and unpredictable; holiday is limited; management treats staff without respect. "American workers are insisting on a better deal; it's in the nation's interest they get it."
Subscribe to The Week
Escape your echo chamber. Get the facts behind the news, plus analysis from multiple perspectives.
SUBSCRIBE & SAVE
Sign up for The Week's Free Newsletters
From our morning news briefing to a weekly Good News Newsletter, get the best of The Week delivered directly to your inbox.
From our morning news briefing to a weekly Good News Newsletter, get the best of The Week delivered directly to your inbox.

Continue reading for free
We hope you're enjoying The Week's refreshingly open-minded journalism.
Subscribed to The Week? Register your account with the same email as your subscription.