Madness of wanting to be normal: Nancy Garrido's make-believe family
Wife of sex offender Phillip Garrido had powerful capacity for denial, says Coline Covington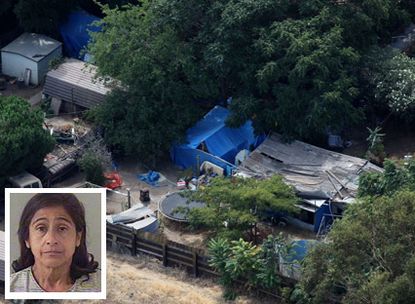 Sign up to our 10 Things You Need to Know Today newsletter
A free daily digest of the biggest news stories of the day - and the best features from our website
Thank you for signing up to TheWeek. You will receive a verification email shortly.
There was a problem. Please refresh the page and try again.
In his first 90-minute interview with Nancy Garrido, the wife of Phillip Garrido, her lawyer Gilbert Maines reported: "She has said to me she misses the girls, that she loves them and her feeling was they had become a family. They acted like a family. It seems strange given the circumstances but that's it. She's distraught, frightened, and appeared to be a little lost."
The 'circumstances' Maines refers to are the discovery last week that Phillip and Nancy Garrido had abducted 11-year-old Jaycee Lee Dugard in South Lake Tahoe in 1991, and held her captive in ramshackle tents and sheds at the bottom of their Californian garden.
The 'family' consists of Jaycee Lee Dugard's two daughters, 15-year-old Starlet and 11-year-old Angel, fathered by Phillip Garrido and raised as if they were Nancy's children and Jaycee Lee Dugard was their older sister.
Subscribe to The Week
Escape your echo chamber. Get the facts behind the news, plus analysis from multiple perspectives.
SUBSCRIBE & SAVE
Sign up for The Week's Free Newsletters
From our morning news briefing to a weekly Good News Newsletter, get the best of The Week delivered directly to your inbox.
From our morning news briefing to a weekly Good News Newsletter, get the best of The Week delivered directly to your inbox.
The dispute now is whether Nancy was a victim of what Maines describes as her husband's "suppressive control" or whether she was a willing accomplice. Whatever the ultimate verdict, Nancy is named in the 29 felony charges, including forcible rape, that have been made against her husband and herself.
Neighbours describe Nancy as very quiet, depressed and anxious looking, and in the shadow of her husband, deferring to him when asked any questions. Phillip Garrido's brother described Nancy as a "robot" who was "under his [brother's] spell" and would do "anything he asked."
There seems to be no doubt that Nancy's compliance towards her husband was extreme. There is also a striking resemblance between Nancy's "robotic" mindlessness and the mindlessness presented by the two daughters, who had never gone to school, never seen a doctor and were rarely seen outside their sound-proofed tent.
Nancy's choice of husband indicates that she had a powerful capacity for denial
This mindlessness was maintained within the restricted family environment that allowed only minimal contact with the outside world. Typical to children who have grown up being abused, this was their only experience of being in a family and being cared for and, as such, perceived as "normal".
On the other hand, Jaycee Lee Dugard had not grown up in this kind of environment and was forced to assimilate the madness of her new environment in order to survive both physically and mentally. While Jaycee Lee Dugard was "brainwashed", as a new member of a tyrannical and perverse regime, her daughters, and possibly Nancy, had never known anything different.
Nancy is thought to have been actively involved in Jaycee's abduction and subsequent incarceration. She is suspected of being in the car and physically kidnapping Dugard while her husband was driving. She witnessed her husband's sexual abuse of Dugard and she assisted in the birth of Dugard's two daughters. Her defence will undoubtedly argue that she was a "victim" of her husband's tyranny.
The prosecution, however, is expected to argue that Nancy's actions were complicit and not a result of her victimisation. They are expected to focus on a period in 1993 when Phillip Garrido was locked up in federal custody for an unspecified parole violation for 38 days. This was a time, it could be argued, when Nancy could have freed Dugard but instead she continued to keep her captive.
Although the defence might argue in turn that Nancy was too terrified of the consequences of freeing Dugard, it is nevertheless conceivable that this option may never have occurred to her because of her own need to keep up appearances of having a 'normal' family.
We know very little about Nancy Garrido's childhood and family background. We do know that it was during a visit to her uncle, who was an inmate at Levenworth prison in Kansas, that she met another inmate, Phillip Garrido. She must have known that Phillip was near the end of serving a 50-year prison sentence for the rape and abduction of a 25-year-old casino waitress in Reno, Nevada in 1977.
Nancy and Phillip married in 1988 when he was still behind bars. While Phillip may have used his marriage as leverage with the prison authorities to demonstrate his rehabilitation, it is also possible that both Phillip and Nancy shared a fantasy of establishing what appeared to be a normal life and family, having most likely come from extremely dysfunctional families themselves.
Joining forces with an abuser is often, perversely, a way of feeling loved
The fact that Nancy chose to marry a man with this kind of criminal record indicates that she had a powerful capacity for denial long before any of the events that followed. It also suggests that she was masochistically attracted to a man who would abuse her and enlist her as an accomplice in abusing others.
Joining forces with the abuser is often, perversely, a way of feeling loved and special. The couple can form a world of their own above and beyond the limits of reality so they don't have to be aware of their own inadequacies and their own deprivation.
It is not clear why Nancy and Phillip never had their own children, as Nancy was 33 when they married. Either she was unable to conceive or there was some psychological prohibition that prevented them from having children. Whatever it was, the abduction of Dugard and the two daughters that were later conceived by her produced a ready-made family for the Garridos: a family that in certain respects enabled them to appear, at least in their minds, like everyone else.
People who have suffered extreme abuse will often go to extreme lengths to create a life that on the surface appears to be normal in an attempt to hide the shame, the hatred, and the terror of their past from others and from themselves. However, the tragedy is that underneath this surface, the abuse is re-enacted with the next generation.
Nancy's lawyer described her as "a little lost" and as a boat "without a rudder". Like her husband, she is now under suicide watch pending trial. The make-believe family Nancy and Phillip had constructed has now unravelled perilously, exposing the stark reality of the madness that has destroyed their lives.
Continue reading for free
We hope you're enjoying The Week's refreshingly open-minded journalism.
Subscribed to The Week? Register your account with the same email as your subscription.
Sign up to our 10 Things You Need to Know Today newsletter
A free daily digest of the biggest news stories of the day - and the best features from our website
is a Jungian analyst in private practice in London. She is former Chair of the British Psychoanalytic Council and a Training Analyst of the Society of Analytical Psychology, of the British Association of Psychotherapists, and of the London Centre for Psychotherapy. She is co-editor with Barbara Wharton of Sabina Spielrein: Forgotten Pioneer of Psychoanalysis, published by Routledge in 2003 and co-editor with Paul Williams, Jean Arundale and Jean Knox of Terrorism and War: Unconscious Dynamics of Political Violence, published by Karnac in 2002.