A Ukraine election in 2024: how it would work
Zelenskyy hints that country is ready for March polls but logistical, security and democratic obstacles remain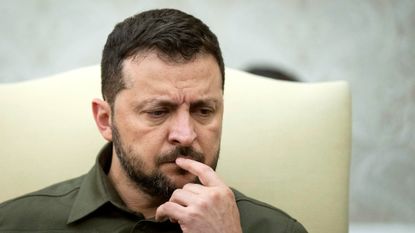 (Image credit: Drew Angerer/Getty Images)
As Russia's invasion of Ukraine enters its 20th month questions have been raised over Ukraine's planned presidential elections next year.
War-time elections are prohibited in Ukraine under martial law, which must be extended every 90 days and is next due to expire on 15 November. This is after the usual October date for parliamentary polls, reported Reuters, but before the presidential elections, which are due in March 2024.
Parliamentary elections have effectively been cancelled – but the prospect of presidential elections is "a lively topic of discussion in Kyiv", said Politico. After a visit to Kyiv in August, US senator Lindsey Graham called for "free and fair" elections – even while Ukraine is "under all-out assault", noted the news site.
Subscribe to The Week
Escape your echo chamber. Get the facts behind the news, plus analysis from multiple perspectives.
SUBSCRIBE & SAVE
Sign up for The Week's Free Newsletters
From our morning news briefing to a weekly Good News Newsletter, get the best of The Week delivered directly to your inbox.
From our morning news briefing to a weekly Good News Newsletter, get the best of The Week delivered directly to your inbox.
President Volodymyr Zelenskyy responded by saying that – with parliament's permission – he would lift martial law. "We are ready. There is no question about it," he told a conference in Kyiv this month. This position has "alarmed Ukrainian civil society groups", wrote the Financial Times's Europe editor, Ben Hall. Democracy campaigners are now "in the unusual position of arguing against elections as long as Ukraine is in a full-scale war with Russia".
What are the obstacles to holding an election?
A presidential election would be "extremely dangerous", argued more than 100 NGOs in a joint statement on Monday, and would lead to "the loss of legitimacy of both the process and the elected bodies". Martial law does not allow for the free debate necessary for a democratic election. There would be a "high probability" of "significant destabilisation of the state as a whole", they warned.
There are also multiple logistical hurdles. About 5 million Ukrainians are internally displaced, far from constituencies and hamstrung by destroyed infrastructure. Another 6.2 million – according to UN data – are refugees abroad, where they would only be able to vote in embassies. Any vote would therefore require significant coordination and support from multiple Western countries. Other Ukrainians are, of course, fighting on the front lines.
Polling stations, campaign events and voter queues would present an obvious target for Russian attacks, while there would be no guarantee of safety for any election monitors.
Financially, there is the question of resources, with most of Ukraine's available funds directed towards the war effort. Zelenskyy has said that Ukraine's allies would need to stump up an additional €120 million to set up polling stations and provide observers.
Would elections be democratic?
Election watchdogs, analysts and opposition MPs told Politico that Ukraine "cannot guarantee a free, fair and safe electoral process", while TV channels are censored and 20% of the territory is unable to vote due to being occupied by Russian forces.
An election could work against the government, amid high national support for military involvement in politics. According to a 2023 poll by the Razumkov Centre, the armed forces are the most trusted institution in Ukraine – 93% of residents polled trust them, compared with 80% for Zelenskyy.
The debate also comes amid a series of corruption scandals in Zelenskyy's government. The president recently sacked his defence minister, and then removed all six deputy defence ministers, in a crackdown on alleged corruption within the military.
Ukraine's laws "correctly recognize that a nation cannot have free, fair, and safe elections during an all-out war", said the Atlantic Council. France and the UK postponed their elections during both world wars, it noted. Holding elections would "contradict European history, standards, legal traditions, and, importantly, Ukraine's own laws and public opinion".
What are the problems with delaying elections?
"Zelenskyy knows the longer he waits, the worse it gets politically," Marcin Walecki, from the National Democratic Institute (a US-and UK- backed NGO), told the FT.
The country presents itself as a free democracy in contrast with the political reality in Russia. Delaying elections indefinitely would undermine that position, and could provide fodder for Kremlin narratives against Ukraine. "If you protect democracy, then even during war you should think about this protection," Zelenskyy has said. "Elections are one of the ways to do it."
"If you don't do it, then the question comes from the table: what did we defend in this war of aggression that Russia has called against us?" Tiny Kox, who leads the parliamentary assembly of the Council of Europe, said earlier this year.
Sooner or later, elections will have to be held, Ukrainian political analyst Volodymyr Fesenko pointed out. "I predict we might have elections in 2024," he told Politico. However, any "escalation" in hostilities "will mean no voting".

Continue reading for free
We hope you're enjoying The Week's refreshingly open-minded journalism.
Subscribed to The Week? Register your account with the same email as your subscription.