Is Ukraine losing the support of Eastern Europe?
Grain dispute between Warsaw and Kyiv could lead to other dominos falling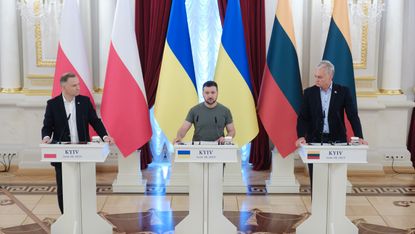 (Image credit: italii Nosach/Global Images Ukraine via Getty Images)
A grain dispute has led to speculation that Ukraine is losing the support of Eastern European nations.
Poland, previously one of Ukraine's "staunchest allies" in its war against Russia's invading forces, said this week that it is no longer supplying weapons to its neighbour, said the BBC, as the "shadow of 'Ukraine fatigue' hangs over Polish politics".
"We no longer transfer weapons to Ukraine because we are now arming Poland," said Polish prime minister Mateusz Morawiecki. His comments represented a dramatic escalation in a dispute between the two nations over grain shipments that Warsaw claims are undercutting production from Polish farmers.
Subscribe to The Week
Escape your echo chamber. Get the facts behind the news, plus analysis from multiple perspectives.
SUBSCRIBE & SAVE
Sign up for The Week's Free Newsletters
From our morning news briefing to a weekly Good News Newsletter, get the best of The Week delivered directly to your inbox.
From our morning news briefing to a weekly Good News Newsletter, get the best of The Week delivered directly to your inbox.
Ukraine's neighbour has previously provided tanks, fighter jets and taken in more than a million refugees. The major reversal "threatens to upend Europe's strategic relationship with the country as it wages a counteroffensive against Russia", said CNN.
Ukrainians are "aghast" at the development, said Al Jazeera, but how serious is it, and does it herald a wider loss of support on the continent?
What did the papers say?
Experts are divided over how serious Poland's move is. Some say that Poland's leader is merely electioneering. Morawiecki's announcement "should be seen in the light of Poland's election campaign", because he is "courting" supporters of the far-right Confederation party, which opposes further aid for Ukraine, said Politico.
But in a separate article Politico warned that "while it's tempting to write off the tensions as electoral fireworks", there are "reasons to believe they could persist beyond the campaign". A Western diplomat told the news site that the grain dispute between Warsaw and Kyiv "reveals deeper misgivings about Ukraine joining the EU".
Although "there are elements of 'Ukraine fatigue' in Polish society", said The Guardian, the ruling populist Law and Justice party still has to "tread a careful line as most of the population is staunchly anti-Russian" and believes that Ukraine is "also fighting for Poland's security".
Kyiv's "hawkish allies" are going "wobbly", said Politico. As the leaders of these "ride-or-die allies" face "re-election battles" and governments "get nervous" about the impact of Ukraine one day joining the EU, their support is "starting to waver", said the site.
"Europe is on the verge of surrendering Ukraine to Putin", said The Telegraph. It is "incredibly telling" that Warsaw described Kyiv as behaving "like a drowning person clinging to anything available", Robert Clark wrote for the paper, "potentially bringing down those attempting to save them".
For Clark, this "sounds like an acceptance that Ukraine cannot win this war" at its current scale and intensity, and that "Europe cannot continue to supply it". So "even if relations between Warsaw and Kyiv thaw", the "uncomfortable knowledge that doubt is spreading across European capitals" will remain.
What next?
The grain row has "escalated rapidly", said The Economist, but Poland's government is "also posturing". However, even if the posturing is "chiefly aimed at a domestic audience", it will still "undermine" the EU's attempts to "maintain a united front against Russia". And it could "set a dangerous precedent" for other countries that want to reduce their support for Ukraine.
"As the war rages on with no end point in sight," wrote Clark, "it's hard not to wonder: which domino will be next?" Could it be Slovakia? Politico thinks it might be. An election at the end of the month could "turn one of Ukraine's staunchest backers to a skeptic overnight", it wrote, because Robert Fico, a populist former PM who's tipped to win, has said he'd stop delivering weapons to Ukraine if elected.
The Estonian prime minister, Kaja Kallas, once a "vocal supporter of Ukraine", is "distracted by a scandal involving her husband" and has "been a lot less vocal" since the scandal broke in late August, "depriving Kyiv of one of its strongest advocates in Western capitals".
Meanwhile, tension between Kyiv and its Eastern European allies "shatters the impression of unity that the West has worked to create regarding its support for Ukraine", said Politico, with "one obvious benefactor: Vladimir Putin".
But Ukraine still has "plenty of unambivalent backers in its neighborhood", including Lithuania, Latvia, Finland, Sweden and Romania. Europe is also getting ready to approve a "massive financial aid support package for Ukraine" that will "guarantee income for years to come", Politico added.

Continue reading for free
We hope you're enjoying The Week's refreshingly open-minded journalism.
Subscribed to The Week? Register your account with the same email as your subscription.