Elon Musk's Boring Company trials 'car elevator'
Vehicles would be lowered on an 'electric sled' and transported through a tunnel network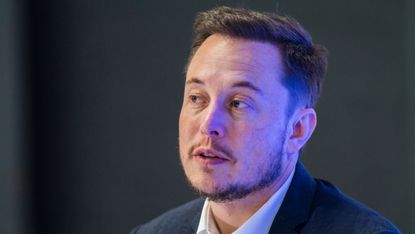 (Image credit: This content is subject to copyright.)
Elon Musk's Boring Company has begun trialling a "car elevator" to lower vehicles into its planned network of underground tunnels.
The inventor posted a video of the elevator trial on his Instagram page. It shows a Tesla Model S electric car being driven on to a metal platform before being lowered underground.
His comment wasn't taken seriously, with Bloomberg claiming Musk can be "somewhat of a loose cannon".However, he has since shared his plans to move motorised traffic underground and has even asked Twitter followers to help name the firm's first boring machine.
Subscribe to The Week
Escape your echo chamber. Get the facts behind the news, plus analysis from multiple perspectives.
SUBSCRIBE & SAVE
Sign up for The Week's Free Newsletters
From our morning news briefing to a weekly Good News Newsletter, get the best of The Week delivered directly to your inbox.
From our morning news briefing to a weekly Good News Newsletter, get the best of The Week delivered directly to your inbox.
Plans to start digging are already taking shape, so here's everything we know about Musk's latest venture.
It will be a driverless system
Instead of driving through a network of tunnels, AutoExpress says the underground network will be "filled with high-speed sleds" capable of carryings cars at speeds up to 124mph.
"The idea is that a car would drive onto the sled platform at street level and would then be lowered through the road down into the tunnel", before building up speed and merging "with other tunnel traffic autonomously", the magazine says.
While a Tesla Model S appears in the Boring Company's concept video, an array of different vehicle types can also be seen, including a compact people carrier. This indicates that the tunnel system will be open to the general public, not just owners of Musk's Tesla cars.
It may use hyperloop tech
According to The Verge, Musk also has a "hyperloop" tunnel system in the works that could transport people at "supersonic" speeds through overground vacuum tubes.
The technology could be used in his underground system, as the systems needed to safely transport traffic above ground also apply those below the surface.
During a TED Talks interview, Musk says underground tunnels need walls capable of enduring "five or six atmospheres" to seal against the water table, while hyperloop tunnels are already able to withstand one atmosphere for the tube's vacuum system.
Testing is already underway
Musk told Bloomberg, that digging began one Friday afternoon in January, after he thought: "Hey, what's the biggest hole we can make by Sunday evening?"
Excavations started in the car park of SpaceX's headquarters in Hawthorne, California, adds the website, as it "was convenient and [Musk] could legally do so without city permits".
The inventor plans to lower a boring machine into the hole and start drilling at around 50ft below the ground.
This "demo tunnel" will not be open to the public, says Bloomberg, but it is expected to allow SpaceX staff to easily access the company's facility in Los Angeles.
Elon Musk to build tunnel under Los Angeles 'in a month or so'
26 January
Elon Musk's plans to build a project under Los Angeles appear to be taking shape.
In a tweet, the SpaceX and Tesla founder said they had been making "exciting progress" on the project and that construction could take place "in a month or so".
As to where the tunnel will be, the inventor told followers he was keeping it local:
Musk first mooted the idea of a tunnel under LA towards the end of last year, saying traffic was driving him "nuts".
Although many considered the idea to be a joke, the entrepreneur added "tunnels" to his Twitter profile and posted: "I am actually going to do this."
However, Business Insider says Musk has not yet filed for a construction permit and the project could require "environmental tests" from Los Angeles' city officials and the state of California before it is given the green light.
Nor will the tunnel "provide an alternative route to cut down traffic", adds the site. It will be used by SpaceX employees to "get to the company's parking lot".
Last year, three SpaceX employees hospitalised after being hit by a speeding car, says NCB Los Angeles, an incident which may have been decisive factor in Musk's tunnel project.
Elon Musk reveals Mars colony plans
28 September
Elon Musk, the billionaire founder of private spaceflight company SpaceX and electric carmaker Tesla, has unveiled plans for establishing a colony on Mars. The first flight to the red planet could be as soon as 2022, he said.
Speaking at the International Astronautical Congress (IAC) in Guadalajara, Mexico, yesterday, Musk said the price of a flight would be around £150,000.
"What I really want to try to achieve here is to make Mars seem possible, like it's something we can achieve in our lifetimes," he said.
Musk's plan uses "a fully reusable transportation system that would take 100 people and 80 days to get to Mars and eventually as little as 30 days", the BBC says.
In a video shown to the IAC, Musk revealed a multistage launch and transport system, including a reusable booster, similar to the Falcon 9 SpaceX has already successfully tested – only bigger.
However, the Wall Street Journal says Musk's presentation "lacked specific funding projections, operational specifics or sign-off by government officials", which has opened the door for critics to continue to call the plan "a science-fiction dream".

Continue reading for free
We hope you're enjoying The Week's refreshingly open-minded journalism.
Subscribed to The Week? Register your account with the same email as your subscription.