Lesotho scandal: how the PM's murder charges unfolded
Thomas Thabane is seeking immunity over killing of estranged wife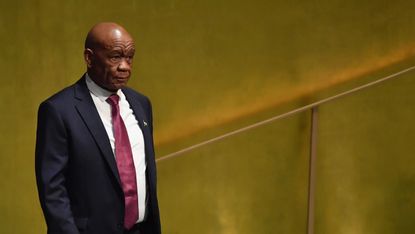 (Image credit: Getty Images)
The prime minister of Lesotho have appeared in court to face allegations that he murdered his estranged wife - but is arguing that his office grants him immunity from prosecution.
Thabane, 80, was initially scheduled to hear the charges on Friday but left the tiny African nation to go to neighbouring South Africa, with aides subsequently claiming that he went there for a medical appointment.
Attending a rescheduled hearing in Lesotho's capital of Maseru on Monday, Thabane looked on as his lawyer argued that the murder charge against a sitting PM raised a significant constitutional issue that needed to be resolved - prompting the magistrate to refer the case to the kingdom's High Court, The Guardian reports.
Subscribe to The Week
Escape your echo chamber. Get the facts behind the news, plus analysis from multiple perspectives.
SUBSCRIBE & SAVE
Sign up for The Week's Free Newsletters
From our morning news briefing to a weekly Good News Newsletter, get the best of The Week delivered directly to your inbox.
From our morning news briefing to a weekly Good News Newsletter, get the best of The Week delivered directly to your inbox.
The charge was announced last week following a surprise development in the investigation into the death of Thabane's second wife more than two-and-a-half years ago.
What happened in 2017?
Lipolelo Thabane, 58, was shot several times at close range as she sat in a car near her home in Maseru on 14 June 2017, just two days before her husband took power for a second term.
She had reportedly refused his demands for a divorce and won a court battle to retain her privileges as first lady after serving in that role during his first stint in power, between 2012 to 2015, when they were already living separately.
When the PM filed for divorce, he was already in a relationship with his now-wife Maesaiah Thabane (born Liabiloe Ramoholi).
The two women subsequently began "a years-long battle over who could claim the title of first lady, along with the perks of having a driver, car and bodyguard", The Times reports.
Following Lipolelo's killing, Maesaiah accompanied Thabane to his inauguration. They got married two months later "in a Catholic ceremony held at a packed stadium in the capital", the BBC reports.
The fatal shooting was initially blamed on unknown criminals, with commentators pointing out that Lesotho has one of the highest murder rates in the world.
Why was the case re-opened?
The case was brought back into the spotlight last month when a letter emerged in which Lesotho's police chief claimed that communication records showed someone at the murder scene had called Thabane's mobile phone on the day of the crime.
The letter from Commissioner Holomo Molibeli to the PM - which became public in court documents filed over a separate matter - was dated 23 December 2019 and includes demands for an explanation for the phone call.
However, investigators initially concluded that Maesaiah had hired the assassins, and a warrant of arrest was issued for the 42-year-old on 10 January after she failed to present herself to the police for questioning.
Maesaiah fled to South Africa before returning almost a month later to be "picked [up] from the border" after her lawyers and police reached an arrangement, a Lesotho police spokesperson told the Paris-based AFP news agency.
She was charged with Lipolelo's murder on 5 February, but was quickly released on bail of about $67 (£52). Maesaiah has also been charged with the attempted murder of Thato Sibolla, a family friend who was in the car with Lipolelo at the time of the shooting.
Sibolla, who fled to South Africa after escaping with gunshot wounds, "is expected to play a pivotal role in the state's case against the first lady", says the BBC's Southern Africa reporter Pumza Fihlani.
Amid growing calls for action following Maesaiah's disappearance, Thabane was also called in for questioning in connection with Lipolelo's murder, prompting members of his All Basotho Convention (ABC) party to urge him to step down immediately.
"It's obvious that the prime minister is a suspect in a horrendous criminal matter that involves his estranged wife," said the party's deputy leader, Nqosa Mahao.
Criticising Thabane for suspending police chief Molibeli after the case was reopened, Mahao continued: "The action he took to remove Molibeli from office is an attempt to defeat the ends of justice and frustrate justice being done.
"It is on this basis that the party urges him to step down as prime minister. He has become a threat to the nation and the country."
–––––––––––––––––––––––––––––––For a round-up of the most important stories from around the world - and a concise, refreshing and balanced take on the week's news agenda - try The Week magazine. Start your trial subscription today –––––––––––––––––––––––––––––––
How has the PM responded to the allegations?
Following the release of Maesaiah on bail, police announced last Thursday that Thabane was also to be charged with the murder of Lipolelo.
The same day, Thabane said in a statement that he would step down "with effect from the end of July this year, or at an earlier date if all the requisite preparations for my retirement are completed before then".
Speaking on state radio, he said: "I have served my country diligently. I've worked for a peaceful and stable Lesotho. Today, at my age, I have lost most of my energy."
He did not mention the police investigation, which could see him become the first African leader to be charged with a domestic murder while in office.
Thabane sparked further controversy by missing his scheduled court appearance the following day, after travelling to South Africa just hours earlier.
As accusations surfaced that he was fleeing the law, his office released a statement claiming that he had gone for a medical appointment and would appear before the court upon his return.
Speaking to reporters after Thabane's initial no-show, Deputy Commissioner of Police Paseka Mokete said: "We cannot at this stage say he is contemptuous [of the court].
"We may find the truth soon. People want to know what happened."
Despite Thabane's subsequent immunity request, and his pledge to step down this summer, a spokesperson for his ABC party announced on Monday that chair Samuel Rapapa was ready to take over as PM, following discussions among the National Executive Council.
But according to The Guardian, "analysts believe that rivals for the top post will contest Rapapa's appointment, possibly fracturing the party" - a development that would worsen the political crisis engulfing the impoverished nation.

Continue reading for free
We hope you're enjoying The Week's refreshingly open-minded journalism.
Subscribed to The Week? Register your account with the same email as your subscription.