English votes for English laws: how will the proposals work?
Proposals to side-line Scotland's MPs on English matters branded 'an unworkable dog's breakfast'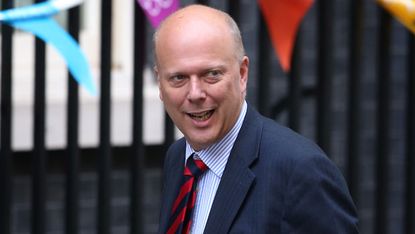 (Image credit: Getty Images)
Sign up to our 10 Things You Need to Know Today newsletter
A free daily digest of the biggest news stories of the day - and the best features from our website
Thank you for signing up to TheWeek. You will receive a verification email shortly.
There was a problem. Please refresh the page and try again.
The Government's controversial "English votes for English laws" proposals are being debated in Parliament today, with a row erupting between MPs.
Following David Cameron's promises to devolve more power to Scotland after last year's referendum on independence, there have been growing calls for English MPs to have more say on matters that only affect England.
What is being proposed?
Subscribe to The Week
Escape your echo chamber. Get the facts behind the news, plus analysis from multiple perspectives.
SUBSCRIBE & SAVE
Sign up for The Week's Free Newsletters
From our morning news briefing to a weekly Good News Newsletter, get the best of The Week delivered directly to your inbox.
From our morning news briefing to a weekly Good News Newsletter, get the best of The Week delivered directly to your inbox.
Under the proposals, the Commons Speaker will have to determine whether each new bill is related – in whole or in part – to England; to England and Wales; or to the whole of the United Kingdom. MPs representing English constituencies would then be given more say over the early reading of bills and effectively be able to veto bills that apply only to England.
Why?
The proposals address the so-called 'West Lothian Question' (named so because it was repeatedly raised by the Labour MP for West Lothian in 1977), which asks whether MPs for Scotland, Wales and Northern Ireland should be able to vote on matters that only relate to England.
Some MPs feel it is unfair that Scottish MPs can vote on matters that largely affect England, such as health and education, while English MPs have no say in legislation that affects Scotland, as it is dealt with by the Scottish Assembly. "We have heard the voice of Scotland and now the millions of voices of England must be heard," said Cameron after Scotland voted against independence in September.
What has the reaction been?
Labour and the Scottish National Party have argued that the measures will further separate the English and Scottish systems and create two classes of MP. SNP MP Pete Wishart has called the proposals "an unworkable dog's breakfast" that will politicise the office of Speaker and create an unnecessary layer of parliamentary procedure.
However, Chris Grayling, Commons leader, insists that "now is the time to give the English more say over their own destiny" and claims the proposals provide a "fair balance" for England and the UK. Opinion on the matter remains divided even among Conservative politicians, with some Tory backbenchers warning that Cameron will face strong opposition if the changes do not go far enough.
'English votes for English laws' debate comes amid SNP 'ambush'
15 July
Parliament is debating "English votes for English laws" proposals today amid a so-called Scottish National Party "ambush".
Ministers want to change House of Commons rules to give MPs from English constituencies a "decisive say" on English-only issues. Revised government proposals will be discussed in the Commons today, with a final set of proposals drawn up after the debate.
The debate comes a day after SNP leader Nicola Sturgeon abandoned her pledge not to intervene in issues that do not concern Scottish voters.
A vote to relax the fox-hunting ban, due to take place today, was postponed after Sturgeon said her party's 56 MPs would oppose the legislation.
The party had previously said it would not vote on matters that purely affect England, but Sturgeon suggested she had changed her mind partly as an act of defiance against Cameron's plans to introduce English votes for English laws, now referred to as Evel.
"The English votes for English laws proposals brought forward go beyond any reasonable proposition and look to make Scottish MPs effectively second-class citizens in the House of Commons," she told BBC Radio 4. "So, I think if there's an opportunity – as there appears to be here – and on an issue where David Cameron appears to be out of touch with majority English opinion as well, to actually remind the government how slender their majority is."
According to The Times, the SNP is also considering an "ambush" on assisted dying as part of its "war of attrition" over the treatment of her MPs.
An SNP MP told the newspaper that the assisted dying bill had been identified as the next English-only legislation on which the SNP could vote. "Because it is likely to be a free vote rather than a whipped one, the SNP could potentially hold the balance of power if it voted en bloc," explains the Times. However, "SNP insiders" said that nothing had yet been decided or ruled out.
'English votes for English laws' plan branded 'racist' by critics
3 July
The government's plan to introduce a new system of "English votes for English laws" has been described as "racist" and "procedural trickery".
Leader of the House Chris Grayling has unveiled a plan to allow English MPs to veto bills and clauses that apply only to England, arguing it would bring "real fairness to our constitutional arrangements".
Ministers hope to usher in the changes within weeks by amending rules governing parliamentary business, known as standing orders, rather than using primary legislation.
Opposition parties have reacted with fury. SNP leader Nicola Sturgeon described the plans as "staggering" in their "hypocrisy and incoherence", while Labour accused the government of "rushing ahead with its plans without proper consultation".
Labour MP Sir Gerald Kaufman told Grayling the very idea of "English votes for English laws" was inherently "racist".
Labour spokeswoman Angela Eagle accused the government of playing "procedural trickery" and told parliament: "This is no way to make profound constitutional change and it's an outrage that this government thinks it is."
MPs have offered opposing views of whether the move will strengthen or weaken the union. SNP Commons leader Peter Wishart said: "All this is going to do is make the movement toward independence even more irresistible." But the Conservatives argued it would boost the union by ensuring that English voters felt that their voices were heard.
The reform could have a significant lasting legacy for Labour. As The Times explains, the Conservatives' traditional electoral strength in England means the changes could make it far harder for a future Labour government to change the law, particularly if it had a slim majority reliant on MPs with Scottish or Welsh constituencies. Were English MPs to repeatedly veto a proposal, the government of the day would be forced to compromise or abandon it.
English votes for English laws: Tories push for veto option
3 February
The Conservative Party has put forward plans to give English MPs the right to veto legislation that does not affect the rest of the country.
The veto option was one of four suggestions put forward by the government last year to deal with the 'West Lothian question' following the Scottish referendum. It will give MPs in England a complete power of veto over matters that affect only their country, including setting income tax rates, which would effectively meaning that Scottish MPs only get a debating role on such issues.
Leader of the House William Hague will today put forward his party's preferred option and say that the reforms "are a fundamental matter of fairness" which will prevent the weakening of the United Kingdom, The Guardian reports.
Veto powers will be given "to prevent the wishes of the English or English and Welsh being overridden by Scottish MPs", Hague is expected to say. It means a committee of English MPs will discuss legislation that affects only them before it is put before the rest of the chamber.
However, opinion remains divided even within his own party, with some Conservatives arguing that the measures do not go far enough. The proposal is expected to "rile many English MPs, mainly Tory backbenchers, who believe English MPs should have an all-out say over English-only policy", according to the New Statesman. "They would prefer a purer plan closer to the slogan 'English votes for English laws'."
Some Tories "fear that anything less than that will be seen as a betrayal of the promise the Prime Minister made outside Downing Street last September the morning after the Scotland referendum result", writes the BBC's deputy political editor James Landale.
But Andrew Tyrie, chairman of the Commons Treasury Committee and a constitutional reformer opposes stronger action. "An English Parliament would be unnecessarily disruptive to the Union. It would risk jeopardising, rather than bolstering it," he said. "A 'full-strength' version of English Votes for English Laws could run many of the same risks."
Labour, meanwhile is calling for a constitutional convention to consider all of the ideas before a vote – but only after May's general election.
"This debate is getting more complicated and it could be about to get more bloody," predicts Landale.
Continue reading for free
We hope you're enjoying The Week's refreshingly open-minded journalism.
Subscribed to The Week? Register your account with the same email as your subscription.
Sign up to our 10 Things You Need to Know Today newsletter
A free daily digest of the biggest news stories of the day - and the best features from our website