10 things you need to know today: December 19, 2021
Report claims D.C. police chief helped criminal cops keep their jobs, Chileans cast votes in polarized presidential election, and more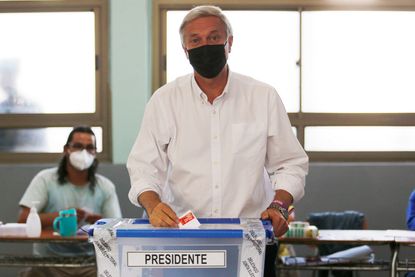 (Image credit: Marcelo Hernandez/Getty Images)
1. Report claims D.C. police chief helped criminal cops keep their jobs
A group of high-ranking Washington, D.C., police officers, including the current chief, shielded 21 officers from termination for criminal misconduct, according to a new investigation. This report is based on internal documents obtained from a ransomware attack that targeted the D.C. Metropolitan Police Department in April. Per those documents, between 2009 and 2019, the MPD's Disciplinary Review Division sought termination for at least 24 officers accused of criminal misconduct. In all but three of those cases, an Adverse Action Panel made up of three high-ranking officers made sure the accused kept their jobs. One member of that panel, Robert J. Contee, has served as chief of the MPD since the beginning of 2021.
2. Chileans cast votes in polarized presidential election
Chileans cast their votes Sunday in a contest between 35-year-old leftist activist Gabriel Boric and law-and-order conservative Catholic José Antonio Kast. One of the main issues dividing voters is the economic and political system Gen. Augusto Pinochet bequeathed to the country he ruled as a dictator from 1973–1990. Supporters of Kast, who has spoken highly of Pinochet, argue that Chile's free-market model has led to strong economic growth, while Boric voters claim it has produced too much inequality. A leftist-controlled assembly is currently drafting a new constitution for Chile to replace the one Pinochet left behind. Final polling showed a close race with Boric slightly ahead.
Subscribe to The Week
Escape your echo chamber. Get the facts behind the news, plus analysis from multiple perspectives.
SUBSCRIBE & SAVE
Sign up for The Week's Free Newsletters
From our morning news briefing to a weekly Good News Newsletter, get the best of The Week delivered directly to your inbox.
From our morning news briefing to a weekly Good News Newsletter, get the best of The Week delivered directly to your inbox.
Reuters The Wall Street Journal
3. Netherlands impose Christmas lockdown to slow the spread of Omicron
The Dutch government announced Saturday that schools, universities, and all non-essential businesses must close until Jan. 14 starting Sunday. "The Netherlands is going into lockdown again from tomorrow," Dutch Prime Minister Mark Rutte said Saturday night. He said the lockdown was necessary "because of the fifth wave caused by the Omicron variant that is bearing down on us." Under this new lockdown, Dutch citizens will be allowed to receive only two visitors per day. On Christmas and New Year's, they will be allowed four.
4. Vatican announces new restrictions on Latin Mass
A Vatican document released Saturday imposed further restrictions on the pre-Vatican II liturgy, including a prohibition on listing Latin Masses in parish bulletins. A preference for the old Mass is often associated with political conservatism and with a lack of support for Pope Francis. In his introduction to the document, Archbishop Arthur Roche, the head of the Vatican's liturgy office, said clergy "must not lend ourselves to sterile polemics, capable only of creating division, in which the ritual itself is often exploited by ideological viewpoints." Critics have accused the pope of punitively targeting small groups of devout, traditional Catholics while allowing modernist liturgical irregularities to run rampant.
National Catholic Reporter Reuters
5. CCP-approved 'patriot' candidates are the only option in Hong Kong's elections
Hong Kong voters headed to the polls for a major legislative election Sunday, but the only candidates on the ballot have been pre-screened by Chinese Communist Party officials and identified as "patriots." 153 candidates are running for 90 seats. Only 12 of those candidates say they are not part of a pro-Beijing faction. Voter turnout is down considerably from the turnout seen during the Legislative Council (LegCo) election five years ago. In 2019, Beijing imposed a strict national security law on Hong Kong, effectively ending the region's long history of self-government and sparking widespread protests, which were crushed last year.
6. Death toll from Philippines typhoon reaches 146
The typhoon that ravaged the central Philippines Thursday and Friday has killed 146 people, and the death toll is likely to continue rising as isolated towns that suffered communications outages re-establish contact with authorities. Most of the deaths resulted from falling trees and walls, flash floods, and landslides. Arlene Bag-ao, governor of the hard-hit Dinagat Islands, said her province's main island had been "leveled to the ground," leaving its 180,000 inhabitants desperate for shelter, clean water, and other necessities. President Rodrigo Duterte visited the region Saturday and promised aid.
7. U.K. Brexit minister resigns in protest over new COVID restrictions
U.K. Prime Minister Boris Johnson faced yet another challenge from within his own Conservative Party when Brexit Minister David Frost resigned effective immediately from Johnson's cabinet Saturday. Frost, who holds a life peerage that entitles him to sit in the House of Lords, had planned to resign next month, but moved up his timetable to protest Johnson's new COVID restrictions. Instead of implementing vaccine passports, Frost wrote in his resignation letter, the U.K. should "learn to live with COVID." Earlier this week, 99 Conservative members of parliament voted against the passports in the largest defection of Johnson's premiership. Frost urged Johnson not to be "tempted by the kind of coercive measures we have seen elsewhere."
8. Cruz and Schumer strike deal on Biden appointees, Russian sanctions bill
In its final acts before the Christmas break, the Senate confirmed dozens of President Biden's nominees, starting Friday night and ending around 2 a.m. Saturday morning. Former Chicago Mayor and Obama White House Chief of Staff Rahm Emanuel was confirmed as ambassador to Japan, despite "no" votes from three Democratic senators. In return for Sen. Ted Cruz (R-Texas) allowing the confirmation votes to go ahead, Majority Leader Chuck Schumer (D-N.Y.) agreed to allow Cruz's Russian sanctions bill to be debated and voted on by mid-January.
9. YouTuber-turned-boxer Jake Paul defeats former UFC champ by knockout
YouTuber-turned-boxer Jake Paul defeated former UFC welterweight champion Tyron Woodley in Tampa, Florida, Saturday night. The fight, a rematch after Paul defeated Woodley last summer by split decision, ended in a knockout when Paul connected with a hard right in the sixth round. Paul remains undefeated. His five professional fights, all aired on pay-per-view, have established him as a bankable star in the boxing world, but, as ESPN staff writer Marc Raimondi observes, "naysayers" are still quick to point out that he has yet "to fight anyone with real pro boxing experience."
10. Paul Rudd hosts SNL with no crowd, minimal cast, and no musical guest due to COVID outbreak
Paul Rudd, hosting Saturday Night Live for the fifth time, played to an (almost) empty house Saturday after a COVID outbreak forced the show to forego cast, crew, crowd, and planned musical guest Charli XCX. Tom Hanks and Tina Fey — who have hosted 10 times and 6 times, respectively — joined Rudd onstage to induct him into the auspicious "Five-Timers Club." The only two cast members to appear were Kenan Thompson and Michael Che. The five spent the evening introducing pre-recorded sketches and playing old favorites from years gone by. Fey and Che also hosted a stripped-down Weekend Update, sitting in chairs on the main stage instead of behind the typical newsroom desk.
The New York Post Saturday Night Live

Continue reading for free
We hope you're enjoying The Week's refreshingly open-minded journalism.
Subscribed to The Week? Register your account with the same email as your subscription.