To crush Hamas, Israel must give Gaza hope
Bombing Gaza is like handing Popeye a can of spinach - it won't weaken Hamas, only make it stronger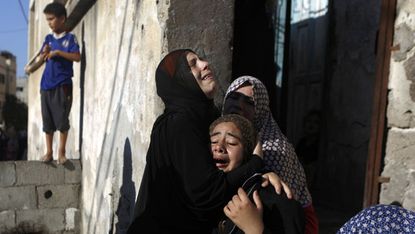 (Image credit: MOHAMMED ABED/AFP/Getty Images)
The time for blame in the Israeli-Palestinian conflict is surely coming to an end. After countless cycles of violence, death and fear on both sides, there is some slight hope at least that the tragic deaths of four Palestinian boys, killed in front of witnesses by shells fired from an Israeli gunboat while they played on the beach, might mark a turning-point.
Yes, Israel has a right to defend itself, everyone does. But Israel already has bomb shelters and Iron Dome and air-raid sirens.
And due to these commendable precautions, only one Israeli has died so far during this round of fighting. Indeed, in total, only 24 Israelis have died since 2001 as a result of rockets fired from Gaza.
Subscribe to The Week
Escape your echo chamber. Get the facts behind the news, plus analysis from multiple perspectives.
SUBSCRIBE & SAVE
Sign up for The Week's Free Newsletters
From our morning news briefing to a weekly Good News Newsletter, get the best of The Week delivered directly to your inbox.
From our morning news briefing to a weekly Good News Newsletter, get the best of The Week delivered directly to your inbox.
Not that this absolves Hamas. If it could kill Israeli civilians with its crappy rockets, it would.
And yet, in contrast, more than 220 Gazans have died these past few weeks alone - a fifth of whom are children. This is not an even conflict.
Of course, there are reasons for the gulf in the death count. Yes, Hamas is embedded among a civilian population. Yes, Israel has invested millions in building its defence systems (with a sizeable amount of US help).
But none of this makes a continued assault on the fifth most densely populated area in the world justifiable.
Human Rights Watch has called Israel's knowing targeting of civilian structures a war crime. Israel may be issue warnings ahead of time, but where can the people of Gaza go? And once they are homeless, what then? Some 22,000 people have already been displaced and are living in UN shelters.
Further, if the aim is to target Hamas members, the warnings seem counterintuitive and nonsensical, almost as much as the operation itself.
If Israel's aim is to crush Hamas and other hostile militant Islamist groups (there are far more extreme groups in Gaza than Hamas - Islamic Jihad, for one) then it must recognise that it will never succeed by periodically bombing the Strip to pieces.
The attacks have minimal long-term military gains in terms of destroying Hamas's leadership, all of whom are either abroad or underground by this point. And despite nearly 2,000 air strikes by Israel during Operation Protective Edge, the number of rockets being fired from Gaza has not abated for one day, suggesting their capabilities are not being significantly damaged either.
In fact, bombing Gaza is like handing a can of spinach to Popeye - it won't weaken Hamas, it will only make it stronger. Such attacks ruin any chance of development in the blockaded country and foster hatred and a desire for revenge. Indeed, they only serve to breed extremism.
For Gazans, the future is bleak. They are poor, cut off from the rest of the world and without hope. The overall unemployment rate was 38.5 per cent in the last quarter of 2013, while about 80 per cent are dependent on international assistance such as food aid.
Israel's blockade of Gaza is crippling. Everything that goes in and out of that tiny strip of land must be approved by Israel and, to a lesser extent, Egypt, with medicine, food, construction material and so on regularly held back. Not for nothing is Gaza regularly described as an open-air prison for its 1.8 million inhabitants.
The waves of violence have been unending this past decade. Half the Gazan population is under 18, and even a nine-year-old Palestinian child will by this point have lived through five rounds of conflict and will almost certainly have had a friend or relative killed or injured by Israeli attacks.
What sort of people will this young generation grow up to be? And who could possibly fail to understand why many might in the future become radicalised?
To crush Hamas, and any extremist group seeking to replace it, the only solution is to provide hope and opportunities for Gazans. Using bombs to break an enemy that thrives on the amount of misery and destruction you sow is futile - a lesson Israel should have learned from its 2006 campaign against Hezbollah in Lebanon.
Hamas's (very optimistic) demands in return for a 10-year ceasefire are mostly fair and with proper monitoring would allow Gazans a chance at a proper life. The alternative is a costly and bloody ground invasion by the Israelis, followed by full demilitarisation and reoccupation of the Strip.
The five-hour "humanitarian pause" which started early this morning might, by the time this is posted, already have been broken. Or might it – could it - give both sides the opportunity to consider trying something else?
Venetia Rainey tweets at twitter.com/venetiarainey

Continue reading for free
We hope you're enjoying The Week's refreshingly open-minded journalism.
Subscribed to The Week? Register your account with the same email as your subscription.