Islamic State: RAF jets carry out first air strikes in Iraq
Attacks will prompt 'relief' for government after fanfare of air strikes vote, but 'anxiety' for hostages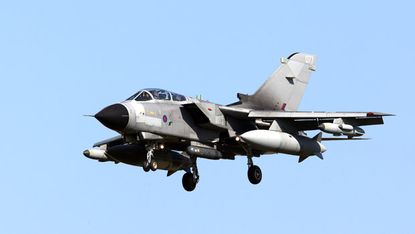 (Image credit: Gavin Fogg/AFP/Getty )
Another pair of the fighter-bombers later launched a second round of air strikes, firing four missiles against two insurgent vehicles west of Baghdad.
The mission was the first attack since parliament voted last Friday in favour of British air strikes in Iraq. The UK is now among 40 nations targeting Islamic State (IS), which has taken over swathes of Iraq and Syria.
The Times says it understands that SAS soldiers and US commandos are also on the ground helping to identify targets for air strikes.
Subscribe to The Week
Escape your echo chamber. Get the facts behind the news, plus analysis from multiple perspectives.
SUBSCRIBE & SAVE
Sign up for The Week's Free Newsletters
From our morning news briefing to a weekly Good News Newsletter, get the best of The Week delivered directly to your inbox.
From our morning news briefing to a weekly Good News Newsletter, get the best of The Week delivered directly to your inbox.
The newspaper says the attacks will come as a "relief" to government, which "announced the decision to join the combat mission with great fanfare last week only to see RAF jets fly multiple sorties from their airbase in Cyprus without launching attacks".
However, the Times says it is likely to cause "anxiety" over the fate of British hostages Alan Henning and John Cantlie.
Barbara Henning, the wife of Alan Henning, a taxi driver and volunteer aid worker from Manchester, has told the BBC that she is "dreadfully concerned" for his safety.
"I ask Islamic State, please release him. We need him back home," she said. "Surely those who wish to be seen as a state will act in a statesmanlike way by showing mercy and providing clemency. I ask again, supported by the voices across the world, for Islamic State to spare Alan's life."
Cameron: UK 'will play its part' in fight against Islamic State
25 September
David Cameron has issued a "call to arms" in the fight against Islamic State, announcing that Britain is ready to "play its part" in air strikes against the militants in Iraq.
Addressing the United Nations General Assembly in New York, the prime minister called Islamic State an "evil against which the whole world must unite" and urged the public not to be "frozen with fear" over the prospect of military action against the "psychopathic, murderous, brutal" jihadist extremists.
"The cruelty being meted out, beheadings, eyes being gouged out, rape, is horrific. It is literally medieval in character," said Cameron.
Nick Bryant, BBC UN correspondent, said Cameron's address felt like a "dress rehearsal" for the speech he will deliver to the House of Commons on Friday. MPs will be asked to support UK air strikes against the militants in Iraq, which follows a request from the Iraqi government for British air power.
"Other than a few cursory words about Middle East peace, Ukraine and the Ebola outbreak in West Africa, it was devoted almost exclusively to making the case for British air strikes in Iraq," says Bryant.
Cameron's speech came as US and Arab allies began a third round of airstrikes in Syria, targeting IS-controlled oil fields. However, the British government is not proposing military action in Syria because of the legal complications of acting there without the support of the Assad regime. It has also ruled out providing combat troops for now.
Labour leader Ed Miliband and Liberal Democrat leader Nick Clegg have said that their parties will back Cameron in the Commons.
Describing the speech as Cameron's "call to arms", The Times says Britain's bombing campaign against Islamic State could begin as early as Friday night if Parliament back military action. Defence Secretary Michael Fallon warned yesterday that expelling Islamic State from Iraq would "take months and possibly years".
Yesterday, the UN passed a resolution calling for nations to criminalise travelling abroad for jihad.
UK cannot 'opt out' of fight against Islamic State, says PM
24 September
Parliament is expected to be recalled later this week after David Cameron announced that the UK cannot "opt out" of the fight against Islamic State.
In an interview with NBC News in the US, the Prime Minister said there was no doubt in his mind that the militants – who have oil, money, territory and weapons – are planning "further plots in Europe and elsewhere".
Islamic State have been "attempting plots" in countries including the UK, he said. "The same applies to the United States of America, so this is a fight you cannot opt out of. These people want to kill us."
The BBC says Parliament is due to be recalled on Friday to discuss the UK's role in airstrikes against IS, although the recall has not been officially confirmed.
Labour leader Ed Miliband has said he is "open to the possibility" of supporting airstrikes in Iraq, where the US has launched nearly 200 since August.
On Monday, the US expanded its campaign across the border into Syria for the first time. Downing Street said that Cameron supports the Syria airstrikes, carried out by the US and five Arab countries – Bahrain, Qatar, Saudi Arabia, Jordan and the United Arab Emirates.
At least 70 militants, 50 other al-Qaeda-linked fighters and eight civilians are believed to have been killed in Monday's strikes.
Cameron is expected to meet Iran's president Hassan Rouhani later today, marking the first time a UK prime minister has met an Iranian president since Iran's revolution in 1979.
BBC correspondent Nick Bryant suggests Cameron is trying to gauge how Iran might be able to help in the fight against Islamic State and press Rouhani to withdraw support for the Assad regime in Syria.
Meanwhile, Pentagon spokesman Rear Admiral John Kirby has said the fight against Islamic State will take "years". Kirby said the airstrikes in Syria had successfully degraded IS's capabilities, but noted that the militants were good at adapting to change. "It's going to take a serious effort by all involved. We do believe that we're talking about years here."
Islamic State: US launches air strikes in Syria for first time
23 September
The US and Arab allies have launched the first airstrikes against Islamic State in Syria in what is believed to be the biggest single day of attacks since America began its campaign against the jihadist group.
The US has launched 190 airstrikes in Iraq since 8 August, but this is the first time it has expanded its campaign across the border into Syria.
Tomahawk missiles and warplanes, including F-22 fighters, were deployed, according to the Pentagon.
The Arab allies have not been officially named, but US defence sources told the Washington Post that Saudi Arabia, Jordan, the United Arab Emirates and Bahrain were "full participants" in the airstrikes. Another defence official told the newspaper that Qatar had sent military aircraft to play a supporting role but did not carry out strikes.
One source said the US was planning to attack up to 20 Islamic State targets, which would mark "the biggest single day of attacks since the military began striking the jihadist group in Iraq", says the Washington Post.
Residents of Raqqah city, Islamic State's self-declared capital, claimed on Twitter that they had heard large explosions and military aircraft.
Analysts told the BBC it was "significant" that countries with a Sunni majority, such as Saudi Arabia, appear to be among those supporting US efforts.
Jon Sopel, BBC North America editor, says that this is "only a first step" as the Pentagon has acknowledged that "air power alone will not defeat Islamic State, and crucial to that goal will be equipping and training the free Syrian Army".
The Syrian government was reportedly informed about the airstrikes but had not formally consented to the attacks on its territory. The CIA believes that Islamic State, which has taken control of a vast area between Syria and Iraq, has as many as 31,000 fighters.

Continue reading for free
We hope you're enjoying The Week's refreshingly open-minded journalism.
Subscribed to The Week? Register your account with the same email as your subscription.