Ukraine solution: West should back off and support partition
If we are happy to let Scotland go (depending on the referendum), we should let Ukraine split too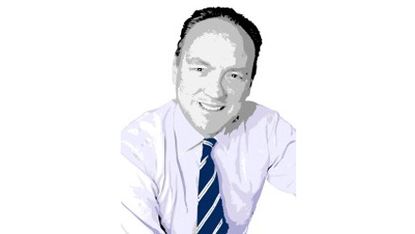 Sign up to our 10 Things You Need to Know Today newsletter
A free daily digest of the biggest news stories of the day - and the best features from our website
Thank you for signing up to TheWeek. You will receive a verification email shortly.
There was a problem. Please refresh the page and try again.
RUSSIA has re-annexed Crimea and despite the diplomatic bluster of William Hague and John Kerry there is nothing we can do about it. More than that, there is nothing we in the West should do about it.
Never assume that your opponent thinks in the same way that you do – it's a cardinal rule of intelligence analysis. He will have different priorities and cultural assumptions. If you are keen to work out what he is going to do next you have somehow to get inside his skin. We have signally failed to do that with President Putin – routinely portrayed as some kind of ex-KGB monster in the British media.
Putin and most Russians do not see either the Crimea, or Ukraine as a whole, as we do. Crimea was Russian from 1783 until 1954 when President Nikita Krushchev "gifted" it to Ukraine for reasons that remain obscure. Eastern Ukraine was ruled by Russia from the time of Peter the Great until the break-up of the Soviet Union.
Subscribe to The Week
Escape your echo chamber. Get the facts behind the news, plus analysis from multiple perspectives.
SUBSCRIBE & SAVE
Sign up for The Week's Free Newsletters
From our morning news briefing to a weekly Good News Newsletter, get the best of The Week delivered directly to your inbox.
From our morning news briefing to a weekly Good News Newsletter, get the best of The Week delivered directly to your inbox.
Imagine that, say, Northumberland had been "gifted" to Scotland in 1954 as some sort of meaningless goodwill gesture – an administrative re-ordering to cement the relations between the Scots and the English. And that Scotland subsequently became independent, Northumberland included, despite the opposition of nearly everyone in that county who felt culturally and historically English. But they had to lump it, and we in England had to mourn our lost province because the international community said it had to be so – and we as a country were on our uppers at the time and in no position to do much about it.
And then, 20 years or so later, a reasonably pro-English president in Edinburgh (legitimately elected, though corrupt and latterly brutal) was forced to step down after violent street protests whipped up with the moral support of the international community. And then we suspected that the new 'government' in Edinburgh was tempted to enter into a trading and military alliance with China…
It's not an exact parallel but it will give you some idea of what is going through Putin's mind.
An electoral map of Ukraine looks rather like one of those maps of Belfast we used to carry on patrol during the Troubles: East Belfast, shaded appropriately in orange ink, was almost entirely Protestant and Loyalist, looking to the British Crown for authority, tradition and security. West Belfast, shaded in bright green ink, was almost entirely Roman Catholic and Nationalist, looking to the Irish Republic and sadly the IRA.
It's the same in Ukraine. The majority of the people in the east of the country look to Moscow. The city of Donetsk, for instance, contains more Russians than it does Ukrainians, and many of those who describe themselves as Ukrainian speak Russian as their first language.
Probably the most logical solution would be some kind of partition on the lines of the 1921 treaty that partitioned Ireland or the 1947 process adopted at the end of British India. Sir Cyril Radcliffe, the English barrister and fellow of All Souls who had to draw up the international boundaries between India and West and East Pakistan, sequestered himself in a Delhi bungalow for weeks as he agonised over his near-impossible task.
Partitioning Ukraine would pose few such problems. Crimea is already de facto once again Russian, and 'Ukraine proper' (a phrase used this morning on the BBC) is split almost exactly down the middle in its political and cultural aspirations. A map of the results of the 2010 presidential election shows this clearly.
It could be divided into two viable countries – East Ukraine, with its capital at Kharkov or Donetsk, where locals hoisted the Russian flag over public buildings last week, comfortable in the Russian orbit. And West Ukraine, with its capital at Kiev, and its westward-looking worldview reinforced by the former Austro-Hungarian city of Lvov (Lemberg), eventually becoming an EU country.
We in the United Kingdom seem happy to allow the possible partition and dismemberment of our own territorial unity dating back to the accession of James I on March 24 1603 – if that's what people want. What's sauce for the Scots goose would fit the Ukrainian gander. Instead of huffing and puffing about the inviolability of very recently arrived at and clearly unworkable borders in Ukraine, William Hague should use our diplomatic muscle to promote the idea of partition. Let the people vote on which bloc they want to belong to. Putin might well agree.
Continue reading for free
We hope you're enjoying The Week's refreshingly open-minded journalism.
Subscribed to The Week? Register your account with the same email as your subscription.
Sign up to our 10 Things You Need to Know Today newsletter
A free daily digest of the biggest news stories of the day - and the best features from our website
is a former Welsh Guards lieutenant colonel and intelligence analyst for the British government's Joint Intelligence Committee. His book, 7-7: What Went Wrong, was one of the first to be published after the London bombings in July 2005.