Fact check: is Jeremy Corbyn a 'terrorist sympathiser'?
Labour leader has faced repeat allegations that he supports Hamas and the IRA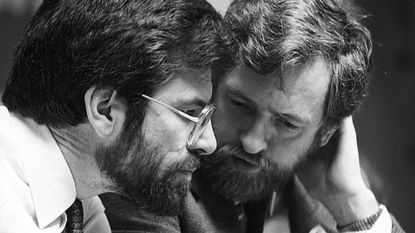 (Image credit: Twitter)
Sign up to our 10 Things You Need to Know Today newsletter
A free daily digest of the biggest news stories of the day - and the best features from our website
Thank you for signing up to TheWeek. You will receive a verification email shortly.
There was a problem. Please refresh the page and try again.
Labour leader Jeremy Corbyn has faced accusations that he is a "terrorist sympathiser" with links to group including Hamas and the IRA throughout his 35-year career as an MP.
And fringe conspiracists are not alone in making such claims. In earlier April, pro-Brexit campaign group Leave.EU described Corbyn as a "communist terrorist-sympathiser". The allegation echoed that made by then-prime minister David Cameron in 2015, when he accused his Labour rival of being "security-threatening, terrorist-sympathising and Britain-hating".
The row took another startling turn at the start of this month, when a video surfaced that appeared to show British paratroopers firing at a poster of Corbyn at a target range in Kabul.
Subscribe to The Week
Escape your echo chamber. Get the facts behind the news, plus analysis from multiple perspectives.
SUBSCRIBE & SAVE
Sign up for The Week's Free Newsletters
From our morning news briefing to a weekly Good News Newsletter, get the best of The Week delivered directly to your inbox.
From our morning news briefing to a weekly Good News Newsletter, get the best of The Week delivered directly to your inbox.
After the Ministry of Defence confirmed the authenticity of the footage, commentators rushed to speculate about why serving UK soldiers were villifying the Labour chief.
The Independent's Joe Glenton pointed the finger at "far-rights" and "fascists" who have denigrated the politician's public image by misrepresenting his views, adding: "People who call Corbyn a terrorist sympathiser are to blame for this."
"Three years of being falsely accused of being an IRA and Hamas sympathiser both in Parliament and in print" has "dehumanised" Corbyn and other leading figures of the Labour Party, Glenton writes.
So what is the truth? We take a look at the main allegations.
Hamas
Corbyn is a long-standing member of the Palestine Solidarity Campaign, and has frequently spoken out against what he considers to be apartheid conditions imposed by Israel in the Palestinian territories. In 2014, he signed an open letter to Downing Street that said the UK's "very close relationship with Israel", which included "buying and selling arms", should be brought to an end.
The Labour boss backs a two-state solution in the region, and has urged the UK to recognise Palestinian sovereignty if it comes to fruition.
His support for Palestinian causes has also seen him develop ties to Hamas. The Palestinian Islamist political organisation and militant group works independently from the governing Palestinian National Authority, except in the Gaza Strip, which it governs entirely after taking it by force in 2007.
In the past, Hamas has called for the total annihilation of the Israeli state, and has been blamed for numerous suicide bombings and rocket attacks against targets in Israel since the group was founded in 1987. It is listed as a banned terror organisation by the UK Home Office.
The Times of Israel reports that Corbyn met Hamas officials in Israel and Palestine in 2010; chaired a panel at an event in Qatar with the head of Hamas, Khaled Mashaal, in April 2012; and invited leading Hamas activists and supporters to a meeting in the House of Commons in March 2015.
The Wiltshire-born politician landed in hot water in 2015 after a video surfaced online showing him talking at a Stop the War Coalition meeting in 2009. In the footage, he says that he had invited members of Hamas and Hezbollah - another anti-Israel militant group based in Lebanon - to the meeting, referring to them as "friends".
Corbyn later told Channel 4 News that he had used the word "friends" in a "collective way", adding: "I'm saying that people I talk to, I use it in a collective way, saying our friends are prepared to talk. Does it mean I agree with Hamas and what it does? No."
In the wake of the row, The Daily Telegraph's Andrew Gilligan wrote that negotiating with Hamas might be seen as a legitimate cause but that "no other MP does so with quite the frequency and fervour of Mr Corbyn".
Gilligan also claimed that in February 2013, Corbyn and his wife travelled to Gaza as part of a £2,800 gift from Interpal, a British charity that was banned by the US government as "part of the funding network of Hamas" and as "a terrorist organisation in its own right".
However, Interpal is not an illegal organisation in the UK. Multiple investigations by the Charity Commission have failed to substantiate the claims that the charity funds or otherwise supports Hamas.
Corbyn was engulfed in another row after attending a conference in Tunis dubbed the "International Conference on Monitoring the Palestinian Political and Legal Situation in the Light of Israeli Aggression", in September 2014. When photos of the event were made public, he faced questions over his role in a wreath-laying ceremony that some claimed was honouring the Palestinian Black September terrorists who planned the 1972 Munich massacre of Israeli athletes.
However, Corbyn maintained that he was actually paying respects to those killed in a 1985 Israeli bombing of the Palestinian Liberation Organisation headquarters in Tunis, the BBC reports.
The broadcaster notes that the wreath-laying event only took place "near" to memorials to militants suspected of involvement in the Munich attack.
The IRA
Corbyn's views on Northern Ireland - and those of his shadow chancellor and close collaborator John McDonnell - have been the "subject of much discussion" since he first announced his candidacy for the Labour leadership, says Channel 4 FactCheck.
"It's no secret that the Labour leader has long supported the end of British rule in Ulster, and that he met the leaders of Sinn Fein and other Republicans in the 1980s and 1990s, when the Provisional IRA was still bombing and shooting people," the site adds.
"Corbyn has given interviews in which he has been challenged to condemn the IRA's campaign of violence unequivocally – without equating it to other parties involved in the conflict – and has declined to do so."
The Times reports that the Labour veteran "led or took part in at least 72 events or actions with Sinn Fein and pro-republican groups, including convicted terrorists, before the IRA ended its armed campaign".
In an article for Foreign Policy, terrorism analyst Robin Simcox argues that Corbyn's "consistent covering for the IRA" demonstrates that he is "perfectly relaxed about nonstate actors' use of violence as long as it is for a cause - in that case, a united Ireland - with which he agrees".
And according to The Daily Telegraph, Corbyn was a "regular face at republican protest events and attended events to honour dead terrorists", prompting MI5 to open a file on the Labour leader amid concerns over his links to the IRA.
But academic researcher Luke Davies has defended Corbyn, saying that many critics may be conflating the party leader's views on British rule in Northern Ireland with sympathy for the IRA. Despite having frequently condemned "all bombing' carried out by the IRA, he has "also been insistent on acknowledging the joint responsibility of the British Army for the Troubles", Davies writes in an article on Medium.
"Corbyn has never claimed to be neutral on this issue - and there are many who would hotly contest his point of view ", but that does not mean he has "ever had any sympathy for IRA terrorist tactics", Davies concludes.
Continue reading for free
We hope you're enjoying The Week's refreshingly open-minded journalism.
Subscribed to The Week? Register your account with the same email as your subscription.
Sign up to our 10 Things You Need to Know Today newsletter
A free daily digest of the biggest news stories of the day - and the best features from our website