Rishi Sunak's first year as PM: is he safe?
The Conservative Party has continued to trail behind Labour in the polls under Sunak's leadership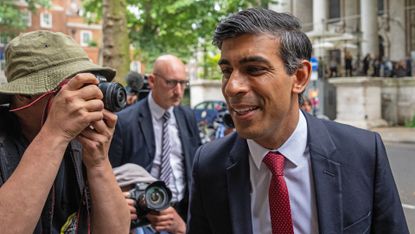 (Image credit: Carl Court/Getty Images)
One year on since Rishi Sunak took over from Liz Truss as prime minister, the Conservative leader appears to have done little to reverse his party's fortunes.
The first anniversary of Sunak's premiership comes just days after two major Conservative losses in the Tamworth and Mid Bedfordshire by-election, prompting whispers that disgruntled Tory MPs are submitting letters of no confidence to the 1922 Committee – the influential group of backbenchers who have brought down several prime ministers including Theresa May, Boris Johnson and Truss.
Sunak's first year in office
"Despite all of the pledges, relaunches and policy announcements, the Tories find themselves pretty much where they were when Sunak took over," said politics editor Kevin Schofield in HuffPost. And that is "miles behind Labour in the polls and without a clear, coherent strategy for turning things around before the next election".
Subscribe to The Week
Escape your echo chamber. Get the facts behind the news, plus analysis from multiple perspectives.
SUBSCRIBE & SAVE
Sign up for The Week's Free Newsletters
From our morning news briefing to a weekly Good News Newsletter, get the best of The Week delivered directly to your inbox.
From our morning news briefing to a weekly Good News Newsletter, get the best of The Week delivered directly to your inbox.
The Conservative Party has fought no less than nine Westminster by-elections since Sunak became PM, but have only won one, in Uxbridge and South Ruislip, which "effectively became a referendum" on the extension of the ultra-low emission zone (ULEZ) in the area.
And Sunak's five pledges – halving inflation, growing the economy, stopping small boats, cutting NHS waiting lists and debt falling – have "left the public underwhelmed", particularly his pledge to stop small boat crossings, which has "earned him the unenviable reputation of being someone who over-promises but under-delivers".
According to a recent YouGov poll, only one in 10 voters think Sunak has done a good job in his first year as prime minister. Half the electorate think Sunak is doing a bad job at No. 10, with 25% saying the PM has been "poor" and another 25% saying he had been "terrible".
As well as poor personal ratings, his party is trailing far behind in the polls, but some MPs believe he could pull off a surprise victory in the next general election.
"It would be like Lazarus to bring us back from when he took over a year ago, Conservative MP Philip Davies told GB News. "But if anybody can do it, I think he could do it."
Other MPs, however, said such a view is "deluded". One Tory MP told The Times: "We are going to lose, Rishi has failed to do a bold enough reset," one "Conference was perfectly all right but it didn't shift the dial. These were minor policies. It's not enough."
Who is Rishi Sunak?
After a career as an investment banker, Sunak entered politics in 2015, when he took over from former Tory leader William Hague as the MP for Richmond in Yorkshire.
Sunak faced a significant challenge in winning over the constituency. Local farmers who spoke to Tatler's Ben Judah shortly before the election aired their thoughts on their new Conservative candidate with "that infamous turn of phrase, 'I'm not racist, but…'".
Such comments didn't deter Sunak, although he told Sky News in 2020 that experiencing racist abuse "stings in a way that very few other things have".
Sunak married Akshata Murty, the daughter of one of India's richest men, in a two-day ceremony in 2009. The wedding was held in Bangalore and attended by Indian celebrities and politicians.
The couple met while studying at Stanford University, where Sunak was a Fulbright scholar. He had the support of Murty's family when he first entered politics eight years ago. His billionaire father-in-law, Narayana Murthy, was "so enthusiastic about Sunak's parliamentary career that he'd flown in, and had even been leafleting on his behalf, wearing a Rishi sweatshirt", Judah wrote.
Sunak's parliamentary career
Sunak's political rise "has been uncommonly rapid", said The New York Times. The Financial Times noted that the 42-year-old is "younger than both Tony Blair and David Cameron when they became prime minister".
Until July 2019, Sunak was a junior minister in the Ministry of Housing, Communities and Local Government. But after a stint as chief secretary to the Treasury, during which he was widely praised, Sunak was in the perfect position to take over when Sajid Javid quit as chancellor in February 2020.
The subsequent coronavirus outbreak in the UK left Sunak facing the challenge of steering the country through the economic consequences of the pandemic.
In March 2020, he announced a £350bn package of loans and grants to help Britain cope with the impact of lockdown on the economy. Days later, Sunak introduced the furlough scheme through which the government paid millions of workers' wages.
He also oversaw the controversial Eat Out To Help Out scheme, which provided a government-backed discount in restaurants, cafes and pubs. The scheme was later criticised for potentially having caused a rise in Covid cases and costing the taxpayer "an eyewatering £849m after soaring way over budget", said the Daily Mail.
As the pandemic eased, Sunak was tasked with tackling the growing cost-of-living crisis. He faced criticism in 2021 for axing the £20-a-week increase to Universal Credit that was part of the government's emergency Covid support package. Research by the Joseph Rowntree Foundation suggested that the cut – which slashed the incomes of six million people – would push more than 500,000 people into poverty.
"Just weeks before the cut was confirmed…the chancellor requested planning permission to build a private swimming pool, gym and tennis court at the Grade II-listed Yorkshire manor that Sunak and his wife, Akshata Murty, purchased for £1.5m in 2015," openDemocracy's Adam Bychawski reported.
His personal finances came under scrutiny in April when it emerged that Murty's non-domicile status had saved their family "millions" in tax payments in the UK.
Sunak defended his wife's financial arrangements, explaining: "Every single penny she earns in the UK she pays UK taxes on", and "every penny that she earns internationally, for example in India, she would pay the full taxes on that".
He added: "it wouldn't be reasonable or fair to ask her to sever ties with her country because she happens to be married to me".
Could Sunak be ousted by the 1922 committee?
Today marks the end of Sunak's period of immunity from being replaced as prime minister – it is generally understood that new leaders cannot be challenged in their first year or in the year following a confidence vote should they win it.
The Sunday Times's Tim Shipman reported that some 20 to 25 letters have been submitted or are about to be submitted to 1922 chair Graham Brady.
"What was clear is that they want to get rid of the prime minister; what was less clear was who they wanted to replace him with," one MP told The Sunday Times. "I told them I didn't think the British public would forgive us for changing prime minister again and that it would likely hurt not help our electoral fortunes."
The question now is "should Sunak be panicking?" said Rachel Cuncliffe in the New Statesman. A confidence vote is triggered if 15% of Conservative MPs submit letters indicating they want a change of leader, and following the recent by-election defeats, that means 53 letters would need to be submitted to the 1922 Committee.
Even if, as reported in The Sunday Times, around 20 letters had been submitted the Tory rebels "would appear to have less than half of what is needed". "A handful of disgruntled MPs sabre-rattling does not herald another change of PM," said Cuncliffe.
By taking these "drastic steps on immigration", Sunak will "put his political credentials on the line", said The Spectator's Balls. "If it works – and stranger things have happened in the past seven years – the mood in both the party and the country could shift."

Continue reading for free
We hope you're enjoying The Week's refreshingly open-minded journalism.
Subscribed to The Week? Register your account with the same email as your subscription.