10 things you need to know today: November 10, 2020
President Trump fires Defense Secretary Mark Esper, McConnell backs Trump's right to challenge election results, and more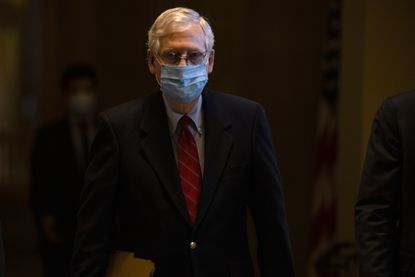 (Image credit: Samuel Corum/Getty Images)
1. Trump fires Defense Secretary Mark Esper
President Trump on Monday fired Defense Secretary Mark Esper in a tweet. "Mark Esper has been terminated. I would like to thank him for his service," Trump wrote. Trump said he was appointing Christopher Miller, director of the National Counterterrorism Center, to take over as acting defense secretary. "Chris will do a GREAT job!" Trump tweeted. Esper was Trump's fourth Pentagon chief. His firing had been expected since June, when he opposed Trump's call for sending thousands of troops into the streets of Washington during protests over the killing of George Floyd by Minneapolis police. Still, the decision, coming days after the presidential election, plunged the Pentagon into uncertainty at the start of what looks to be a tumultuous transition before President-elect Joe Biden's inauguration in January.
2. McConnell backs Trump's right to challenge election results
Senate Majority Leader Mitch McConnell (R-Ky.) on Monday backed President Trump's refusal to recognize President-elect Joe Biden's election victory, saying that Trump had every right to challenge the results. "President Trump is 100 percent within his rights to look into allegations of irregularities and weigh his legal options," McConnell said. "Let's not have any lectures about how the president should immediately, cheerfully accept preliminary election results from the same characters who just spent four years refusing to accept the validity of the last election." McConnell did not contradict Trump's unfounded claims that Democrats stole the election. Senate Minority Leader Chuck Schumer (D-N.Y.) said Biden won "fair and square," and Trump's refusal to concede was "extremely dangerous, extremely poisonous to our democracy."
Subscribe to The Week
Escape your echo chamber. Get the facts behind the news, plus analysis from multiple perspectives.
SUBSCRIBE & SAVE
Sign up for The Week's Free Newsletters
From our morning news briefing to a weekly Good News Newsletter, get the best of The Week delivered directly to your inbox.
From our morning news briefing to a weekly Good News Newsletter, get the best of The Week delivered directly to your inbox.
3. HUD secretary and Trump election-challenge leader both test positive for coronavirus
Housing and Urban Development Secretary Ben Carson on Monday became the latest high-ranking Trump administration official to test positive for the coronavirus. Carson "is in good spirits and feels fortunate to have access to effective therapeutics which aid and markedly speed his recovery," Carson's deputy chief of staff, Coalter Baker, confirmed to CNN. Later in the day, David Bossie tested positive days after he was chosen to handle President Trump's challenges against election results in the battleground states that helped give Democrat Joe Biden the final electoral votes he needed to seal his election victory. Bossie will no longer participate in decisions about the election challenge "because he can't be at the campaign headquarters and he can't be in the Oval Office," a source told NBC News.
4. Pfizer coronavirus vaccine news sends stocks soaring
The Dow Jones Industrial Average and S&P 500 soared on Monday after drug makers Pfizer and BioNTech announced that their COVID-19 vaccine candidate was more than 90 percent effective in tests. The Dow rose by nearly 3 percent, gaining 835 points in its biggest jump since June 5 and touching an all-time intraday high. The S&P 500 gained 1.2 percent. Airlines and other travel-related stocks that have suffered heavy losses during the pandemic led the gains. The tech-heavy Nasdaq fell by 1.5 percent as many technology stocks fell after outperforming the broader market as people have done more work, learning, and shopping online during the pandemic. CNBC's Mad Money host Jim Cramer said "the rally is justifiable," and marks the beginning of a discussion about what America is "going to look like post-COVID." Dow futures rose further early Tuesday, but S&P 500 and Nasdaq futures fell.
5. Barr tells prosecutors they can investigate vote-fraud allegations
Attorney General William Barr on Monday authorized federal prosecutors to investigate "specific allegations" of voter fraud before presidential election results are certified. Barr said "specious, speculative, fanciful, or far-fetched claims should not be a basis for initiating federal inquiries." The move reversed longstanding Justice Department policy against using law enforcement to affect election outcomes. The official who oversaw voting-fraud investigations in the Justice Department's Public Integrity Section, career prosecutor Richard Pilger, resigned hours after Barr's announcement, citing the policy's "ramifications." Stephen Vladeck, a professor at the University of Texas School of Law, called Barr's action "one of the more problematic acts of any attorney general in my lifetime."
6. Bolivia's former leader Evo Morales returns from exile
Former Bolivian President Evo Morales returned from exile on Monday. Morales, the country's longest serving leader, left the South American nation a year ago after his failed attempt to hold onto power left the country deeply divided. Morales was met with brass bands and hundreds of enthusiastic supporters when he crossed the border from Argentina, but none of the national leaders of his socialist political party were there to meet him. The party returned to power this month after a peaceful election. The new president, Luis Arce, indicated in his campaign that Morales would not play a role in the new government. Morales declared upon his return that "the fight continues," and will not stop "as long as capitalism exists."
7. Georgia senators call for Republican secretary of state to resign
Sens. Kelly Loeffler and David Perdue (R-Ga.) on Monday called for Georgia's Republican secretary of state, Brad Raffensperger, to resign because of what they called "failures" in the state's election process. "The secretary of state has failed to deliver honest and transparent elections," they said. Loeffler and Perdue last week were forced into Jan. 5 runoffs against rival Democrats — Loeffler against Rev. Raphael Warnock, and Perdue against Jon Ossoff. The races will decide control of the Senate. If Democrats win both seats, the chamber will be divided 50-50, with Vice President-elect Kamala Harris breaking ties. Raffensperger said he would not resign, and defended his office's handling of the election, calling it a "resounding success" conducted with transparency. In the presidential vote, Democrat Joe Biden narrowly flipped the long-red state.
8. Peru lawmakers impeach President Martin Vizcarra
Peru's Congress on Monday impeached the South American nation's president, centrist Martin Vizcarra, for alleged corruption. Vizcarra, 57, accepted the vote, reducing fears of a constitutional crisis. "I declare that without agreeing with the decision, today I will leave the presidential palace and go to my home," he said. "History and the Peruvian people will judge the decisions that each one of us makes." Under the country's constitution, congressional leader Manuel Merino, an opposition lawmaker and businessman, is in line to assume the presidency until Vizcarra's term ends in July. Vizcarra has denied allegations that he accepted bribes worth $640,000 when he was a regional governor.
9. FDA approves emergency use of Eli Lilly coronavirus antibody drug
The Food and Drug Administration on Monday granted emergency-use authorization for drug maker Eli Lilly's experimental antibody drug for some COVID-19 patients. The treatment is the first antibody drug to receive such approval. Doctors will be allowed to administer it to patients who are not hospitalized but who face a risk of serious illness due to their age or other conditions. Trial data showed that a one-time infusion of the drug reduced the need for hospitalization or emergency room visits for these high-risk patients. President Trump received a similar treatment, developed by Regeneron Pharmaceuticals, when he was diagnosed with COVID-19 in early October. Dr. Anthony Fauci, the nation's top infectious disease expert, said the treatment likely contributed to Trump's recovery.
10. White House blocks access for Biden's transition team
The Trump White House on Monday told administration leaders not to cooperate with President-elect Joe Biden's transition team. Agencies across the federal government had prepared briefing books and allocated office space for members of Biden's transition team, but officials were directed to hold off on giving them access because President Trump's campaign is pursuing legal challenges to the results in several battleground states, and Trump has not conceded. "We have been told: Ignore the media, wait for it to be official from the government," a senior administration official told The Washington Post. The head of the General Services Administration, Emily Murphy, has declined to sign papers releasing Biden's $6.3 million share of transition resources.

Continue reading for free
We hope you're enjoying The Week's refreshingly open-minded journalism.
Subscribed to The Week? Register your account with the same email as your subscription.