10 things you need to know today: November 24, 2020
Trump tells his administration to cooperate with Biden transition team, Biden to name Janet Yellen as Treasury secretary, and more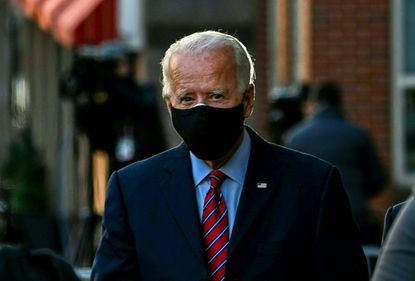 (Image credit: CHANDAN KHANNA/AFP via Getty Images)
1. Trump tells administration to stop blocking transition
President Trump on Monday said that he had told his administration to work with President-elect Joe Biden's transition team "in the best interest of the country." Trump had blocked the transition process for three weeks as he tried to overturn the election results, challenging the vote count in several battleground states with allegations of fraud, without providing evidence. Trump did not concede, although the certification of his loss in Michigan suggested his options were running out. "I will prevail!" Trump tweeted, even as he announced that he had instructed General Services Administration chief Emily Murphy to start "initial protocols" to give Biden's team access to money, office space, and other resources needed to prepare to take over in January.
The Washington Post The New York Times
2. Biden to name Yellen as Treasury secretary
President-elect Joe Biden plans to name former Federal Reserve Chair Janet Yellen to be his Treasury secretary, The Wall Street Journal reported Monday, citing people familiar with his Cabinet picks. Yellen would be the first woman to run the Treasury Department. Yellen, an economist, also would be the first person ever to serve as leader of the Treasury, the Fed, and the White House Council of Economic Advisers. Biden's transition team also said Monday that the president-elect would nominate Alejandro Mayorkas to head the Homeland Security Department. He would be the first Latino and the first immigrant in that post. Other appointees include Avril Haines as director of national intelligence — the first woman in that job — and former Secretary of State John Kerry as special presidential envoy for climate change.
Subscribe to The Week
Escape your echo chamber. Get the facts behind the news, plus analysis from multiple perspectives.
SUBSCRIBE & SAVE
Sign up for The Week's Free Newsletters
From our morning news briefing to a weekly Good News Newsletter, get the best of The Week delivered directly to your inbox.
From our morning news briefing to a weekly Good News Newsletter, get the best of The Week delivered directly to your inbox.
3. David Dinkins, NYC's first Black mayor, dies at 93
David Dinkins, New York City's first and only Black mayor, died Monday night at his home in Manhattan. He was 93. Dinkins beat three-term mayor Ed Koch in the Democratic primary in 1989 and went on to defeat then-prosecutor Rudy Giuliani to win what Dinkins described as "the greatest job there is." During Dinkins' term, New York City was plagued with economic problems, high rates of murder and other crimes, and racial turmoil. A state investigation determined that Dinkins didn't act in a timely manner to stop the racial violence, and he was narrowly defeated in 1993 by Giuliani. After leaving office, Dinkins was active in several charities and taught public affairs at Columbia University, and published a 2013 autobiography. Dinkins' wife, Joyce, died on Oct. 11.
4. GM CEO drops support for Trump auto emissions fight
General Motors CEO Mary Barra on Monday withdrew the automaker's support for President Trump's effort to deprive California of its authority to raise fuel economy standards. Barra wrote in a letter to leaders of some of the biggest U.S. environmental groups that the company was preparing to work with President-elect Joe Biden on his push to reduce climate-warming emissions. "President-elect Biden recently said, 'I believe that we can own the 21st century car market again by moving to electric vehicles.' We at General Motors couldn't agree more," Barra wrote in the letter. Barra urged Toyota and Fiat Chrysler to join GM, one of the world's largest automakers, in pulling support for the Trump administration's litigation against California.
5. Michigan certifies Joe Biden's election victory in state
Michigan's Board of State Canvassers certified the state's election results on Monday, confirming that President-elect Joe Biden won the state by about 154,000 votes. The four-member, bipartisan board approved the move in a 3-0 vote, with one abstention. The decision dealt the latest in a series of blows to President Trump's effort to prevent several battleground states from cementing the outcome as his lawyers try to reverse the outcome in courts by making unsubstantiated allegations of fraud. Under Michigan law, Biden now gets all of Michigan's 16 electoral votes. Biden won the state by 2.8 percentage points, larger than his margin in other states where Trump is challenging the results, including Georgia, Arizona, Wisconsin, and Pennsylvania.
6. New York accuses Buffalo diocese of covering up sex abuse
New York Attorney General Letitia James filed a lawsuit accusing the Roman Catholic Diocese of Buffalo and three bishops with covering up sexual abuse by priests for years. The lawsuit marked the first action the state has launched against the Catholic Church in New York since the start of several abuse investigations in 2018. There are now eight inquiries, one in each of the state's Catholic dioceses. The state is invoking civil laws regarding religious charities and their fiduciaries, a novel strategy in such abuse cases. The lawsuit alleges that two former diocese leaders, Bishop Richard J. Malone and Auxiliary Bishop Edward M. Grosz, used the church bureaucracy to hide the crimes of more than a dozen abusive priests. A spokesman said the diocese is reviewing the lawsuit.
7. Millions travel for Thanksgiving despite CDC warning
Millions of Americans are traveling for Thanksgiving despite pleas from the Centers for Disease Control and Prevention to stay home to reduce the risk of spreading the coronavirus. The Transportation Security Administration said Monday that more than 1.04 million people passed through airport security checkpoints on Sunday, the most in a single day since March. Nearly as many went through TSA checkpoints on both Friday and Saturday. The numbers are less than half the totals for the weekend before Thanksgiving last year, but still far higher than public health officials had hoped. AAA had forecast that 50 million Americans might travel for the holiday this year, but a spokesperson said some people are changing their plans due to the recent surge in coronavirus cases.
8. Feinstein to step down as Judiciary Committee's top Democrat
Sen. Dianne Feinstein (D-Calif.) announced on Monday that she would step down as top Democrat on the Senate Judiciary Committee next year. The decision came after Feinstein faced sharp criticism from progressives for undermining Democrats' effort to portray as illegitimate Republicans' rushed confirmation of President Trump's nomination of Amy Coney Barrett to replace the late Supreme Court Justice Ruth Bader Ginsburg. Feinstein joined other Democrats in criticizing the push to confirm Barrett before Election Day, but later praised Chair Lindsey Graham (R-S.C.), for holding what she described as "one of the best set of hearings that I've participated in." Brian Fallon, the executive director of Demand Justice, called Feinstein's move a "necessary step" to "confront the damage Donald Trump and Mitch McConnell have done to the federal judiciary."
9. Snapchat offers $1 million to lucky users of new TikTok rival
Snapchat is launching a brand new TikTok competitor and unveiling plans to distribute $1 million among some lucky users on a daily basis. On Monday, Snapchat began rolling out Spotlight, a new video tab that will highlight popular videos in the app as the company looks to compete with both TikTok and Instagram Reels. For at least the rest of the year, Snapchat said it will be giving out $1 million daily to users who submit the most popular Spotlight videos. It's unclear how much money one person could earn from Spotlight in a day. The minimum amount will be $250, BuzzFeed News reports. This, Variety wrote, was a "bid by Snap to keep top creative talent on its platform" rather than TikTok and Instagram Reels.
10. Jeopardy! champ Ken Jennings to be game show's 1st interim host
Jeopardy! announced on Monday plans to resume production on Nov. 30 with a "series of interim guest hosts from within the Jeopardy! family" following host Alex Trebek's death earlier this month. The first will be Ken Jennings, who holds the Jeopardy! record for most consecutive games won and in January won the show's "Greatest of All Time" tournament. "Alex believed in the importance of Jeopardy! and always said that he wanted the show to go on after him," executive producer Mike Richards said in a statement. "We will honor Alex's legacy by continuing to produce the game he loved with smart contestants and challenging clues." Producers didn't share who any of the subsequent interim hosts after Jennings will be but said more will be revealed "in the weeks ahead." Jennings' first episode is set to air on Jan. 11.

Continue reading for free
We hope you're enjoying The Week's refreshingly open-minded journalism.
Subscribed to The Week? Register your account with the same email as your subscription.