What are the chances of being hit by lightning?
Young boy dies after being struck by lightning in Blackpool field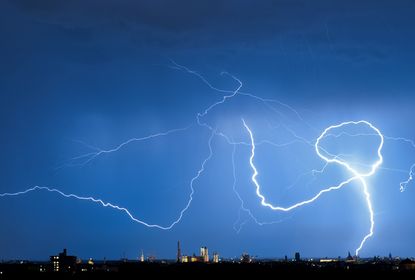 (Image credit: Peter Kneffel)
A nine-year-old boy has died after being struck by lightning on a playing field in Blackpool last night.
He was said to be taking part in a private football coaching session when the thunderstorm hit. Clifton Rangers Junior Football Club paid tribute to their player, describing him as "an extraordinary young man" who would be "missed by everyone", while Blackpool Council flew the town hall's flag at half mast.
Police said that inquiries were ongoing, but that it was believed the boy had been hit by lightning in "a truly devastating incident".
Subscribe to The Week
Escape your echo chamber. Get the facts behind the news, plus analysis from multiple perspectives.
SUBSCRIBE & SAVE
Sign up for The Week's Free Newsletters
From our morning news briefing to a weekly Good News Newsletter, get the best of The Week delivered directly to your inbox.
From our morning news briefing to a weekly Good News Newsletter, get the best of The Week delivered directly to your inbox.
How common are incidents like this?
The chances of being struck by lightning are 300,000 to one, with 24,000 people hit and killed a year, says the BBC.
Fatalities can come from direct hits, and indirect but dangerous events such as house fires caused by a lightning strike.
According to an article published in the International Journal of Meteorology in 2017, 58 people were known to have been killed by lightning over the past 30 years in the UK - an average of two people per year.
The most at-risk groups are people in the developing world, where less time is spent indoors and there are fewer tall buildings to take the lightning hit before it can reach ground level. Last June, more than 100 people were killed in one day in India during the early stages of the country's annual monsoon season.
Around 10% of lightning strike victims die, and 70% suffer serious long-term effects, says National Geographic.
According to the Met Office, there are more than 3,000,000 flashes of lightning, "one of nature's most recurrent and common spectacles", every day across the world. "That's around 44 strikes every second."
BBC Weather meteorologist Simon King said about 6,000 lightning strikes had been recorded across the UK on Tuesday, when the nine-year-old boy in Blackpool died.
How do the overall odds stack up against other rare occurrences?
Lightning that strikes people is more common than other comparably rare phenomena.
"Lightning is one of the leading weather-related causes of death and injury in the United States," says Nat Geo. "Most people do not realise that they can be struck by lightning even when the centre of a thunderstorm is ten miles away and there are blue skies overhead."
The chances of getting hit by lightning are far more likely than being killed by a shark, which has odds at one in 3.7 million according to the Wildlife Museum.
Flying might not be environmentally friendly, but it's much safer than getting caught in a lightning storm - there is just one fatal accident for every three million flights around the world, reports The Guardian.
It isn't just dangerous phenomena that are rare - the chances of winning the EuroMillions jackpot stands at one in 139 million.
What other notable deaths from lightning have occurred?
Lightning strikes in the Brecon Beacons killed two people and left two others in hospital in 2015, with the two deaths occurring on separate peaks.
Rescue team member Mark Jones said it was "exceptionally unusual, and for multiple people to be hit in multiple strikes on different peaks – it is very, very rare".
The previous year a 20-year-old man died and more than a dozen were hurt when lightning struck at Venice Beach in southern California.
But lightning is at its most deadly when it kills indirectly. In 1963, a Pan Am flight from Baltimore to Philadelphia crashed after being struck in a storm, killing all 81 people on board. In 1994, a bolt ignited a jet-fuel depot in Dronka, Egypt, killing 469 people.
What should you do when lightning strikes?
The first step when lightning strikes should be to find shelter, says the Met Office.
"When you hear thunder you are already within range of where the next ground flash may occur, lightning can strike as far as 10 miles away from the centre of a storm," it says.
During a thunderstorm, you should avoid using the phone as telephone lines conduct electricity. Similarly, stay away from sinks and taps, as metal pipes can also be conductors.
If you can't get inside, avoid water and find a low-lying open place that is a safe distance from trees, poles or metal objects.
It you are in an exposed place such as a field, squat close to the ground, with hands on knees and with head tucked between them. Try to touch as little of the ground with your body as possible, and do not lie down on the ground.
If you feel your hair stand on end, drop down to this position immediately.
Stay away from metal or tall objects that can conduct or attract lightning - these include "golf clubs, golf buggies, fishing rods, umbrellas, motorbikes, bicycles, wheelchairs, mobility scooters, pushchairs, wire fencing and rails", says the Met Office. If you are in a tent, then stay away from metal poles.

Continue reading for free
We hope you're enjoying The Week's refreshingly open-minded journalism.
Subscribed to The Week? Register your account with the same email as your subscription.