Obama locks horns with Castro during historic visit to Havana
Leaders clash over human rights and trade before sharing a very awkward handshake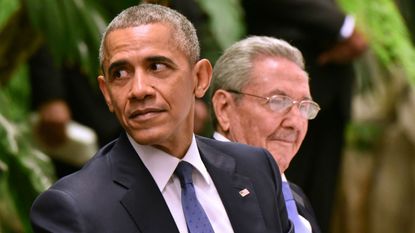 (Image credit: ADALBERTO ROQUE/AFP/Getty Images)
US President Barack Obama's historic trip to Havana has been overshadowed by disagreements with his Cuban counterpart, Raul Castro.
Officials held three hours of bilateral talks yesterday, sparring over issues including human rights and the ongoing trade embargo, before the two leaders attended a strained press conference to discuss the meeting.
"[They] traded criticism of each other's countries even as both said they were committed to continuing on the path to normalising relations," says the New York Times.
Subscribe to The Week
Escape your echo chamber. Get the facts behind the news, plus analysis from multiple perspectives.
SUBSCRIBE & SAVE
Sign up for The Week's Free Newsletters
From our morning news briefing to a weekly Good News Newsletter, get the best of The Week delivered directly to your inbox.
From our morning news briefing to a weekly Good News Newsletter, get the best of The Week delivered directly to your inbox.
After "five very difficult decades, the relationship between our two countries will not be transformed overnight", admitted Obama.
"We continue to have significant differences… and that includes democracy and human rights," he said.
The US leader also indicated a new trade deal between the two countries would be dependent on an end to political repression.
President Castro took the unusual step of agreeing to an open press conference and at times struggled with the directness of questioning from the foreign press.
He was "visibly irritated" to be asked about political prisoners, says The Guardian.
"What political prisoners?" he said. "Give me a list of the political prisoners and I will release them immediately. If we have those political prisoners they will be released before tonight."
Human Rights Watch says Cuba's record on the issue remains poor and that little has changed, despite claims by officials. "The Cuban government continues to repress dissent and discourage public criticism," it says.
The two leaders also shared an extremely awkward handshake. "The theory is, Mr Castro made an effort to raise Mr Obama's hand in victory but instead of making a clenched fist - a leftist symbol and one of the Cuban revolution - the US President opted for a limp wrist," says ABC News.
Despite their differences, "Obama and his aides hope they can overcome [these] issues, as they forge a new relationship between the two countries", says BBC White House reporter Tara McKelvey.
Barack Obama touches down in Cuba for historic trip
21 March
Barack Obama has arrived in Havana, becoming the first sitting US president to visit Cuba since 1928.
The trip marks a watershed for visit the country, which has laboured under US economic sanctions and trade embargoes since the communist revolution led by Fidel Castro in 1959. Obama will not meet the former leader, but will meet his brother, President Raul Castro, and has described it as an "historic opportunity" to engage with the Cuban people.
"President Obama's visit is the highpoint of a recent easing of ties, which included the opening of embassies last year," says the BBC.
The thawing of relations between the two countries comes after more than a year of secret talks, held in Canada and at the Vatican, directly involving Pope Francis.
Obama's visit, with his family, comes amid "high anticipation and anxiety" on the island within both the communist government and its political opposition, says the Washington Post. "The government hopes the two-day visit will allow it to reap benefits without ceding control, while dissidents on the island want it to speed the pace of change."
Although relaxed, the US economic embargo remains in place and the occupation of the US naval base at Guantanamo Bay is set to continue.
"The symbolic wall that will come down when Obama and Raul Castro meet again on Monday is at least as much about changes in American politics as it is about the new Cuba," The Guardian says.
It is also a huge opportunity for Cubans working in the country's tourist industry. Prices for rooms in the city's best hotels have reportedly trebled, from £140 per night to £420, but it has meant many other travellers have had to change their plans.
"Hundreds of tourists have been bumped outside the city," says the Guardian. "Even the Rolling Stones, who initially wanted Revolution Square for their concert venue on Friday, had to work their date around the president's arrival, which coincides with his daughters' spring break."
Cuba appoints US ambassador, but what still needs to happen?
18 September
Cuba has appointed its first ambassador to the United States in more than four decades as relations between the former Cold War enemies continue to thaw. Jose Cabanas is a veteran diplomat who has worked in Washington since 2012, the BBC reports.
His appointment comes just days before Cuban President Raul Castro will address the United Nations in New York, marking the first time a Cuban leader has entered the US in 20 years.
The normalisation of relations between Washington and Havana began last year and the two countries formally re-established diplomatic relations in July - but significant hurdles still remain.
What has happened?
Relations between Cuba and the US had been frozen since 1961 when the US severed diplomatic ties and imposed a trade embargo after the country's revolution, which ushered in a communist regime. Last year, Presidents Barack Obama and Raul Castro agreed an historic deal to end the diplomatic rift that has lasted more than half a century.
Since then, a number of importance changes have been introduced. Obama announced plans to ease travel and economic restrictions on Cuba in an effort to expand business and tourism between the two states.
Americans now face far fewer restrictions when travelling to the country and can use their credit and debit cards there. The US embassy also re-opened in Havana, allowing US officials to have consistent, high level contact with Cuban authorities.
What still needs to happen?
Efforts to fully expand business and tourism have been blocked by US laws and an uneven response from Cuba's political leaders, a US official told Reuters.
Though steps have been taken to loosen financial restrictions, most trade between the two nations remains illegal and it will require congressional action to change that, the Wall Street Journal reports.
In terms of travel, Americans wanting to visit Cuba are still required to travel on supervised group trips, there is no commercial airline service operating between the two countries and cruise ships and ferries are still attempting to finalise regular routes with the Cuban authorities.
Pope Francis, who played a role in mediating the historic deal, will be travelling to Havana tomorrow and there are hopes that his visit will accelerate the warming of relations, ABC News reports.
"Francis won't explicitly be political at all when he's here, but everything he does will be profoundly political in its implications," says author and journalist Austen Ivereigh.
US flag to fly at Cuba embassy once again, after 54 years
14 August
In 1961, three marines ceremonially lowered the stars and stripes at the US embassy in Cuba as Fidel Castro effectively expelled American diplomats. Fifty-four years later, those same servicemen will today see the flag raised there once more.
But pleasure at the historic thaw in relations between the US and Cuba, brokered by Barack Obama and his secretary of state John Kerry, is tempered for some Americans and Cubans by the news that dissidents have been kept away from the event.
The Guardian reports Kerry admitted that prominent Cuban dissidents had not been invited, saying space was limited and it was a "government to government" moment. He said he would meet some critics of the Castro regime later at the mission house.
However, not all the invitees to the flag-raising ceremony are government employees, says The Guardian. Some private citizens have been invited: presumably they are not critical of Raul Castro's government.
The US embassy in Havana actually opened last month - today's ceremony is a symbolic moment. It also marks the first visit by a US secretary of state to Cuba in more than 70 years. Kerry said he planned an "open, free walk" through the streets.
Cuba's foreign minister Bruno Rodriguez flew to Washington in July to watch a similar ceremony at his country's newly-opened embassy. He also visited Kerry at the state department and the two men held a joint press conference.
The three marines spoke to CNN. James Tracy, a master gunnery sergeant attached to embassy security at the time, said that as he rolled up the flag he did not imagine the embassy might remain closed for as long as 54 years.
Tracy said: "I didn't have any particular thoughts. We were just taking the flag down." Asked how long he expected the cessation of diplomatic relations to last, he told CNN: "Three years, I figured."
Gunnery sergeant Francis East said it had been a "sad day" for him because he had grown to love Cuba. He said: "I thought it was a paradise."
The third man, Corporal Larry Morris, said: "I was impressed with the city and the people were wonderful people, friendly people."
A large crowd of Cubans hoping to get a last-minute visa for the US had gathered outside the embassy that day in 1961. Tracy said: "We looked at the [flag] pole, we looked at the people, we looked at the pole – and they just spread off the sidewalk."
He added: "They knew we were going to go get the flag – they just got out of our way."
US and Cuba to re-open embassies amid diplomatic thaw
01 July
The United States and Cuba are expected to announce the reopening of their embassies in Washington and Havana for the first time in more than 50 years.
The two countries have reached an agreement to re-establish formal diplomatic relations, according to a senior US administration official. US President Barack Obama and Secretary of State John Kerry are planning to speak about the agreement today.
CNN describes the move as a "final step" in the "full diplomatic thaw" initiated by Obama in December. The US has loosened some travel restrictions to Cuba, allowed for new economic ties and officially removed Cuba from its list of state sponsors of terror.
In April, Obama and President Raul Castro shook hands ahead of a historic meeting in Panama City – the first time a US and Cuban president have shared a table since Fidel Castro led the Cuban revolution in 1959.
The US embassy will probably occupy the same building, situated on the Havana waterfront, that it occupied before diplomatic ties were severed, White House aides told CNN.
"For Obama, ending the US freeze with Cuba is central to his foreign policy legacy as he nears the end of his presidency," says The Guardian. "He has long touted the value of direct engagement with America's foes and argued that his country's embargo on the communist island 90 miles south of Florida was ineffective."
However, "significant issues" remain as the countries look to normalise relations, says the newspaper, which describes today's announcement as a "major milestone" rather than the "final step". Issues include allegations of human rights abuses and damages to Cuba from the economic embargo, which was first imposed by President Dwight Eisenhower.

Continue reading for free
We hope you're enjoying The Week's refreshingly open-minded journalism.
Subscribed to The Week? Register your account with the same email as your subscription.