How Libya kept migrantsout of EU - at any cost
Britain was happy to turn a blind eye to Gaddafi's brutal and inhuman treatment of migrants detained in camps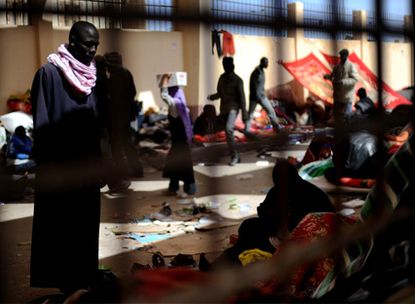 European leaders have been criticised for the selective humanitarian impulses that impelled them to turn against their erstwhile ally Colonel Gaddafi, while remaining passive in the face of the repression of pro-democracy protests in Yemen or Bahrain. Libyan oil has been cited as one of the main reasons for this discrepancy.
But there is another aspect of European hypocrisy and double-standards in dealing with the Libyan dictator that has received less attention ­ namely Libya's crucial role as a barrier against Europe's unwanted immigrants. With a possible endgame in the Libyan civil war now beginning to emerge, with Gaddafi sending his envoy Abdelati al-Obeidi to Greece to discuss a way out of the conflict, it is worth reminding ourselves of the extent of such cooperation.
For more than a decade the booming Libyan economy has been a destination for legal and illegal migrants from Africa and even further afield in Bangladesh and China. The extended Libyan coast has also been a springboard for undocumented migration into Europe. Following Tony Blair's famous kiss in 2004, Gaddafi entered into a series of agreements with the European Union and individual governments, in which Libya effectively became a co-partner in enforcing Europe's 'externalised' border controls.
Subscribe to The Week
Escape your echo chamber. Get the facts behind the news, plus analysis from multiple perspectives.
SUBSCRIBE & SAVE
Sign up for The Week's Free Newsletters
From our morning news briefing to a weekly Good News Newsletter, get the best of The Week delivered directly to your inbox.
From our morning news briefing to a weekly Good News Newsletter, get the best of The Week delivered directly to your inbox.
Joint naval patrols with Italy; laws penalising illegal immigration; a crackdown on 'people smugglers'; new detention centres and deportation procedures; readmission agreements on migrants intercepted at sea ­ all these developments reflected Libya's new willingness to cooperate with Europe's exclusionary agenda and many of them were part-financed by the EU and Italy. Humanitarian considerations were conspicuously absent from these arrangements. Libya has never signed the 1951 Geneva Refugee Convention and has no functioning asylum system. Economic migrants and refugees in Libya were routinely detained for months and even years in horrendously overcrowded detention centres, where rape, violence and torture were common. Each year thousands of African migrants were deported to the Libyan/Sudanese border and abandoned in the desert, or flown back to their countries of origin on deportation charter flights without being screened to find out whether they were in need of refugee protection. There were also allegations of Libyan coastguard patrols opening fire on migrant boats. These practices were not unknown: many of them were contained in reports by Amnesty International and other human rights organisations. But the same governments that have so vociferously condemned Gaddafi's current violations of human rights had little to say about Libya's brutal and inhuman treatment of migrants.
From Europe's point of view, this system worked extremely well. In Italy and Malta, there was a dramatic reduction in the numbers of migrant arrivals in 2009 as a result of Libyan collaboration. By outsourcing its border controls to a dictatorship without a functioning asylum system, Europe was able to prevent asylum-seekers from reaching its shores, while continuing to proclaim its commitment to the principle of refugee protection. Other EU neighbours have also acted as buffer zones in Europe's immigration controls, including Tunisia and Morocco, Ukraine and Turkey. But none has been as ruthlessly effective as Libya. Gaddafi was a shrewd and cynical manipulator of Europe's immigration obsessions, which provided Libya with a constant flow of money, equipment, technology ­ and also contributed greatly to his own short-lived political rehabilitation.
Last summer he asked the EU for €5bn to prevent Europe from "turning black". In October he received a promise of €50 million over the next three years as part of a 'co-operation agenda' signed by the European Commission. The events of the last two months have made the consequences of this cooperation impossible to ignore.
At the beginning of March, Reuters reported that African migrants were being forcibly inducted into the pro-Gaddafi forces ­ and attacked by rebels who believed that anyone with a black skin was a mercenary. Some 410,000 migrants have fled Libya for neighbouring countries, and the Libyan gateway to Europe appears to be opening once again. Last week, according to UNHCR, more than 2,000 migrants arrived in Malta, prompting the Maltese Green Party to speculate that Gaddafi was deliberately using immigration to pressure the EU using "known blackmail tactics".
According to the Jesuit Refugee Service on Malta, 70 Eritreans, fleeing from Libya, drowned while attempting the same journey. Another 2,000 Eritreans stranded in Tripoli have appealed for international assistance.
It remains to be seen whether the European Union has the will or inclination to intervene on behalf of the migrants that it has tried to keep out for so long ­ or whether, as the ongoing negotiations in Greece continue, it prefers to look for another Libyan government that can fulfill this role with the same zeal and commitment as Muammar Gaddafi.

Continue reading for free
We hope you're enjoying The Week's refreshingly open-minded journalism.
Subscribed to The Week? Register your account with the same email as your subscription.