Brazil's 'back-stabbing' interim president asks for trust
Michel Temer has taken over from Dilma Rousseff, who is facing impeachment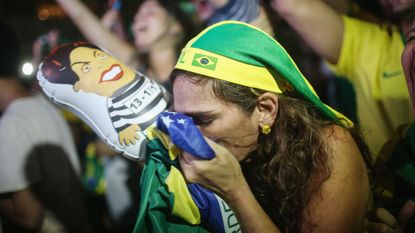 (Image credit: Mario Tama/Getty Images)
Sign up to our 10 Things You Need to Know Today newsletter
A free daily digest of the biggest news stories of the day - and the best features from our website
Thank you for signing up to TheWeek. You will receive a verification email shortly.
There was a problem. Please refresh the page and try again.
Brazilian president Dilma Rousseff was stripped of her powers yesterday after losing a preliminary impeachment vote. Her suspension means her former deputy, Michel Temer, is now interim leader.
Rousseff, the country's first female president and its most unpopular since 1985 according to a poll in November, is accused of manipulating government economy figures to win an election in 2014.
She insists the impeachment was trumped-up by political opponents – and Temer is being seen by some as a "back-stabbing opportunist" mounting a "power grab", says the New York Times.
Subscribe to The Week
Escape your echo chamber. Get the facts behind the news, plus analysis from multiple perspectives.
SUBSCRIBE & SAVE
Sign up for The Week's Free Newsletters
From our morning news briefing to a weekly Good News Newsletter, get the best of The Week delivered directly to your inbox.
From our morning news briefing to a weekly Good News Newsletter, get the best of The Week delivered directly to your inbox.
Rousseff branded him a "traitor" and a "coup-monger" when he turned on her in late March, after months of public support. His PMDB split from the ruling coalition and worked actively for Rousseff's impeachment.
Now the 75-year-old lawyer looks likely to make deep cuts, as he tackles Brazil's "moribund" economy, says the NYT. The markets have rallied in recent weeks, as a Temer presidency seemed more likely.
The public is "less enamoured", however, says the newspaper. Recent opinion polls found 60 per cent of Brazilians would have liked to see both Temer and Rousseff resign, while only between one and two per cent said they'd vote for him in a general election.
Temer and his new cabinet do not represent the clean break with the past some Brazilians may have wanted – they are also tainted with allegations of corruption. Temer is facing an impeachment challenge himself.
Temer has installed an "all-male, conspicuously white cabinet to run one of the world's most ethnically diverse nations", says The Guardian. Despite this, he called for "unity" and promised to lead a government of "national salvation".
His ascent to power ends 13 years of Workers' Party rule. Speaking at the presidential palace, Planalto, Temer told the Brazilian people: "Trust me. Trust the values of our people and our ability to recuperate the economy.
"It is essential to rebuild the credibility of the country abroad to attract new investments and get the economy growing again."
Brazil's lower house votes to impeach Dilma Rousseff
18 April
Brazil's lower house of parliament has voted to proceed with impeachment of President Dilma Rousseff.
While 25,000 people on both sides of the debate massed outside Congress, the representatives inside voted 367 to 167 in favour of impeachment, comfortably surpassing the two-thirds majority required.
Senators in the upper house will make a final decision on Rousseff's fate next month. They are expected to approve the motion and suspend the politician while a trial is organised.
Rousseff is accused of tampering with government accounts to cover up budget shortfalls in the run-up to the closely contested general election in 2014, in which she was re-elected by a 3.2 per cent margin.
The President and her supporters have dismissed the accusations as an anti-democratic attempt by her political rivals to depose an elected leader.
"Impeachment is a putschist process that is out of line with the country's trajectory since returning to democracy," Rousseff said in a speech last month.
There were triumphant scenes around the country on Sunday as the pro-impeachment faction celebrated their victory. Rousseff and her Workers' Party have been the focus of the mass protests which have seen millions of Brazilians take to the streets since March last year.
In a recent poll, the government's approval rating reached a record low of ten per cent, while the President's personal popularity hovered barely higher, at 14 per cent.
Rousseff has presided over the country's worst recession in decades, coupled with a corruption scandal which appeared to confirm the widespread perception of a political establishment rife with criminality.
Last September, Brazilian newspaper O Globo reported that almost a third of Congress members and an even high percentage of the nation's senators were currently the subject of a criminal investigation.
The BBC's Wyre Davies says the task of replacing Rousseff is likely to exacerbate existing tensions – Vice-President Michel Temer, first in line to become interim president, is also facing impeachment proceedings. The second and third-in-line choices, lower house speaker Eduardo Cunha and Senate leader Renan Calheiros, are both being investigated on corruption charges.
Brazil's lawmakers move to impeach Dilma Rousseff
12 April
Brazilian President Dilma Rousseff's attempts to stave off impeachment have been dealt another blow after a congressional committee recommended she be removed from office.
The 65 members of the congressional committee, drawn from the lower house of parliament, voted 38 to 27 to recommend impeachment following accusations that Rousseff manipulated government accounts to cover up budget shortfalls.
A full vote of Congress is scheduled to take place on 17 April. If two-thirds of members vote in favour of impeachment, the decision will be put before the Senate.
Removal from office now seems all but inevitable for Rousseff, who denies any wrongdoing and has accused her opponents of attempting a coup against a democratically elected leader.
"It has a snowball effect. With each approval, the chances of impeachment clearing the next chamber increases," Claudio Couto, from Brazil's Fundacao Getulio Vargas think-tank, told Reuters. "The wider the margin, the more momentum impeachment will gather."
Rousseff's supporters have tried to paint the former leftist guerrilla as a victim of a right-wing conspiracy, but the President has lost many of her key political allies. Her coalition partners, the Brazilian Democratic Movement Party, voted last month to withdraw from government while a leaked audio message from the party's leader, Vice President Michel Temer, revealed he was prepared to take over as president of a national unity government if Rousseff were removed.
It is a time of almost unprecedented political turmoil for post-democracy Brazil. Mounting unrest caused by the nation's worst recession in decades has been further inflamed by revelations of a corruption scandal at state oil company Petrobras, which has implicated dozens of politicians. Millions of Brazilians have demonstrated against the political establishment and Rousseff's Workers' Party in particular over the past year.
At their peak last month, an estimated seven million people took to the streets across 337 towns and cities following the news that Rousseff's mentor and predecessor, Luiz Inacio Lula da Silva, was one of the politicians under investigation in connection with the scandal.
Brazilian President Dilma Rousseff faces impeachment as coalition falters
30 March
Brazilian President Dilma Rousseff's chances of seeing out her term of office have taken a significant blow after the country's biggest political party voted to withdraw from her coalition government.
Following the Brazilian Democratic Movement Party's (PMDB) decision, the embattled leader is now left holding the reins of a fragile minority government while facing accusations that could see her forced out of government less than halfway into her four-year presidency.
Analysts predict the PMDB's move is likely to have a domino effect on smaller parties in the coalition. David Fleischer, a professor of political science at the University of Brasilia, told The Guardian there was now a "90 per cent" chance that Rousseff would be impeached next month. "This is her D-Day," he said.
Opposition parties are considering trying to form a transitional government led by Michel Temer, the PMDB's leader and Brazil's current vice-president.
Senator Aecio Neves, the leader of the opposition Brazilian Social Democracy Party (PSDM), is one of those pushing for a new government under Temer.
"Rousseff's government is finished," he said. "The departure of the PMDB is the last nail in the coffin of a dying government."
Rousseff has been resisting her opponents' attempts to depose her since October, when her government was accused of fiddling documents to cover up budget shortfalls. The Brazilian president denies any wrongdoing, while her allies have branded efforts to oust her an attempted "coup" and a threat to the nation's 31-year-old democracy.
A fresh wave of protests erupted earlier this month after she appointed her predecessor, Luiz Inacio "Lula" da Silva, as chief of staff, a move widely seen as an attempt to protect her former mentor from prosecution in connection with a corruption scandal as cabinet members can only be tried by the country's Supreme Court.
Lula is one of dozens of politicians and business leaders currently embroiled in Operation Car Wash, an investigation into allegations of price-fixing, money-laundering and bribery at the state oil company, Petrobras.
Incredible scenes have seen millions of Brazilians taking to the streets for anti-government demonstrations in response to the country's crippling economic crisis combined with a widespread perception of government criminality.
Last September, Brazilian daily O Globo reported that almost 30 per cent of the lower house and almost 40 per cent of the upper house were under criminal investigation for offences ranging from electoral fraud to embezzlement.
Brazilians take to the streets over Lula's appointment to cabinet
17 March
Brazilian President Dilma Rousseff has taken the extraordinary step of appointing her predecessor, Luiz Inacio "Lula" da Silva, as her chief of staff, despite his connection to a major corruption scandal.
The announcement sparked fresh protests across the country, with riot police in the capital Brasilia firing tear gas and stun grenades at demonstrators calling for the President to resign.
"Usually when politicians are involved in corruption allegations, they are either fired or suspended from their jobs - not invited into the government," says the BBC.
Lula, Rousseff's former mentor, is currently under criminal investigation for corruption and money-laundering in connection with the financial scandal currently engulfing the country's political elite.
Dozens of senior politicians and business leaders have been caught up in Operation Car Wash, an ongoing investigation into corruption at the state oil giant, Petrobras.
As a cabinet minister, Lula will now be protected and can only be tried by the Supreme Court.
"Opponents have said the appointment of Lula, a charismatic champion of the poor who remains one of Brazil's most influential figures six years after leaving office, was a desperate attempt to stave off impeachment proceedings and to spare the former president from arrest," says the Sydney Morning Herald.
Shortly after news of the appointment broke, a judge released details of secretly recorded phone calls between Lula and Rousseff that appear to add further credence to the claims.
Rousseff, who herself is under investigation for allegedly doctoring government accounts and could face impeachment, has denied the allegations.
"Lula's arrival in my government strengthens it and there are people who don't want it to be stronger," she said.
Continue reading for free
We hope you're enjoying The Week's refreshingly open-minded journalism.
Subscribed to The Week? Register your account with the same email as your subscription.
Sign up to our 10 Things You Need to Know Today newsletter
A free daily digest of the biggest news stories of the day - and the best features from our website