How will the current account revolution affect you?
Amount your bank can charge you if you fall into the red will have to be capped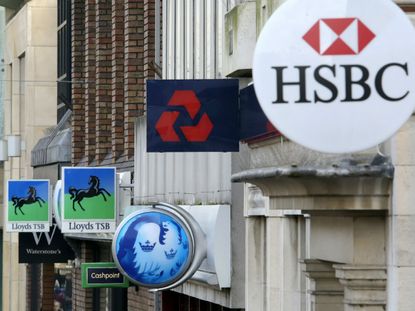 New data has revealed that the number of people who switched bank accounts fell last year. But, with cash incentives and better interest rates on offer if you use a stunningly simple switch service, we should all be clamouring to move banks.
What do the figures show?
Every quarter banking payment provider BACs releases figures on how many people are switching current accounts, where they are leaving and where they are moving to.
Subscribe to The Week
Escape your echo chamber. Get the facts behind the news, plus analysis from multiple perspectives.
SUBSCRIBE & SAVE
Sign up for The Week's Free Newsletters
From our morning news briefing to a weekly Good News Newsletter, get the best of The Week delivered directly to your inbox.
From our morning news briefing to a weekly Good News Newsletter, get the best of The Week delivered directly to your inbox.
Their figures show that just over a million switches took place in 2016, but that is 23,500 fewer than the year before.
The big losers are Barclays and Natwest who are haemorrhaging customers while banks including Santander, Nationwide, Halifax and TSB are acquiring thousands of new customers.
Why should I switch?
The average person can save £92 by moving to a bank account that better suits their needs, an investigation by the UK competition body found. In reality you can save a lot more than that if you keep an eye out for switching incentives and rewarding accounts.
If your current account doesn't pay you any interest, charges you huge sums if you dip into the red, or offers you appalling customer service you should also move.
Where should I go?
Follow the crowds. Santander, Halifax, Nationwide and TSB are gaining the most new customers at the moment and it's because they all offer good current accounts, although which one is best for you will depend on your own circumstances.
Nationwide is an incredibly popular choice with switchers – it gained 25,000 new customers between April and June last year. The attraction is its FlexDirect current account. It pays five per cent interest on balances of up to £2,500 for the first 12 months, which trounces anything available in the savings market. It also has an interest-free overdraft for the first 12 months - and current account customers who get other people to switch are paid £100 (plus the new customer gets £100 too).
This is a good choice for anyone wanting to clear their overdraft or looking for a home for a small savings pot. The drawback? You have to pay in at least £1,000 a month.
Halifax is the next most popular thanks to its Reward Account. Firstly, you get £100 just for switching, then a £3 reward each month as long as you pay in at least £750, stay in credit and have two active direct debits. This is a great choice for someone who spends all their money each month but still wants a reward. Alternatively, it makes a great bills account.
How do I switch?
Switching current accounts is incredibly easy. The Current Account Switch Service means you will be moved from your old current account to your new one in seven days and all your direct debits and standing orders will be moved over too.
All you have to do is give your new bank your old account details and they should handle everything for you.
Why aren't more people switching?
Despite switching being simple and rewarding only 3.5m people have bothered to do it since 2013. To put that in context there are 70m active current accounts in the UK.
A big advertising campaign means that more people than ever before know about the current account switching service – awareness hit 78 per cent last November.
"Consumers need more of an incentive and this will only come if providers create more competitive and enticing products," says Kevin Mountford, banking expert at MoneySuperMarket. With many banks losing a lot of customers hopefully we'll see more enticing current account deals in the future.
How will the current account revolution affect you?
This week the Competition & Markets Authority (CMA) announced a range of measures aimed to make the current account market more competitive. At present just three per cent of us switch bank each year, despite the fact we probably aren't getting a good deal thanks to sky-high overdraft charges and meagre interest rates.
The CMA wants to shake up the market so that we are all more incentivised to abandon banks that treat us badly and seek out better deals.
"The older and larger banks, which still account for the large majority of the retail banking market, do not have to work hard enough to win and retain customers and it is difficult for new and smaller providers to attract customers," says the CMA.
So, what's being done?
Overdraft charges are getting capped
From September the amount your bank can charge you for going into the red will be capped.
It won't be an industry-wide cap enforced by the CMA as some people had hoped. Instead, the CMA has ordered banks to set their own maximum monthly charge for going into an unauthorised overdraft.
They can set that charge at whatever they like so customers are unlikely to see the charges – which can be up to £90 a month – fall dramatically. But, at least if all banks have to set a maximum charge consumers can easily compare those when choosing a bank account.
Open banking app
This is the exciting part of the shake-up. The CMA has ordered the industry to embrace 'open banking'. This means financial technology firms are now going to develop a computer app that will allow you to manage all your bank accounts in one place – regardless of where the account is held.
This is brilliant news as it could see an end to the faff of multiple bank log-ins and jumping between windows when you are transferring money between savings accounts, credit cards and current accounts.
The idea is that by making it easier for us to see all our accounts in one place and move money between them we'll all be encouraged to shift cash to accounts with better rates, or move a bit of money to avoid an overdraft charge. The app will also enable you to see which rivals offer the best deals, too.
It is hoped the app will be ready by early 2018.
Simpler switching
Another measure coming in is the CMA plans to improve the current account switch service which was introduced three years ago. This would mean switching bank accounts is less of a hassle so that, for example, direct debits are moved with less risk of a payment being missed.
The CMA revealed in its report that the average person could save £92 a year by moving to a different bank account. Add in the fact that many banks offer new customers cash bonuses of up to £150, it is undoubtedly worth shopping around for a new bank account every so often.
But, many people are put off by the hassle. If the CMA can make switching simpler customers will benefit.
Switch reminders
The CMA also wants banks to have to send customers occasional reminders to review their accounts and see if they could get a better deal elsewhere.
Regulator heralds 'open banking' digital revolution
9 August
The UK's banking industry is being forced into an "open banking" digital revolution to ensure customers get a better deal.
In its final package of measures to shake up the sector after a two-year investigation, the Competition and Markets Authority announced banks will need to enable customers to compare accounts easily through an industry-wide smartphone app by 2018.
Customers will need to consent to allowing data to be shared, notes the BBC, but will then be able to compare overall account costs, customer service standards and branch locations.
Lenders will have to publish what Sky News describes as "trustworthy and objective information" on their service standards on websites and in branches.
That's not all. In order to ensure the industry is doing more to influence customer behaviour, banks will be required to use apps, text messages and other means to alert account holders to changes such as the closure of branches or changes to rates.
It's all part of a long-running and so far unsuccessful mission to get people to shop around. Only three and four per cent of personal and business account holders respectively switch bank each year, despite the CMA saying personal banking customers could save on average of £92.
As the regulator revealed in May, it is also clamping down on overdraft charges in an effort to save customers who regularly go into unauthorised deficit up to £180 a year.
Banks will have to set a cap on monthly overdraft charges that includes all interest and will need to send "prompts" to those who fall into the red informing them of any grace period. The cap will be set by each bank and will not be industry-wide.
Alex Neill, the director of policy and campaigns at Which?, said: "It is disappointing that the monthly charge cap is not actually a cap and banks will be allowed to continue to charge exorbitant fees for so called unauthorised overdrafts."
Bank-switching down despite cash incentives
20 July
Even fewer of us are switching our current accounts, despite a plethora of cash offers from banks to entice us to move.
According to Bacs, the service that processes transfers, 1.05 million accounts were switched in the past 12 months, down 4.7 per cent on the previous year and a tiny percentage of a market of 65 million accounts.
The figures underline the challenge facing regulators trying to improve competition. Movement has slowed despite a range of cash incentives and abundant publicity amid a proposed clampdown.
Marks and Spencer offers up to £220 worth of incentives, the Co-Op will give £150 to new account holders, and the Halifax has £125 to offer, reports the BBC. Moreover, those who switch could benefit to the tune of £116 a year from higher interest or reduced fees.
As such, the figures will add to the pressure on regulators not to cave in to big bank lobbying and to press ahead with plans to clamp down on excessive charges boost transparency.
In May, the Competition and Markets Authority proposed that banks be forced to cap overdraft charges, as well as "nudge" customers to switch accounts when terms and conditions change and support the creation of more effective comparison websites.
Major high street banks oppose the changes, while challenger rivals say they do not go far enough. A final decision is expected next month.
Bacs research shows that current account switches did increase in the past six months relative to the same period a year previously, up four per cent.
Barclays, which has been the subject of significant negative publicity, was the biggest loser with a net drop of more than 27,000 accounts. Halifax, which is part of Lloyds Banking Group, was the big winner, adding around 31,180 accounts.
Lloyds hits back at watchdog's plans to shake up banks
20 June
Lloyds is leading a fight back against a competition investigation calling for overdraft charges to be capped and consumers "nudged" to switch accounts.
In May, the Competition and Markets Authority (CMA) published draft proposals to boost the numbers of customers switching bank accounts. Figures show only a fraction move banks each year, while the majority have been with their provider for more than a decade.
The watchdog said that if they shopped around, the average account-holder could save £89 a year, rising to £153 for those with an overdraft.
It also proposed banks set an annual limit on overdraft charges, that individual institutions push their own customers to shop around and that lenders set up an IT system to supply a more comprehensive comparison website.
Lloyds, which has a 25 per cent share of the current account market and therefore "could have the most to lose from a surge in competition", says the Daily Telegraph, has taken issue with the price comparisons at the centre of the CMA's analysis.
It was ranked as one of the worst for price and quality on a comparative basis, but it claims flaws in how the watchdog reached its conclusions overstate costs by as much as 90 per cent.
In particular, says The Times, Lloyds is unhappy that it took into account extraneous features of packaged accounts from other providers, which include ancillary benefits that might offset any fees or lower interest rates.
As an example, it singled out a closed Marks & Spencer account, managed by HSBC, which offered a £100 one-off shopping voucher for joining and a £10 voucher each month. This account was ranked as the cheapest overall as it effectively pays customer £13 a month.
Others include the likes of travel insurance. "A customer with alternative travel insurance or who does not travel abroad does not receive any value from an account benefit offering travel insurance," the bank said.
Other large banks are said to agree with Lloyds's position. The CMA said it will consider the responses. It is due to publish its final report in August.
Big banks to cap overdraft charges and promote switching
17 May
A protracted review of competition in the banking sector has taken a step closer to completion, with the latest draft rules set to force banks to cap overdraft fees, nudge customers to switch accounts and boost comparison websites.
Most eye-catching in the latest report from the Competition and Markets Authority (CMA) is the proposal to introduce a cap on monthly overdraft charges, which the watchdog says earned UK banks £1.2bn in 2014.
But Paul Pester, chief executive of TSB, the challenger bank spun out of Lloyds, told The Guardian the plans were a "missed opportunity… to tackle the hidden costs of free banking". Pester wants the CMA to demand that banks issue customers with monthly bills rather than relying on the likes of obscure overdraft charges.
There was also criticism that banks will be allowed to set their own cap, rather than it being set by the regulator. The Daily Telegraph says this is designed to "increase competition and ensure that the [banks] continue to provide this service".
The BBC adds that "many banks already cap their overdraft fees", with HSBC charging a maximum of £80 a month, for example, while Royal Bank of Scotland charges a maximum of £90. According to Moneyfacts the average unauthorised overdraft is £57.50 per month, meaning customers would pay £690 a year plus interest of around 13 per cent.
Other measures that are still under review include requiring banks to remind customers of their right to switch current account and making it compulsory for banks to complete a transfer with minimal fuss in seven days. Banks could be asked to do so through an annual alert, as well as in response to "prompts" such as when local branches are closed or charges are increased.
By March 2017 banks are also being asked to prepare an open-access software interface that comparison websites could then use to offer a clearer service to customers, which might cover "prices, terms and conditions, and branch location".
The recommendations come after an 18-month probe into how to end the dominance of the so-called 'big four' of Lloyds, Royal Bank of Scotland, Barclays and HSBC. Between them the quartet account for 77 per cent of current accounts and 85 per cent of small business accounts.
Just three per cent of customers switched banks in 2014 and the CMA found 60 per cent have been with their bank for more than ten years. It reckons the average customer is missing out on £89 a year, or £153 a year for those who use their overdraft, by not shopping around.
Some experts are already claiming the changes will do little to challenge the 'big four' – and rivals remain disappointed that the CMA refuses to consider breaking up the largest banks. Final rules are to be published in August.

Continue reading for free
We hope you're enjoying The Week's refreshingly open-minded journalism.
Subscribed to The Week? Register your account with the same email as your subscription.