Seas the day: J Sheekey partners with fishing charity for new calendar
Portraits aim to raise awareness of the dangers British fisherman face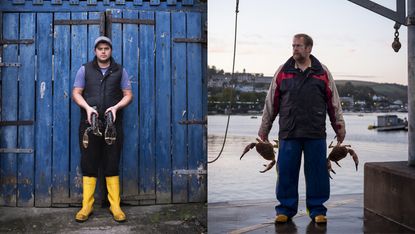 (Image credit: ©Harry Borden)
Sign up to our 10 Things You Need to Know Today newsletter
A free daily digest of the biggest news stories of the day - and the best features from our website
Thank you for signing up to TheWeek. You will receive a verification email shortly.
There was a problem. Please refresh the page and try again.
Fishing remains the most dangerous peacetime profession in the UK. In their everyday work, British fishermen and women face the risk of death or serious injury to bring back the fish that graces our tables.
In a bid to raise awareness of the risks faced by fishermen in the UK, London restaurant J Sheekey has partnered with the Fishermen's Mission charity to create a 2018 calendar.
'Seas the Day' – shot by Harry Borden, one of the UK's finest portrait photographers – features images of working fishermen from around the country.
Subscribe to The Week
Escape your echo chamber. Get the facts behind the news, plus analysis from multiple perspectives.
SUBSCRIBE & SAVE
Sign up for The Week's Free Newsletters
From our morning news briefing to a weekly Good News Newsletter, get the best of The Week delivered directly to your inbox.
From our morning news briefing to a weekly Good News Newsletter, get the best of The Week delivered directly to your inbox.
The Week Portfolio caught up with one of the featured fishermen, Philip Trebilock, and J Sheekey executive head chef, Andrew McLay, to find out more about the project, as well as the challenges and rewards of the fishing industry.
Fisherman Philip Trebilock in the Seas the Day calendar
Philip, what are the main dangers British fishermen face?
The weather is the worst. A lot of young men when they come into the job now, because of the cost and the paperwork involved in getting a decent boat and so on, they have to start very small. However, they want to get on and get out, but if the weather doesn't permit for their boats to go out, it would be dangerous. So, the weather is the most crucial danger.
Have you faced any frightening situations yourself and what happened?
Yes, back in 1988, I had the biggest boat I have ever owned in 40 years, and being young and keen, we went to sea and we got caught in the middle of a low-pressure area. The wind went from south westerly to north west and it caught us up in it for an hour or two. The winds of the north west of Cornwall can be harsh. It made a big wind swell, which you don't usually see. That evening I saw some of the strongest winds and swells I have ever seen.
But luckily, I had a big reliable boat, so I was okay.
What does a perfect day at work look like? Are there any memorable days where everything just went right?
A perfect day at work is in the month of March, the spring of the year, with a light easterly wind, with the sun coming up at about 5am or before. When you know that the cliff, where the lobsters are in March and April, is calm you can look forward to your fish, knowing that there won't be any problems. You won't have to be worried about repairs to your equipment and it's a beautiful day in front of the sun.
What more needs to be done to support fishermen, and fight the problems of ill-health and poverty some face after they retire?
Last year was probably the worst winter that we have had in 10 to 15 years, nobody went out for a couple of months. At this time, the Fishermen's Mission stepped in and support a lot of the younger fishermen not just in Cornwall but in other places also. They Fishermen's Mission were absolutely great during those harder times, they helped them to 'get on the bottom rung of the ladder' as we say.
Do you think the charity can also help with problems of ill-health after retirement? Or is there something more that needs to be done?
Ill-health is unfortunately something that can come to us all, even more so as a fisherman. But the Fishermen's Mission do really help. They offer emotional and financial support.
However, as I said, it's not just the elderly in this business, it also effects the young. When you have just started and you have borrowed a bit of money, you have bills to pay, then the weather goes against you it can be very difficult and that's when the Mission come in.
How will Brexit affect the UK fishing industry do you think?
I hope it turns out okay in the end, I think it will because 95% of UK fishermen voted to leave. We had a big campaign down here in support of the Leave campaign.
Why was that exactly?
Well the main reason for this is the restrictions that we have. We're restricted on what we can catch and yet more industrial mainline trawlers coming from Europe have no restrictions at all. We are also not allowed to leave our gear out there; the trawlers (big fishing boats) are there 24/7, however we can only be there when it is good weather. We have to stay within four to six miles of the coast, due to weather problems and restrictions imposed by European trawlers. That is why we voted Leave. We are hoping that if Brexit is pulled off, we will have a bigger say in who goes where.
What makes a good fisherman?
Mainly, an interest in the job and a bit of determination. However, in most of these harbours its born into you. You are brought up with it from a very small age. I've had 10 boats in 43 years. You grow up in stages, you save a bit of money and you get a boat. When I was young I had little social life, I didn't have a pint of beer for 20 years. I just worked and slept, but I was always improving my boat and that's what it is - you have to be really keen and stick with it. Put up with the rough and the smooth and go from there.
Chef Andrew McLay outside J Sheekey
Andrew, there has been a trend towards locally sourced and seasonal ingredients in recent years. Are these philosophies you believe in and try to practise yourself? Do you find seasonal and local cooking limiting or expanding?
Absolutely, seafood is very seasonal so cooking with seasonal ingredients is a very big part of what we do at J Sheekey, and this presents both challenges and opportunities. Seasonal cooking can be limiting as a chef as your ability to use certain ingredients is restricted by the seasons, however this also means that when you are able to use these ingredients you are doing so when they are at their best.
Native oyster season, for example, runs from September through to December – months with an 'R' at the end of them – and this year at J Sheekey we've been serving some lovely Loch Ryan oysters, which are known for their pure, salty flavour and firm, almost crunchy texture.
How closely do you work with fishermen? Or do you tend to deal more directly with suppliers?
At J Sheekey, like most restaurants, we deal more with suppliers than with individual fishermen, so working on this calendar has been a great way to really get to know some of the fisherman who catch the fish that we cook and serve.
Having a chance to speak with Kevin (Bartlett) 'Mr September' at the calendar launch party was fantastic, his catches directly supply J Sheekey menu items I cook and serve day in and day out, so it was great to have a chance to get to know him.
What are your ambitions with J Sheekey?
J Sheekey has been open for more than a hundred years and is known as one of the best fish and seafood restaurants in the country, so my ambition for the restaurants is to maintain this standing and continue doing what we're known for doing: cooking and serving great fish and seafood.
Do you see any parallels in the working lives of chefs and fishermen? Do you face similar challenges or different ones?
No, I don't see many parallels between the working lives of chefs and fishermen, chefs work long hours in busy kitchens but fishermen go to sea in all different types of weather, occasionally in dangerous circumstances, to do what they do.
One of the guys from the Fishermen's Mission told me that if a fishermen works on a boat full time from the age of 18 to 65 he will have a one in 14 chance of dying at work. This kind of statistic really brings home the potential dangers of working as a fishermen, and shows just how valuable the work that the Fishermen's Mission does with British fishermen and their families is.
What are you favourite fish and seafoods to work with?
One of my favourite types seafood to cook with is scallops, especially the diver caught Isle of Mull scallops we serve at J Sheekey, they're juicy, plump, full of flavour and never fail to impress our diners.
J Sheekey is a West End institution. Why has it endured so long? And how similar or different will it look in another 100 years' time?
Lots of people, including many of our regulars, have their own theories on this, but mine is that J Sheekey continues to be popular because we are consistent and reliable. Our food is good quality and always tastes good, the restaurant is cosy, comfortable and classic, and our team is fantastic.
I really can't say how Sheekey's will look in 100 years, but we're lucky to be able to say that if we keep doing what we're doing, and doing it well, we will still be one of the UK' top fish and seafood restaurants, and that's enough for me!
What makes a good chef?
Passion! As with any career, at the end of the day it's passion that takes a job from something you do for money to something you do for you. My friends who are the happiest and get the most out of their jobs are the ones who have found a passion for what they do, and this I just as true for chefs as any other profession.
All proceeds from the £15 Seas the Day calendar will go directly to the Fishermen's Mission charity.
Continue reading for free
We hope you're enjoying The Week's refreshingly open-minded journalism.
Subscribed to The Week? Register your account with the same email as your subscription.
Sign up to our 10 Things You Need to Know Today newsletter
A free daily digest of the biggest news stories of the day - and the best features from our website
Arion McNicoll is a freelance writer at The Week Digital and was previously the UK website's editor. He has also held senior editorial roles at CNN, The Times and The Sunday Times. Along with his writing work, he co-hosts "Today in History with The Retrospectors", Rethink Audio's flagship daily podcast, and is a regular panellist (and occasional stand-in host) on "The Week Unwrapped". He is also a judge for The Publisher Podcast Awards.