Beautiful Palm Beaches: the ultimate 72-hour guide
This sun-drenched US destination offers a lot more than palms and beaches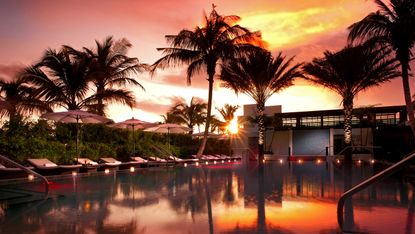 The Palm Beaches, a region of southeast Florida that covers 39 cities and towns and 15 districts across 2,200 square miles, wasn't always the glamorous beachside holiday destination it is today. In fact, not so very long ago it was something of a frontier, with very few residents, let alone anything that could be remotely called a tourism industry.
That all changed in the late 1880s when the astronomically wealthy industrialist Henry Flagler (the silent partner in the founding of John D. Rockerfeller's Standard Oil company) decided the area would make a perfect playground for wealthy Bostonians, New Yorkers and other assorted northerners keen to escape the bitterly cold winter months back home.
His single-minded determination, not to mention the near limitless money he was able to funnel into the construction of grand hotels, golf courses and a dedicated train line, laid the foundations for what The Palm Beaches is today - a glorious getaway for pleasure seekers from across the US and, increasingly, around the world.
Subscribe to The Week
Escape your echo chamber. Get the facts behind the news, plus analysis from multiple perspectives.
SUBSCRIBE & SAVE
Sign up for The Week's Free Newsletters
From our morning news briefing to a weekly Good News Newsletter, get the best of The Week delivered directly to your inbox.
From our morning news briefing to a weekly Good News Newsletter, get the best of The Week delivered directly to your inbox.
The Palm Beaches are rightly famous for their weather, and, obviously, their palms and their beaches. But there is more to do in this exotic little slice of the United States' southeast coast than just lie on the sand and watch the palm fronds sway in the breeze.
From fine dining, to high-end shopping to sports, culture and museums, you will have only yourself to blame if you get bored during your visit.
What to eat
"One cannot think well, love well, sleep well, if one has not dined well," Virginia Woolf once wisely observed. So an important place to start in any travel guide is with tips on where best to sate the appetite. And The Palm Beaches offers no shortage of great eating options.
Swank Farm
What began as something of a dining experiment has developed over the years into a firm fixture on The Palm Beaches culinary calendar. Jodi and Darrin Swank met when she was a travel agent and he had his own landscaping business. After a whirlwind romance, the couple started up not only their own farm, but also an adventurous "farm to table" eating experience that today has become a series of multi-course outdoor degustation menus made by visiting star chefs throughout the October-to-June growing season.
Arriving in the open-air barn, guests mill around drinking local wines and craft beers until dinner is ready. Everyone then takes their seats on long communal tables and enjoys a feast, which is scored by a country band from a stage above.
The atmosphere is delightfully convivial; increasingly so as the night wears on and the wine continues to flow. It is not cheap at $160 (£112) per ticket, but for drinks, food, entertainment and experience, it is a bargain nevertheless.
Meat Market Palm Beach
True to its name, Meat Market is a place for the carnivorous-at-heart. An upscale steakhouse, the restaurant has a luxurious private-club vibe – think high ceilings, camel leather banquettes and blown-glass pendant lighting.
Meat Market's menu offers a selection of fine cuts, on a US scale, such as the massive 30oz (850g) Kobe beef tomahawk ribeye, which is as glisteningly delicious as it sounds. For a more modest European-sized serving, the 7oz (200g) Kobe filet mignon is a more manageable experience. The restaurant also does excellent mini-burgers – its "Meat Market sliders" come filled with Wagyu patties topped with bacon and gouda cheese.
Despite the name, the menu also features some excellent fish plates – such as the octopus carpaccio, which comes with baby radish, heirloom beans, pickled mustard seed and wispy thin chips. When The Week Portfolio visited we were also treated to an immaculate ceviche with prawn, salmon, watermelon, cilantro, red pepper and chili. Vegetarians are also catered for – the whole roasted cauliflower, which comes on a bed of cauliflower puree, sharpened up with lemon, capers, and a sprinkling of Parmesan and olive oil, is delicious.
Guanabanas
Running through The Palm Beaches is a network of rivers and waterways that can be kayaked, canoed or boated along all year round.
Opposite Jupiter Island Park, beneath the swaying banyan trees, sits Guanabanas, a perfect place to stop off mid-kayak for lunch, refreshments or even an evening of live music. The tropical, tiki-style outdoor restaurant may look a bit of a cliché of Caribbean styling, but the generous portions (our group struggled to get through our entrees, let alone make much of a dent in the mains), buzzing atmosphere, friendly staff and evening entertainment mean Guanabanas usually has long queues, possibly even up to a couple of hours at weekends. Highlights on the menu include the Bahamian conch chowder and conch fritters, plus the excellent Mexican options: quesadillas, tacos and blackened fish burritos. Jumbo crab cakes are also nice, as are the steaks and chops if you aren't in the mood for heading gastronomically south of the border.
Sant Ambroeus
As the world has become more connected, cuisine has become more regionalised, with savvy travellers developing a taste not just for Chinese but Szechuanese; not just Indian but Keralan. This is true too of Italian; once an amorphous singular cuisine outside of the country, it is now regionalised – an appropriate development considering the rich variety of food on offer around the boot-shaped country.
Sant Ambroeus Palm Beach is just such a regional Italian restaurant, offering a taste of old-world Milan, served up in the sunny climes of contemporary Florida – a surprisingly successful meeting of cultures.
The menu from head chef Marco Barbisotti includes favourites from the original branch of Sant Ambroeus in New York, such as vitello tonnato, tagliatelle alla Bolognese, risotti and cotoletta alla Milanese, alongside new dishes "inspired by the sea and the fresh ingredients of Florida".
To begin, we went for the burratta, because nothing on Earth beats burratta. And it sure didn't disappoint. We also had the truffle pizza, which seemed a decadence too far, but went down astonishingly easily.
Despite the art deco formality of the restaurant, the service is as breezy as you like, and makes for a fortifying start to an afternoon browsing the boutiques of the Royal Poinciana Plaza (see below).
What to do
Flagler Museum
To understand contemporary The Palm Beaches, it is essential to get to know a little more about the man who transformed the place: Henry Morrison Flagler. His life story, his tastes and his association with the region are all vividly on display at the Flagler Museum, which sits within his old home of Whitehall, a 75-room Gilded Age mansion that was completed in 1902.
Having spent some of the intervening years as a hotel and an events space, Whitehall was bought back by the Flagler family and lovingly restored so that now it appears almost as it would have done during Flagler's lifetime, complete with bedrooms adorned with their original artworks, furnishings and lights. The experience of being there is somewhat uncanny – getting to know life as it would have been lived by the Warren Buffett or Mark Zuckerberg of his age is a fascinating experience.
But more than the house itself, the museum brings to life the man and his love of The Palm Beaches. Flagler first thought an elegant hotel would entice his friends from up north to spend their winters in The Palm Beaches, so he completed the Royal Poinciana Hotel in 1894 followed by the Breakers Hotel in 1901.
The town of Palm Beach itself was largely constructed in the 1920s during the height of the industrial revolution. Just as Flagler planned, it went on to become the winter retreat for the rich and famous of American society – a quality the area maintains to this day.
PGA National Resort & Spa
Palm Beaches' dependable year-round sunshine and gloriously mild winters make it a perfect place for outdoor hobbies. And one of the most popular al fresco pursuits with locals is golf.
There are few bigger golfing destinations in the world than the PGA National Resort & Spa. It has hosted more of the biggest names in golf than any other Florida course, and witnessed some of the sport's defining moments, including the 1983 Ryder Cup, the 1987 PGA Championship and the 1982-2000 Senior PGA Championships. It also happens to be Tiger Woods' local course, when he isn't teeing off in his own golf-course-sized backyard just down the road on Jupiter Island.
During our trip to The Palm Beaches, this reviewer had his first proper golf lesson – under the expert eye of Matt Denzer from the David Leadbetter golf academy. Denzer has worked with some of the world's top golfers, and his expertise was immediately apparent. For proper golfers he would be tweaking technique and refining style. For me, however, he started at the very beginning, taking me through how to hold the club correctly, before even starting on my stance and swing.
By the end of our one-hour session, though, I had the ball flying precisely where I wanted it to go… at least 20% of the time. Denzer also videoed my swing from two different angles, then emailed the footage to me a couple of days later with commentary explaining how I could raise my game, via freeze-frame comparisons with golfers just slightly above my current level, such as, er, Ernie Els and, umm, Tiger Woods.
For more seasoned golfers, heading out on to the courses themselves will be the main attraction – and there are five championship options to choose from, four of which are within the main grounds of the resort.
Of course, there is plenty more to do at PGA National Resort & Spa than just hit the fairways, including a gorgeous zero-entry pool, as well as 19 tennis courts and even traditional croquet facilities. You won't find yourself bored here.
International Polo Club Palm Beach
The International Polo Club Palm Beach is a popular destination for fans of the sport, and hosts the most prestigious tournaments in the United States. Polo enthusiasts descend upon the series of fields in Wellington every year to indulge their equine passion in salubrious surrounds. Pleasingly, though, the elegant dresses and bow ties are offset by that great American tradition of tailgating. Spectators drive their cars up to the edge of the field, park, lay out blankets and chairs and enjoy an afternoon of barbecuing and drinking.
All the polo matches are open to the public, and rather higher-end hospitality is also available. A buffet of near limitless lobster and copious champagne will see you through at the Pavilion, while stadium seating and sponsor boxes line the other side of the field.
Palm Beach Dramaworks
For a window into of the local arts scene, plot a course for this tiny theatre just across the water from the Flagler Museum. Since 2000, the not-for-profit theatre company has been turning out sharp productions that have punched well and truly above their weight.
Its interpretation of Ernest Thompson's On Golden Pond, made famous by the 1981 film adaptation starring Katharine Hepburn and Henry Fonda, which was playing during our visit, was a delight. And it was nice to have the chance to mingle with the cast and crew both before and after the production. Next month a production of Peter Shaffer's Equus kicks off – sure to be a hit with the polo crowd.
Where to shop
Though the demographic is shifting, The Palm Beaches continues to attract high net worth visitors – and those visitors tend to like to shop. Fortunately, there are plenty of excellent options for a spending spree, and one of the best places to fritter away your hard-earned is on the graceful boulevard of Worth Avenue.
Here a rare books emporium, there an A. Lange & Sohne watch boutique, Worth Avenue is an enjoyable place to visit for the catwalk models alone who wander the long street directing people to whichever fashion outlet they represent.
Away from Worth Avenue, a new centre of high-end shopping has emerged called the Royal Poinciana Plaza. With local designers, nice restaurants and the only Hermes boutique in the area, it is well worth a visit.
For the pure spectacle of it, Restoration Hardware West Palm is a must. Visiting a home furnishings store while on holiday to the States may sound like a bonkers idea, but the shop is vast and full of interior decoration ideas that you can take back home with you. Or if you wish, you can purchase your perfect interior furnishings here and have everything delivered and installed back in the UK, or wherever you call home.
The shop has fitted entire homes for clients hailing from locations as diverse as the UAE and Australia. Also, the restaurant at the top of the complex is a must, with a commanding view over the surrounding area.
Where to stay
Eau Palm Beach Resort & Spa
Thanks to the efforts of Monsieur Flagler and, more latterly, other enterprising investors, The Palm Beaches is rich in high-end accommodation offerings. The pick of the bunch, though, is the Eau Palm Beach Resort & Spa.
The first thing you notice as you arrive at the hotel is the eau itself. The hotel's lobby looks directly out to the Atlantic, and the sight and sound of the ocean is a constant throughout your stay. Equally striking is the scent of the hotel. Many high-end hotels these days are perfumed, but it is easy to get the fragrance wrong, making it too overpowering. The Eau pitches it just right – a light floral aroma that mixes deliciously with the sea air.
The hotel also has the excellent Angle Restaurant on site. Our first night in The Palm Beaches was well spent here, eating octopus with chorizo and a wonderfully rare filet mignon served with seared foie gras – while trying not to succumb to jet lag.
Away from the restaurant, it is the small things that the hotel does that make it such a wonderful place. On the terrace, guests can arrange to have a champagne lunch in a private cabana looking out to sea. On clear days it is not uncommon to see pods of dolphins frolicking in the waves.
Another nice touch is the poolside bar, which has an extensive menu of Floridian craft beers on tap for a taste of something local. Waiters also bring round small cups of frozen grapes to keep you cool as you are lying by the pool.
Possibly the highlight of the Eau is its near-perfect spa, which more than warrants its mention in the resort's name. The Eau spa rightly draws local visitors as well as out-of-towners alike. Set on one side of the resort complex, the spa is divided into a men's and a women's section around a co-ed central courtyard. And what a courtyard.
The focal point of the space is a gently trickling fountain, above which hang teardrop-shaped recliners, where visitors can lounge while they are waiting for their treatment. Next door in the gender-segregated area are two sets of baths, with bath lounges, saunas, steam rooms and oversized Jacuzzis. It is, plainly, a wonderful place to while away an afternoon.
The rooms at the Eau all offer huge inviting beds, and the hotel is granted a wonderful geniality by manager Nick Gold, who is an omnipresent force of warmth, welcoming guests individually and usually by name, and making himself available for almost anything you could desire.
Also, the hotel has bikes parked out the front. So if you feel inclined to drop in on the US President, but don't really want to drive, Mar-a-Lago is a mere 30-minute pedal away. But good luck getting through the many layers of Secret Service security that lie between you and Mr Trump whenever he is in town; even the airspace above his Palm Beaches resort are closed when he is taking a break from Washington.
The Brazilian Court Hotel
Another nice option is the boutique hotel The Brazilian Court. A favourite of Greta "I Want to Be Alone" Garbo, this elegant hotel offers a mixture of old-world European charm and Floridian modernism. Even from a short visit, it is easy to see why it was a favourite of the who's who of the Roaring Twenties. Actor Gary Cooper and socialite Amelia Hearst loved to come here, while Cary Grant is said to have danced the night away in the hotel's ballroom.
The Breakers
At the opposite end of the scale spectrum is The Breakers, a towering metropolis of hospitality on the edge of the beach. The Daily Telegraph declares it a "cathedral to period hotel design, with every mod con plus a signature style that marks it out as truly world class".
Dripping with Florentine paintings, vast colonnaded avenues, intricate tapestries and architecture inspired by Villa Medici in Rome, this is, the paper adds, "an epic journey into comprehensive resort ostentation in the grand tradition of the visionary Flagler".
Even if you are not staying here, a visit to the Seafood Bar restaurant is a must. And if you time your visit right, you will coincide with stone crab season. The crustacean's vast claws are a decadent treat available from 15 October to 15 May.
Florida is famed for its theme parks, its sunshine and the wild party scene of Miami. But The Palm Beaches region is the state's unsung hero, offering exceptional food, accommodation, outdoor activities and chic shopping. No wonder Flagler chose to plant his flag here.
For more information on the beautiful The Palm Beaches region, which covers 39 cities and towns and 15 districts across 2,200 square miles and 47 miles of pristine beaches from Boca Raton to Jupiter and Tequesta, visit Discover The Palm Beaches
Ocean view room at the Eau Palm Beach Resort & Spa in June start from £271 per night, inclusive of breakfast. To book, visit eaupalmbeach.com or call +1 800 328 0170
Virgin Atlantic flies up to twice a day from London Heathrow to Miami and is offering return fares from £476 per person. For further information virginatlantic.com or 0344 8747 747.

Continue reading for free
We hope you're enjoying The Week's refreshingly open-minded journalism.
Subscribed to The Week? Register your account with the same email as your subscription.