What is QAnon - and why does it matter?
The outlandish conspiracy gets a boost from Donald Trump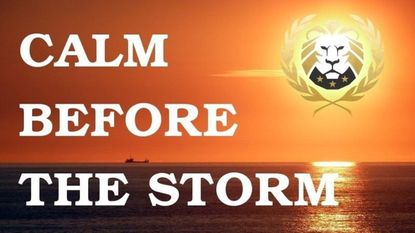 (Image credit: Twitter)
Sign up to our 10 Things You Need to Know Today newsletter
A free daily digest of the biggest news stories of the day - and the best features from our website
Thank you for signing up to TheWeek. You will receive a verification email shortly.
There was a problem. Please refresh the page and try again.
Donald Trump has welcomed the support of QAnon conspiracy theorists, describing them as patriots who want the best for the US.
During a press briefing at the White House on Thursday, the US president was asked what he had to say to believers in the widely-debunked theory, which muddles up a number of bizarre threads involving peadophilia, satanic worship and cannibalism.
Trump replied: "Well, I don't know much about the movement other than I understand they like me very much, which I appreciate.
Subscribe to The Week
Escape your echo chamber. Get the facts behind the news, plus analysis from multiple perspectives.
SUBSCRIBE & SAVE
Sign up for The Week's Free Newsletters
From our morning news briefing to a weekly Good News Newsletter, get the best of The Week delivered directly to your inbox.
From our morning news briefing to a weekly Good News Newsletter, get the best of The Week delivered directly to your inbox.
"I have heard that it's gaining in popularity. I've heard these are people that love our country and they just don't like seeing it," he added, referring to the ongoing unrest in the city of Portland, CNN suggests.
The president's comments have been leapt upon by QAnon followers as a "validation" of their views, The Washington Post reports.
"Trump tried multiple times to frame QAnon as overlapping with his (itself heavily exaggerated) war on Antifa," the paper adds. "If that's the idea, it's a significant misread on both the QAnon ecosystem and the risk posed by giving it oxygen."
Listen to The Week Unwrapped team discussing QAnon (from 12.01):
Who is Q?
On 28 October 2017, someone calling themselves Q began posting a series of cryptic messages in the 4chan internet forum titled "Calm Before the Storm" - "assumedly in reference to that creepy Trump quote from early October", says New York Magazine.
Q claimed to be a high-level government insider with Q clearance (a United States Department of Energy security clearance with access to classified information) who had been instructed to post intelligence leaks straight to 4chan "in order to covertly inform the public about POTUS's master plan to stage a countercoup against members of the deep state", adds the magazine.
Since Q could be anyone with internet access and a working knowledge of conspiracy theories, "there's no reason to think that Q is a member of the Trump administration rather than, say, a troll or YouTube huckster", says the Daily Beast's Will Sommer who has followed the community from the very beginning. "But incredibly, lots of people believe it", he adds.
In 2018, Time magazine even placed Q as one of the 25 most influential people on the internet. Counting more than 130,000 related discussion videos on YouTube, Time noted the broad reach of the writer's theories and the prominence of his or her followers.
What do the QAnon followers believe?
Since QAnon "first crawled out of the Internet's churning goo, the theory has metastasised", says The Washington Post's Paul Musgrove.
It shifted to targeting celebrities who QAnon supporters say are also involved in the anti-American conspiracy they are trying to stop.
But it "continues to revolve around the central conceit that behind the scenes, Trump is really doing something amazing and heroic - that the shambolic mess of a commander in chief the world sees is just a front for a hypercompetent superhero", he adds.
According to Sommer, Q followers, who call themselves bakers because they follow Q's breadcrumb trail, essentially believe that the US government has been secretly investigating Democrats and the Justice Department will soon reveal compromising information about Hillary Clinton.
That sounds outlandish, but "the conspiracy has gone mainstream because there are increasingly fewer barriers to entry", says Sommer.
"There's a pretty well-laid-out (for an ultimately fake conspiracy theory) QAnon video going around that makes it pretty easy for people who are already inclined to believe in a pro-Trump conspiracy theory but don't want to dig through hundreds of clues on 4chan to understand QAnon," he told Poynter.
"There's also been more celebrity attention promoting QAnon - Roseanne (Barr), obviously, and now Curt Schilling. I think the appearance of 'Q' shirts at Trump rallies is playing a role, because it's making it feel like more of a real-life thing," he added.
"Finally, with the Russia investigation apparently heating up over the past few months, I think more Republicans are getting interested in finding a counter-narrative, which QAnon certainly provides."
What has President Trump said about Qanon?
So far Trump has not commented publicly on QAnon. But last week, his son Eric Trump posted an image of an American flag on Instagram with a large Q superimposed over it. He later deleted the post, which used common QAnon hashtags.
So far Trump has not commented publicly on QAnon but the President courted further controversy when one of the leading lights of the conspiracy theory, Michael Lebron, posted a photo online of him and his wife next to Trump in the Oval Office, captioned, "There are simply no words to explicate this profound honor."
Lebron, known as Lionel online, is "a YouTube and social media personality who makes appearances on Russia Today as a political and legal analyst", reports CNN.
"Q's it. The bomb. The future. The ignition switch, the connection, the conduit," Lebron wrote in a 4 July blog post. "It's like having your own personal Deep Throat, your own Mark Felt. Just imagine that. Better, where Commissioner Gordon summoned Batman through the bat signal, here our Batman summons us when he, she, it or they feel it necessary."
The image suggests that Trump knows about the QAnon conspiracy, although GQ notes that "no one can seem to account for how or why Lebron was in the Oval Office in the first place".
According to The Daily Beast "it is highly unlikely that Lebron and his spouse were simply able to casually stumble into this meeting while on a White House tour, for instance". Those who know how Trump's Oval Office works "say that typically the only way that an Oval photo op between President Trump and strangers would even happen is if a senior official vouched for the guests and waved them in", the website adds.
Has it spread into the real world?
Yes.
The signs, shirts and banners at a rally in support of President Trump in late July were, to those not in the know, seemingly baffling.
"We are Q," read one sign at the event in Florida. "WHERE WE GO ONE WE GO ALL," another read.
Others wore T-shirts with the letter "Q" and slogans such as "The Great Awakening".
Following the rally in Florida, QAnon even made its way into the White House briefing room on Wednesday, when a reporter asked White House press secretary Sarah Sanders if Trump "encouraged the support" of rally-goers wearing "Q" shirts.
"The president condemns and denounces any group that would incite violence against another individual and certainly doesn't support groups that would promote that type of behavior," Sanders said.
In Tucson, Arizona, followers of Q falsely claimed an abandoned homeless encampment was a child sex trafficking camp even after local authorities investigated and found no evidence to support the claim.
In June, an armed Q follower blocked an entrance to the Hoover Dam with his vehicle. And at recent Trump rallies, families and children have been pictured wearing QAnon shirts and hats.
Last week Apple removed from its store a QAnon app that provided updates from the community. The app had a huge number of downloads, ranking in the top 10 most-downloaded apps in the US and number one in the entertainment category.
One twist, however, "makes QAnon unusual", says the New York Times's Michelle Goldberg. While conspiracy theories are usually about evil cabals manipulating world events. QAnon, by contrast, "is a conspiracy theory in which the good guys - in this case, Trump and his allies - are in charge", she writes.
And it has real world consequences because "you don't create a wild fantasy about your leader being a covert genius unless you understand that to most people, he looks like something quite different", she concludes.
Who is Q thought to be in real life?
The most popular theory among the community is that Q is someone within Trump's administration, a Michael Flynn-type character or even Trump himself. During one Trump trip to Asia, Q posted some pictures of islands, "which supporters seized on as proof that Q was on Air Force One", says Sommer.
But "there's really nothing in the information QAnon has dropped that would necessitate top secret clearance or access to the president", says The Daily Dot's Mike Rothschild.
Another theory is that Q is in fact "a shadowy military intelligence figure who recruited Trump for the presidency", Rothschild adds.
According to Rothschild, this is a theory from Jerome Corsi, a journalist "best known for mainstreaming the conspiracy theory that Barack Obama wasn't born in the United States".
According to Corsi, "a group of generals" approached him about launching a coup against Obama. They then "reconsidered" after recruiting Trump to run for president with a mission to execute his own coup against the deep state.
"Trump had agreed he would run, and they agreed that if he would run, they would conduct their coup d'etat as a legitimate process, rooting out the traitors within the government.
And that pact between the military and Donald Trump has held, as we have been interpreting and watching", Corsi told right-wing media commentator Alex Jones earlier this year.
Other, more mundane theories about Q's identity abound, but "there's not much compelling evidence pointing in any direction", says The Daily Beast's Sommer.
–––––––––––––––––––––––––––––––For a round-up of the most important stories from around the world - and a concise, refreshing and balanced take on the week's news agenda - try The Week magazine. Start your trial subscription today –––––––––––––––––––––––––––––––
Has there been any backlash?
A number of conservative figures have pushed back against the conspiracy theory in recent days, including Michael Flynn Jr., the son of former national security adviser Michael Flynn, as well as former White House press secretary Sean Spicer.
Now the group Anonymous has got in on the act and committed to uncover the truth behind the conspiracy and "wreck" it.
The anarchist hacking group slammed the QAnon conspiracy as potentially dangerous and accused it of being driven by a "brainless political agenda" in a video posted to "what is widely considered the most reliable Anonymous Twitter account", says US news site The Hill.
"We will not sit idly by while you take advantage of the misinformed and poorly educated," the group said in the video, which was posted with the hashtags #OpQ and #OpQAnon.
The video claims that Anonymous "knew who was responsible for Q" and thought it was funny at first. However, the group now believes the conspiracy theory has gone too far.
"Someone is going to get hurt, so we have to put our foot down and start some shit with you all," the group said in the video.
How are sovereign citizens related to the conspiracy?
The Southern Poverty Law Centre reports that in recent years, anti-government individuals who dub themselves "sovereign citizens" - including some who've committed violent acts - are "increasingly subscribing to and propagating the QAnon conspiracy theory".
Sovereign citizens, according to the centre, are fringe ultra-libertarian extremists who believe that they get to decide which laws to obey and which to ignore and do not recognise the legitimacy of their government or any courts or police forces within it. As a result, they attempt to avoid paying taxes and will often commit crimes such as driving without a licence.
Listen to The Week Unwrapped team discussing sovereign citizens:
But this, according to some experts, is a surprising and confusing meeting of worlds.
"The interesting thing about QAnon is it actually has an extraordinary amount of faith in the government and legal processes," Travis View, a QAnon researcher and co-host of the QAnon Anonymous Podcast, says. "It sounds incompatible with the sovereigns or the anti-government stuff, but they imagine that there's going to be a perfectly clean and legal process to have an extraordinary revolution.
"I think that's where the overlap is ­- a deep distrust in the normal institutions of the federal government, obviously the alphabet agencies and all that," he added.
Continue reading for free
We hope you're enjoying The Week's refreshingly open-minded journalism.
Subscribed to The Week? Register your account with the same email as your subscription.
Sign up to our 10 Things You Need to Know Today newsletter
A free daily digest of the biggest news stories of the day - and the best features from our website