The Week Schools Guide: The best of the best
We proudly present our highly acclaimed guide to the UK's leading independent senior schools. Education experts Emma Lee-Potter and Janita Clamp have consulted a wide range of heads, teachers and parents to find the best schools of 2021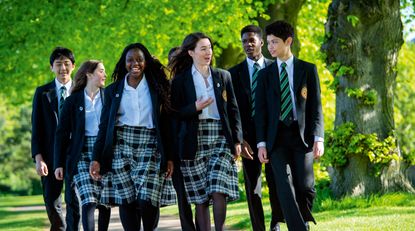 Best for academic results: St Paul's Girls' School
When it comes to academic achievements this famous west London girls' school is in a league of its own. In 2020 92.4 per cent of A levels or the Pre-U equivalent were graded A*/A while 100 per cent of GCSEs were grades 7-9. Last year 43 girls won places at Oxford and Cambridge and 12 headed to universities in the US. Founded in 1904, the school prides itself on having few rules, no uniform and an atmosphere where girls are encouraged to develop their own passions and interests alongside their studies. Former pupils, known as Old Paulinas, include Kate Bingham, the first head of the UK Vaccine Taskforce, former Vogue editor Alexandra Shulman and Oscar-winning actress Rachel Weisz. As high mistress Sarah Fletcher says: "We are proud of our school, and proud too that over the years our alumnae have contributed significantly on a national and global stage." spgs.org
Other contenders:
Subscribe to The Week
Escape your echo chamber. Get the facts behind the news, plus analysis from multiple perspectives.
SUBSCRIBE & SAVE
Sign up for The Week's Free Newsletters
From our morning news briefing to a weekly Good News Newsletter, get the best of The Week delivered directly to your inbox.
From our morning news briefing to a weekly Good News Newsletter, get the best of The Week delivered directly to your inbox.
Godolphin & Latymer
Brighton College
Great for forward thinking: Oakham School
Oakham has always been a trailblazer. One of the first independent secondary schools to go fully co-ed, it celebrates its 50th co-ed anniversary this term. A small number of independent schools admitted girls into their sixth forms in the late 1960s but Oakham went co-ed across all year groups from 1971. The school is now 50:50 girls and boys, with the same number of girls' and boys' day and boarding houses. This year is also the school's 20th anniversary of offering the International Baccalaureate (IB) Diploma. Oakham was one of the first schools in the UK to offer the IB to sixth formers (pupils can study A levels if they prefer). It has now introduced the IB Middle Years Programme for 11 to 13-year-olds too, a teaching and learning initiative that encourages youngsters to become "creative, critical and reflective thinkers" ahead of their GCSEs. oakham.rutland.sch.uk
Other contenders:
Berkhamsted School
Millfield
Great for STEM:The National Mathematics and Science College
Founded in 2016 and known as NatMatSci, this co-ed sixth form college is dedicated to providing a world-class education in STEM (science, technology, engineering and maths) subjects to teens aged 15 to 19 who want to study at the world's leading universities. Situated just a short walk from the University of Warwick, it offers two programmes of study – a two-year A level programme and a one-year pre-A level programme that builds students' knowledge and skills in science, maths and English. It's early days but The Good Schools Guide gave this innovative school the firm thumbs-up, describing it as "an exciting community where bright and like-minded students have a whale of a time challenging both themselves and each other and are privy to some of the best STEM-centred teaching around". natmatsci.ac.uk
Other contenders:
Oundle School
Putney High School GDST
Great for global outlook: Bedales
Global awareness is woven through the curriculum at this Hampshire school. Bedales is a member of the Round Square organisation – a network of schools from 50 countries that share a commitment to character education and experiential learning built around international understanding, democracy, environmental stewardship, adventure, leadership and service. Pupils take Bedales Assessed Courses (BACs) alongside their GCSEs and the BAC in global awareness is one of the most popular. Sixth formers get the chance to take the Cambridge Pre-U in global perspectives and research, exploring issues like genetic engineering, medical ethics and ethical foreign policies. Meanwhile year 9s undertake projects like "Who made my clothes?", where they learn about globalisation, sustainability and our moral responsibilities to others. bedales.org.uk
Other contenders:
Westbourne School, Penarth
Wycliffe College
Great for outdoor pursuits: Sedbergh School
With 26 different sports and outdoor activities on offer, pupils at this co-ed boarding school have a wealth of outdoor pursuits to choose from. They enjoy everything from river swimming and kayaking to ghyll scrambling and mountain biking and every year up to 190 sixth formers take part in the historic Wilson Run, a ten-mile race across the Cumbrian countryside. The school is 98 per cent full boarding and headmaster Dan Harrison says the pupils have a "can-do" attitude. Their academic achievements are top notch too, with 48 per cent 7-9 grades at GCSE last year and 44 per cent A*/A at A level. As The Good Schools Guide says: "If you want your child to have an outdoorsy experience and be imbued with the robust spirit of a self-starter, this is the place." sedberghschool.org
Other contenders:
Glenalmond College
Yarm School
Great for pupil ideas: Notting Hill & Ealing High School GDST
This high-achieving west London girls' school is teeming with ideas, many of them generated by the pupils themselves. When a year 11 student heard about NHS workers suffering from anxiety and depression during lockdown she launched a whole-school letter-writing initiative, which resulted in girls writing more than 850 letters of gratitude to Ealing Hospital staff. Pupils also created artwork, songs and recordings to spark conversations with care home residents whose families were unable to visit them and a year 9 girl designed a trail of sporty scarecrows to inspire the community to get active. Before the pandemic sixth formers organised a three-day festival to champion women in the film industry. nhehs.gdst.net
Other contenders:
Bedford School
Cardiff Sixth Form College
Great for community: Brighton College
For the past seven years Brighton College pupils have met refugees from the local Syrian community action group every Sunday, helping them with conversation and interview skills, offering teaching support and helping with Life in the UK test preparation. The school has also launched Opening Doors, a scholarship for talented local young people who have been displaced or experienced significant disadvantage. The scholarship was inspired by two teenage Syrian refugees who attended Sunday lessons at Brighton College. They were both awarded full scholarships to the school and went on to study maths at Oxford and medicine at the University of London respectively. During the pandemic pupils made masks, delivered food to frontline workers and raised money for NHS charities, winning a Community Champions award. brightoncollege.org.uk
Other contenders:
Bolton School
Withington Girls' School
Best school magazine or newspaper: Ibstock Place School
The Wall, Ibstock Place's lively school magazine, was much admired at this year's Shine School Media Awards. It won prizes for best magazine and best sustainable initiative, and the most inspirational teacher award went to English teacher Christopher Anderson. "I don't think we could have asked for a more supportive or more inspirational teacher," said his students. The magazine, entirely produced by pupils, was also highly commended in a clutch of other categories – best cover, best illustration and artwork, best print and design and editor of the year. Its most recent issue focused on mental health and wellbeing, with subjects ranging from insomnia to eco-anxiety. Situated on the edge of London's Richmond Park, this co-ed day school counts Iris Murdoch and Nigella Lawson among its alumni. ibstockplaceschool.co.uk
Other contenders:
Abingdon School
King's High School, Warwick
Great for the IB: Sevenoaks School
Sevenoaks has taught the International Baccalaureate (IB) since 1978 and achieves remarkable results year after year. This year's 235-strong cohort achieved the school's highest ever IB score of 41.3 points – more than eight points above the world average. Thirty students achieved the maximum 45 points and almost 75 per cent notched up scores of 40 points or more. "In a year of disruption, our students' hard work, professionalism and dedication was phenomenal and we are proud of their creative, inquisitive and committed approach to their studies and co-curricular activities," says headmaster Jesse Elzinga. This co-ed day and boarding school for pupils aged 11 to 18 is set in 100 acres of Kent countryside. After the IB students head to leading universities across the world and 31 will be taking up places at Oxford and Cambridge this term. sevenoaksschool.org
Other contenders:
King's College School, Wimbledon
North London Collegiate School
Inspiring green initiatives: Caterham School
This co-ed day and boarding school in Surrey bought 150 acres of ancient woodland in 2014. With help from the school woodsman, staff and pupils have regenerated the area for the benefit of the local community as well as the school. Pupils have lessons there every week, learning about safe fire-lighting, den building and flora and fauna. They have also cleared diseased ash trees, started a business to sell logs and charcoal and delivered fallen wood to local primary schools to make outdoor spaces with giant log seats and chipped wood flooring. The school has three beehives – members of the school's eco committee lead the project and train young beekeepers. Other initiatives include banning single-use plastic water bottles and convincing teachers to use mugs rather than disposable coffee cups in the staff room. caterhamschool.co.uk
Other contenders:
Headington School
South Hampstead High School GDST
Great for equestrian pursuits: Stonar
Situated in a Grade II listed mansion in the Wiltshire countryside, Stonar is a big name in the equestrian world. The school's equestrian centre is British Horse Society-approved, with stables for 65 horses, indoor and outdoor schools, a cross-country course and a hacking track. The Olympic-sized outdoor arena is used for jumping and dressage and riders regularly compete in major competitions. Around 50 per cent of pupils ride. Some keep their own horses atschool, take qualifications and compete while others loan a horse or opt for weekly riding lessons. Even so, the main priorities at Stonar are academic studies and pupils achieve excellent results. Formerly a girls' school, Stonar has been co-ed since 2016. stonarschool.com
Other contenders:
Queen Margaret's, York
Pocklington School
Great for music: Hampton School
With a packed calendar of more than 40 concerts and recitals every year, from chamber music to outdoor jazz and swing performances, every boy at Hampton School is encouraged to find his voice (or instrument). Hampton's musicians perform nationally and internationally at venues including the Royal Albert Hall in London and Barcelona's Sagrada Família. Voices of Lions, the school's male voice choir, has sung to sell-out audiences at the Edinburgh Festival Fringe. In addition to music scholarships the school also offers 11+ choral scholarships jointly with nearby Hampton Court Palace. Successful applicants become boy choristers in Hampton Court's Chapel Royal Choir. hamptonschool.org.uk
Other contenders:
Cheltenham Ladies' College
Bryanston School
Great for sport: Hurst College
This West Sussex co-ed school believes that sport is for everyone. "The physical and mental wellbeing of pupils is central to Hurst's sports offering and equal attention is given to those who simply want to participate as well as the elite performers," say staff. Hurst's main sports are rugby, hockey, netball, athletics, cricket, golf, swimming and tennis but activities like aerobics, dance, football and yoga are on offer too. The school runs strength and conditioning sessions as well as a player welfare programme. During lockdown the director of sport ran a remote sports programme, including an initiative to replicate the journey taken by Phileas Fogg in Around the World in 80 Days. Pupils, staff and parents rose to the challenge, running, walking, cycling and rowing more than 65,000km. hppc.co.uk
Other contenders:
Guildford High School
Whitgift School
Great for CCF: Malvern College
Pupils joining the Combined Cadet Force (CCF) at Malvern College, a co-ed boarding and day school in the glorious Malvern Hills, can chose between the Army, the Royal Marines and the Royal Air Force. All three sections share the same aim – to develop young people's self-belief, confidence and leadership skills through adventure training and military activities. Cadets practise camouflage and camp skills in nearby woodland and travel further afield for specialised activities such as climbing and winter training. The CCF maintains strong links with the regular forces, who make training and equipment available and cadets also use the college's own six-lane indoor shooting range. malverncollege.org.uk
Other contenders:
Pangbourne College
Wellington School
Great for pastoral care: Malvern St James Girls' School
In March 2021 Malvern St James Girls' School received a gold-standard school mental health award from the Carnegie Centre of Excellence for Mental Health in Schools in recognition of its "outstanding mental health and wellbeing provision". Youth Mental Health First Aid training is offered to staff and sixth formers and support structures are led by wellbeing champions and ambassadors. Mental health and mindfulness lessons are part of the curriculum and the Girls on Board scheme teaches pupils how to manage friendships, providing insight into the way relationships can change and develop over time. "Mental health programmes have come such a long way in schools in recent years and we are delighted to be at the forefront of this change," says headmistress Olivera Raraty. malvernstjames.co.uk
Other contenders:
Epsom College
Dean Close School
Great for philanthropy: Lord Wandsworth College
Lord Wandsworth College, a co-ed day and boarding school in Hampshire, came into being in 1922 through the philanthropy of Lord Wandsworth, whose bequest established a foundation to house and educate children from rural families who had lost one or both parents. The college's 1,200-acre farm and woodland are part of that original heritage. Every year the Lord Wandsworth Foundation continues to support the education of around 50 children who face tough challenges at home. Community outreach and charity fundraising are core commitments – pupils visit care homes and stage events in support of national and local causes. During lockdown a "virtual 5km" raised more than £25,000 for the school's Covid-19 appeal. lordwandsworth.org
Other contenders:
Mount Kelly
Christ's Hospital
Great for boarding: Moreton Hall
Boarding (which at Moreton is uniquely flexible) is the best way to make the most of the many opportunities on offer. From real-life small business experience via Moreton Enterprises and societies offering lectures and masterclasses, to a nine-hole golf course and a smallholding, there's something to interest everyone. Boarding is structured "horizontally" so facilities and expectations are age-appropriate, with many pupils having en suite study bedrooms. Weekend activities include socials with other schools, karaoke, kayaking, laser tag and town trips. In 2021 the school won the TES boarding school of the year award – judges were impressed by Moreton's "commitment to its students and the wider community, exemplifying the best of the boarding sector". moretonhall.org
Other contenders:
Marlborough College
Queen Anne's School, Caversham
Great for sixth form: Winchester College
It was quite a surprise when the announcement came that from September 2022 Winchester College, boys-only for more than 600 years, would be taking girls in the sixth form. The initial cohort of girls will be day pupils – another first for this hitherto exclusively boarding school – until the construction of a girls' boarding house is complete in September 2024. Boys can also apply to join the sixth form in 2022 as day pupils. The new sixth formers will become members of one the college's existing houses, where they have their meals, study and socialise. Girls will also have their own day house. The college remains very much a full boarding environment so day pupils will need to get used to staying until 6.30pm or later. One of the college's academic traditions is "Div", a unique, non-examined course taken by all year groups. As The Good Schools Guide says: "Div's cross-curricular, discursive and research-led ethos now seems strikingly modern." winchestercollege.org
Other contenders:
Hurtwood House
Concord College
Great for dance and drama: Forest School
Just over half an hour on the Central Line from Oxford Circus, yet surrounded by 50 acres and the ancient trees of Epping Forest, this is a London school with a difference. Drama is offered at GCSE and A level and is also a popular extra-curricular option, with three school productions a year and keenly contested house drama competitions for which pupils write and direct their own plays. Several former pupils have gone on to careers in the performing arts, including Paapa Essiedu, who became the RSC's first black Hamlet in 2016. The school also has a dance department, staffed by professional dancers who introduce pupils from pre-prep upwards to street dance, jazz, musical theatre, ballet and performance skills. forest.org.uk
Other contenders:
Stowe
St Edward's, Oxford
Great for co-curricular: Bootham School
Pupils at Bootham, a day and boarding school in the city of York, end each day with an hour of extra-curricular activities and have more than 100 to choose from each term. Drone flying, vegetarian cookery, natural history, basketball, jewellery making, cryptography and astronomy are just some of the options. Bootham's College Specials are weekly lectures and workshops for older pupils, either related to careers or topics of general interest. Mike Shaw, a teacher at Bootham School, was recently honoured in a national competition for inspirational education leaders. The i25 Award was in recognition for his work in promoting astronomy to young people in schools across York. boothamschool.com
Other contenders:
Uppingham
Charterhouse
Great for art and creativity: Mayfield School
Fine art, textiles, ceramics, photography – pupils at Mayfield, a Catholic girls' day and boarding school in East Sussex, have plenty of scope for creative expression. All are encouraged to explore and experiment using a range of media and techniques in two and three dimensions. The school's art department is staffed by working artists with different specialisms and comprises three studios, a dark room and individual working spaces for sixth formers. After-school workshops, trips to galleries and visiting artists extend the pupils' knowledge and practical skills. The school also offers history of art as an A level subject. Many pupils combine creative arts with maths and science at A level and go on to study art, design, engineering and architecture at degree level. mayfieldgirls.org
Other contenders:
Gresham's
Roedean
Most beautiful setting: Fettes College
An imposing blend of Loire château and Scottish baronial, surrounded by 100 wooded acres, Fettes College in Edinburgh has been described as one of Scotland's greatest buildings. The school was founded to educate poor boys and orphans following a bequest by a wealthy merchant and former lord provost of Edinburgh, Sir William Fettes, in memory of his son who died young. Sir William's coat of arms included a bee and this gave rise to the school's motto – "Industria". The Fettes crest also features a bee, and depictions of bees and beehives are incorporated into some of the buildings. The most famous former pupil is probably former prime minister Tony Blair, but the list also includes composer Lorne Balfe and economist and Nobel Prize winner Sir Angus Deaton. fettes.com
Other contenders:
Culford School
Lancing College
Great for all rounders: Cheltenham College
With a proud sporting reputation, great academic results and vibrant music and arts, Cheltenham College pupils have the chance to take part in a huge range of opportunities inside and beyond the classroom. The historic buildings of this boarding school are a Cheltenham landmark, as is the cricket ground, where Gloucestershire County Cricket Club played its first game outside Bristol in 1872. Fully co-ed since 1998, the school has a beautiful chapel, library and grand dining hall but there are plenty of new additions, including an impressive science centre with 15 university-standard labs. Former pupils include polar explorer Edward Wilson, broadcaster Rageh Omaar, actor Jack Davenport and leading female racing driver Jamie Chadwick. In the words of head Nicola Huggett: "You don't have to arrive at Cheltenham knowing your passions and strengths, but you will certainly have discovered them by the time that you leave." cheltenhamcollege.org
Other contenders:
Cokethorpe School
Haileybury

Continue reading for free
We hope you're enjoying The Week's refreshingly open-minded journalism.
Subscribed to The Week? Register your account with the same email as your subscription.