Robin Williams auction: snap up a souvenir of a star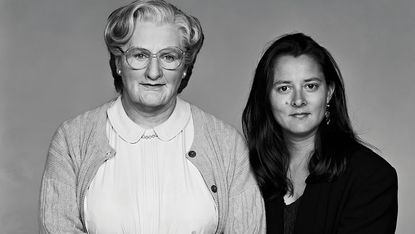 (Image credit: Sotheby's)
As the recently ended reality TV show Love Island proved, tens of thousands of the British public are not only obsessed with celebrities, but want to become celebrities – more than 85,000 people applied to be on the show this year, the show's producers boasted. That's only natural. "We are all to some degree fascinated by celebrity," Nic McElhatton, a former Christie's chairman, told The Independent last year amid a boom in celebrity auctions. After all, if you can't grab the spotlight for yourself, the next best thing is to get as close to its radiating warmth as possible.
Collecting film memorabilia started off being about the film star. How that has changed was evident last September when two celebrity auctions were held days apart: one for the belongings of Vivien Leigh at Sotheby's, the other for Audrey Hepburn at Christie's. Leigh, an actress of the generation before Hepburn, appealed to a slightly different collector, as Scott Reyburn noted in The New York Times at the time. "The Vivien Leigh stardust inspired a succession of high prices for antiques that would have been worth little if owned by less celebrated mortals."
Subscribe to The Week
Escape your echo chamber. Get the facts behind the news, plus analysis from multiple perspectives.
SUBSCRIBE & SAVE
Sign up for The Week's Free Newsletters
From our morning news briefing to a weekly Good News Newsletter, get the best of The Week delivered directly to your inbox.
From our morning news briefing to a weekly Good News Newsletter, get the best of The Week delivered directly to your inbox.
For fans of older stars – who are more likely to be older themselves – "there's a longing for that sense of mystique, of not knowing everything", Julie Lobalzo Wright, a researcher in film and music stardom at the University of Warwick, told the paper. Owning something that belonged to the stars "makes them real". Meanwhile, the items that belong to Hepburn, who was a style icon of the 1960s and who remains iconic today, attracted a record number of internet bids, implying greater interest from a younger set of fans who identified with the star.
Celebrity in the 21st century
Move on to today's screen stars and it's yet another story. In fact, in some cases the stars themselves are no longer even needed – the association is enough. Last September the Saatchi Gallery in London held "two days of unmissable experiences" for fans of the Kardashians, stars of their own reality TV show. "Though no Kardashian family members were present, nor any of their possessions, the event nonetheless attracted 200 visitors an hour," says Reyburn. And when Kim Kardashian auctioned off her wardrobe earlier this year for charity, the venue was nothing as fusty as Sotheby's or Christie's. She used the online auction site eBay, which even has a page dedicated to clothing sold by the Kardashian family.
For fans who favour more classic collectables, the upcoming auction of art, memorabilia, watches and other effects owned by Robin Williams, who died in 2014, may have greater appeal. The items have been put up for auction by his former wife, Marsha Garces (pictured above with Williams as Mrs Doubtfire), at Sotheby's in New York on 4 October, with the proceeds to go towards causes supported by the one-time couple. Lots include a set of 20 bronze sculptures by Magdalena Abakanowicz, valued at up to $600,000, and a Hook-themed pinball machine gifted to the actor in 1991 by the film's director Steven Spielberg ($3,000-$5,000).
The $100k door
"In this celebrity-crazed age, what aspiring investment banker wouldn't want to own the breastplate of Maximus for his office wall?" asks Matthew Phillp in Vanity Fair. Just such an opportunity arose in April when actor Russell Crowe called on the services of Sotheby's to sell many of his belongings in a sale called "The Art of Divorce". Live-streamed on Facebook, "it ricocheted between being a serious, formal sale of genuinely valuable items and a forum for irreverence", says Phillp. At the end of the five hours, the breastplate, which Crowe wore in Gladiator, had sold for $117,000, a painting by Charles Blackman for $337,000 – and the actor's leather jock strap, worn in Cinderella Man, for $6,500, well over its $460 estimate.
If an object is associated with a celebrity, whatever it is, it can be valuable, says Paul Sullivan in The New York Times. Guernsey's, an auction house specialising in "nontraditional objects" sold 52 doors, also in April. These had been discarded during a renovation of the Chelsea Hotel in New York, and rescued by Jim Georgiou, a homeless man and former tenant of the hotel. Georgiou traced the doors to famous guests who had stayed behind them – and what had been viewed as rubbish proved to be valuable. The door to a room where Janis Joplin and Leonard Cohen spent a night brought in $106,250. Andy Warhol's door went for $65,225, and Jimi Hendrix's fetched $16,250.
Auctions
Going
The convertible red sports car that had a starring role alongside actor Matthew Broderick in the 1986 film Ferris Bueller's Day Off (above) is heading to auction with Mecum Auctions in California, in a sale over two days from 23 August. But all is not as it seems. While the car in the film is supposed to be a 1961 Ferrari 250 GT California, the car for sale is one of two much cheaper 1985 Modena GT Spyder California replica models that were used instead. It was a Modena fiberglass shell that rolled out of a window to be destroyed at the end of the film – and little wonder. A real Ferrari 250 GT California fetched $17.2m in 2016. The Bueller Modena has previously sold for $230,000 in 2013.
Gone
The left "self-lacing" Nike Air Mags trainer worn by actor Michael J Fox in the 1989 film Back To The Future II sold for $92,100 on eBay last month. In the film, Marty McFly, played by Fox, travels forward in time to 2015, where shoes have "power laces" that can do themselves up. The proceeds from the sale of the shoe, which had belonged to a Nike employee in Oregon, went to the Michael J Fox Foundation for research into Parkinson's Disease. The actor was diagnosed with the condition in 1991. Despite being in a crumbling state, the trainer attracted 220 bids.
This article was originally published in MoneyWeek

Continue reading for free
We hope you're enjoying The Week's refreshingly open-minded journalism.
Subscribed to The Week? Register your account with the same email as your subscription.