The truth about Saudi Arabia's human rights record
Kingdom under fire at UN review amid accusations of violations of international law dating back years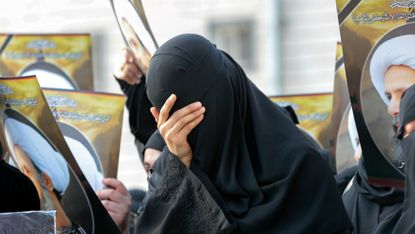 (Image credit: Getty Images)
Saudi Arabia has faced a grilling on its human rights record by members of the United Nations today as part of a review of the kingdom's controversial practices.
The UN is conducting a Universal Periodic Review (UPR), an assessment of rights that occurs once every four years and that allows member states "to declare what actions they have taken to improve the human rights situations in their countries".
The public debate, at the UN Human Rights Council in Geneva, comes just over a month after the murder of dissident Saudi journalist Jamal Khashoggi in the Saudi consulate in Istanbul.
Subscribe to The Week
Escape your echo chamber. Get the facts behind the news, plus analysis from multiple perspectives.
SUBSCRIBE & SAVE
Sign up for The Week's Free Newsletters
From our morning news briefing to a weekly Good News Newsletter, get the best of The Week delivered directly to your inbox.
From our morning news briefing to a weekly Good News Newsletter, get the best of The Week delivered directly to your inbox.
The Saudi delegation is facing tough questions about the country's "dismal" human rights record, as well as other key issues including "Riyadh's role in Yemen's civil war", says German newspaper Deutsche Welle.
The rights of Saudi citizens have long been a subject of controversy in the international community. Research group Freedom House gave Saudi Arabia the lowest possible rating on its 2018 Freedom in the World ranking, citing the "absolute monarchy" that "restricts almost all political rights and civil liberties".
So how bad is Saudi Arabia's record?
Discrimination
Amnesty International says that in the past year, authorities in Saudi Arabia have severely restricted freedoms of expression, detained activists and dissidents and cracked down heavily on religious and LGBT minorities.
Despite limited reforms, women face "systemic discrimination" and are "inadequately protected against sexual and other violence", the human rights organisation reports. A June poll by the Thomson Reuters Foundation found that Saudi Arabia is the fifth most dangerous country in the world for women based on factors such as violence, discrimination and cultural traditions.
Freedom House says that "political rights are curtailed for all of the kingdom's citizens" but that "women, religious minorities, and LGBT people face additional obstacles" owing to "intolerance" of ideologies that deviate from Wahhabism, a "highly conservative and literalist interpretation of Sunni Islam".
Human Rights Watch (HRW) reports that since last autumn, Saudi authorities have arrested "dozens of people, including prominent clerics", and have been cracking down on Muslim religious minorities - mainly Shia and Ismailis - and denying them access to the same public education, religious freedom and employment rights as Sunni citizens.
Torture and execution
Saudi Arabia has a long history of using torture against prisoners. Authorities in the kingdom use anti-terrorism laws to "justify" mass torture, reports The Guardian, which says that more than 3,000 allegations of torture were formally recorded between 2009 and 2015.
Amnesty International reports that flogging is the most common method, while others include "cross amputations" - where the opposite hand and foot are removed. The organisation calls it "cruel, inhuman and degrading punishment that has no place in the justice system".
Saudi Arabia executes more people than any other countries except China and Iran, and it does so for a variety of crimes, adds The Atlantic. In 2017, the state carried out 146 executions - of which 59 were for non-violent crimes - using methods including stoning, beheading and even crucifixion. These executions are often public.
Yemen
The most pressing issue for human rights organisations is the activities of the Saudi Arabian-led intervention in the Yemeni Civil War. Saudi forces have backed the Hadi government-in-exile of Yemen, which was overthrown in 2015 by the Houthi-led Supreme Revolutionary Committee.
In 2016, a UN panel revealed that the Saudi-led coalition had perpetrated "widespread and systematic" attacks on civilian targets, in violation of international law, consisting of air strikes on refugee camps, weddings, schools, religious centres and markets.
Human rights groups have described Saudi Arabian activities in Yemen as "war crimes", notes The New York Times.
Murdered journalist Khashoggi may have been killed "over a report he was preparing on the use of chemical weapons in Riyadh's devastating military campaign in Yemen", adds online news site The New Arab.

Continue reading for free
We hope you're enjoying The Week's refreshingly open-minded journalism.
Subscribed to The Week? Register your account with the same email as your subscription.