What is CBD oil and is it legal in the UK?
Cannabidiol has entered the mainstream, but effects are unclear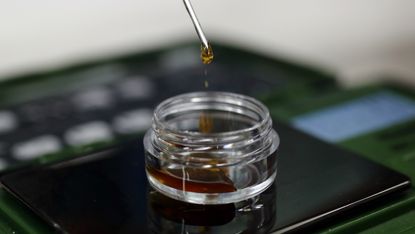 CBD oil has entered the mainstream in recent years, bringing with it zealous advocates and dismissive sceptics.
Also known as Cannabidiol, CBD is found in the cannabis plant. But unlike THC - the ingredient that makes cannabis users high - CBD has no psychoactive effect.
Instead, it is used by people who want to manage conditions like chronic pain, PTSD and epilepsy. The substance is also being trialled to see if it can help with anxiety and arthritis.
Subscribe to The Week
Escape your echo chamber. Get the facts behind the news, plus analysis from multiple perspectives.
SUBSCRIBE & SAVE
Sign up for The Week's Free Newsletters
From our morning news briefing to a weekly Good News Newsletter, get the best of The Week delivered directly to your inbox.
From our morning news briefing to a weekly Good News Newsletter, get the best of The Week delivered directly to your inbox.
CBD can now be found in a range of products in high street stores, from vape liquid to "sweets, creams and even sexual lubricants", says ITV News.
The number of people using CBD oil, also known as cannabidiol, in the UK alone is estimated to stand at around 1.3m. As GQ magazine says, "thanks to a brand reimagining and increased medical research", the naturally occurring compound has "gone from dangerous to desirable".
Advocates of CBD oil say it can relieve chronic pain and inflammation, depression and insomnia, among other conditions. But others say its benefits are oversold and unproven, while many others are confused over its legal status.
Here's what you need to know:
What is CBD oil?
Cannabis plants are made up of more than 100 different cannabinoids, chemical compounds that act on cannabinoid receptors in cells that alter neurotransmitter release in the human brain. These have different impacts on the body and are concentrated to different extents in certain parts of the plant, the BBC reports.
The most well known of the compounds are tetrahydrocannabinol (THC) and cannabidiol (CBD).
In the UK, it is possible to get a prescription for oil made from CBD because it won't get users "high". By contrast, THC is a psychoactive chemical and is a controlled substance under the Misuse of Drugs Act 1971.
Why and how is it used?
A 2017 report by the World Health Organisation (WHO) found that CBD could provide relief for a variety of debilitating conditions including Alzheimer's disease, Parkinson's, multiple sclerosis, cancer and diabetic complications, as well as general pain, anxiety and depression.
"There isn't enough evidence to say that the oil definitely does help with these things, nor that simply cramming some in a milkshake will do the slightest bit of good, just that doctors are optimistic about their research," says lifestyle magazine The Street.
One recent study has also now linked CBD oil to healthy weight loss. The research, published in the journal Molecular and Cellular Biochemistry, linked the drug to three causes of "fat browning", which turns the dangerous white fat associated with obesity and diabetes into hard-working brown fat cells. These actively aid weight loss by burning extra calories through thermogenesis, your body's heat-production process.
What's more, CBD "reduces the expression of proteins involved in creating new fat cells, and it boosts the number of mitochondria in your brown fat cells", says Men's Health. This could further increase their fat-stripping power, the scientists suggest.
However, it is important to note that licences for CBD oil as a medicine have not been granted yet, and manufacturers cannot make claims about their alleged medical benefits.
CBD oil can be used in a number of different ways, says health information site Verywell. "You can smoke it (typically in vape pens), take it in capsule form, use it sublingually (under the tongue), use oral sprays or drops, or apply it topically to your skin," the site explains.
Gels and rubs aimed at athletes are available in shops, while pensioners are using the products in the hope of alleviating arthritis.
"A crystalline form of pure CBD is also available, and it's generally taken sublingually."
CBD is available in a range of products sold on the high street and online, including creams, oils, tinctures and edible treats such as gummy sweets. There are even CBD-infused pillowcases and yoga classes offering CBD-assisted guided meditation.
The medical effects of CBD aside, "in many cases, the industry is taking consumers for a ride", says Mike Power in The Guardian. He cites lab tests commissioned by the think tank Centre for Medicinal Cannabis (CMC) which analysed high-street offerings and found that more than half of the most popular CBD oils sold do not contain the level of CBD promised on the label.
Yet market research by the CMC estimates that the CBD market in the UK could be worth almost £1bn a year by 2025, "equivalent in size to the current entire UK herbal supplement market", writes Power.
Ultimately, says ITV News, there's a big difference between CBD you are given by a healthcare professional, and the less regulated CBD oil you can get on the high street.
CBD available in shops is often of lower quality and far lower strength than the oil used in clinical trials.
According to the British Medical Journal (BMJ), high street products contain roughly 25mg CBD, compared to the 150-1,500mg/day that users are given in clinical trials, says ITV.
But is it legal?
As Business Matters notes, there is currently "a great deal of confusion around CBD oil UK law", with the vast majority of cannabinoids listed as controlled substances under the Misuse of Drugs Act.
However, CBD is an exception and is completely legal in the UK, "provided it has been derived from an industrial hemp strain that is EU-approved", or comes from outside the EU.
For CBD oil to be legal in the UK, it must contain no THC. Cannabis oil, which has THC content, is not usually allowed in the UK.
There is an exemption to this rule, the BBC reports. Sativex, a 50-50 mix of THC and CBD produced in a lab, has been approved for use in the UK as a treatment for multiple sclerosis.
And specialist clinicians are allowed to prescribe other cannabis-derived medicinal products under changes to the law that came into force in November.
However, medicinal cannabis is currently unlicensed - so it can only be prescribed if a patient has a need that cannot be met by licensed medicines.
One of the arguments against the use of the medication "is that there have not been satisfactory drug trials to prove its safety and effectiveness", reports the BBC's Debbie Jackson.
In The Guardian, Mike Power writes: "There is now no denying the medicinal value of CBD and THC – not even by the British government, which for years maintained that lie even as it rubber-stamped the cultivation and export of the world's largest medicinal cannabis crop. But the landmark decision in November 2018 to allow UK doctors to prescribe cannabis under extremely limited circumstances, inspired by the cases of Billy Caldwell and Alfie Dingley, whose epilepsy is improved immeasurably by medicinal cannabis products containing both THC and CBD, has left many in a limbo: knowing or believing that cannabis offers a cure, yet remaining unable to access it."
This has resulted in a number of high-profile cases of parents taking their children out of the UK in order to access treatment.
One such parent is Julie Galloway, who left Scotland with her severely ill daughter Alexa, seven, almost 12 months ago to live in the Netherlands.
"I feel like a refugee forced to live abroad to save my child," Galloway told the BBC. "I want to come home but I am terrified the medication will be confiscated. I am struggling to pay for it and I know this can't go on forever."

Continue reading for free
We hope you're enjoying The Week's refreshingly open-minded journalism.
Subscribed to The Week? Register your account with the same email as your subscription.